Not since the industrial revolution have the construction and manufacturing industries faced the kind of widespread change that BIM heralds. How is it that one small acronym wields so much power?
Architecture New Zealand asked BIM experts from across the industry to discuss their experiences.
WHAT IS IT?
Phil Bernstein, vice-president of strategy and relations at Autodesk − the company behind BIM – offers an insight into why it came about and its connection with Star Wars.
The biggest misconception around BIM is that anything represented in 3D is BIM: 3D does not equate to BIM. Autodesk developed the term 'Building Information Modelling' so it would have a relatively specific meaning. Back in 2002/2003, when Autodesk was looking to change its strategy from AutoCAD draughting to BIM, there were any number of tools within the AEC (architecture, engineering and construction) industry that you could use to create 3D, including AutoCAD, but those three-dimensional representations were only graphic in nature.
With Revit, we were looking for a term which would convey that you are not just creating a three-dimensional model but that you're creating a representation which comprises a great deal of additional insight and information. A Revit model knows it's a building and knows what a window or a door is; an AutoCAD model does not.
If I were to offer a real-world parallel, one which comes immediately to mind is the movie industry. The quality of computer-generated imagery in movies today has gotten to the point of hyperrealism. The special effects you see in a movie such as Star Wars are the product of the same kind of work that we're doing on the BIM side. On the movie side, they're making hyperrealistic, three-dimensional models of spaceships and robots that are actual digital simulations of how that real physical object would function in real physical space.
Take BB-8 from the latest Star Wars movie; it rolls like the real robot would roll, casts shadows and has virtual weight but, as a special effect, it manifests as an image on the screen. In the building industry, instead of making a diagram of a big, complex thing like a building the same way we have for a thousand years − by drawing a plan or a section − now you can make a behaviourally robust three-dimensional representation of that building and you can understand it because it's a three-dimensional phenomenon. And, because it's also a data-rich phenomenon, you can interrogate it and perform all kinds of other stuff.
The structural incentives in the building industry to attack problems like accuracy, completeness and building performance, along with the advent of improved manufacturing techniques and the need to communicate quickly and with clarity − all of these things are going to become higher and higher priorities that are supported by technologies like BIM.
Of course, you can always choose to not use BIM; however, you may find yourself relegated to a certain range of projects that you will be working on. I mean, nobody would attempt a hospital project in the US just by CAD draughting anymore, simply because you can't get the kinds of results a client would expect with CAD draughting tools on a very complex building like a hospital − it just has too many moving parts. I would suspect, although I don't have any real evidence of it, that to attempt a project like that without using modern tools would probably be construed as negligence.
WHY DO IT?
Jason Howden, group technical BIM manager at Warren and Mahoney, works across a number of projects in Auckland and for the Christchurch rebuild – most notably the Justice & Emergency Services Precinct – as well as educating clients and other businesses about the benefits of BIM.
More and more people within the industry are becoming aware of the advantages that BIM can bring. They're definitely engaging with learning more about it and starting to investigate their own internal induction strategies. To be fair, it takes quite a long time to understand what BIM is; it's not a product you can buy and you can't go to a shop and buy BIM − that's one of the great misnomers out there.
Many people think that BIM is a technology and they can just go to a shop and buy the box that has BIM written on it and they bring it home and now they're 'doing' BIM. That couldn't be further from the truth. BIM is a series of integrated processes and technologies and unless you practise those processes with the technology, you are not doing it and you will not see the rewards or benefits it can bring.
To implement BIM within any existing organisation it is necessary to go through a series of key gateways – one of which is awareness of what it is and, more importantly, what it is not. Then there are the educational steps, once you have that awareness, about what's required to deliver the BIM goals and aspirations you may have; and then, after all that, there's the technical aspect of it. So it takes quite some time to get people used to trying something new and transitioning them away from existing processes that they may have been using for 20, 30, 40, even 50 years in some cases.
At the end of the day, you just have to keep reiterating, 'It's okay, you can adopt BIM processes and you will still be able to deliver all these outputs like you have before but you're going to do them more efficiently; you're going to get all these extra outputs that you never could have had before; you're going to get a higher level of resolution in terms of the built building; it's going to come together more smoothly and, more importantly, the work that you do will benefit the guy who comes behind you – who ultimately ends up being the guy who possibly owns or runs the building.'
Yes, there are a number of integrated processes, which at face value appear daunting. Therefore, it's quite a challenge to get people to accept all these changes, mainly because many people just want you to teach them which buttons to push so they can be on their way doing what they've always done. When you run into those situations it really does slow down and hamper the innovation that BIM can bring.
While that can be frustrating for educators, it is an understandable response. The reality is that through great innovation comes great disruption and that's the point at which we find ourselves in New Zealand right now; we're going through that really disruptive part of the technology adoption.
Traditionally, with any new innovation or technology there's always fallout; there's always collateral damage. You only have to look at the motor car, the digital camera, drones… BIM is no different from any of those other technologies. The ones who don't embrace it will fall away. That doesn't mean that they won't have a place or a role within the industry: it might mean they go from delivering large, commercial projects or infrastructure projects to something that's on a smaller scale. It's not to say that people are going to be undone by the technology − but it is a change and through that change there will be fallout.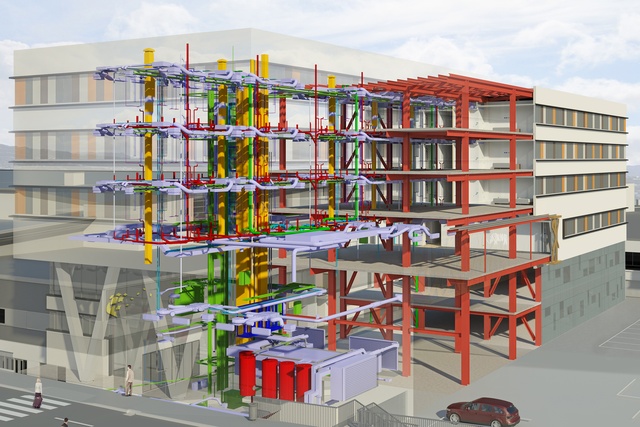 EARLY ADOPTION
Dennis Burns, founding director of Archaus, discusses why Archaus chose to be an early adopter of BIM and working on New Zealand's first fully-BIM enabled project.
We became involved in BIM, or more precisely, Revit, when one of our students came to us 15-odd years ago and said: 'You're still drawing 2D lines using CAD. There's a new product around call Revit and I believe you need to upskill the company and start modelling instead of drawing lines.' So we got into Revit, purely as a modelling piece, fairly early on in the process, 2003/2004, and we started doing the architectural work in Revit rather than in 2D CAD.
Once we started realising the power of the tool we had – and combined this with my project management and construction background – we started looking into what was happening overseas and discovered that its power as a tool was only a part of the story. In fact, there was a whole process change occurring worldwide in regard to information within the construction industry and pulling the design information required forward in the process so that everyone involved can be better informed from an earlier start.
When we started investigating our own company we found that probably 80 per cent of our inefficiencies were because of late and poor documentation from fellow consultants. So that drove the desire to change, especially once we had the tools to enable that change. Then it's just logical that processes will change and just become a part of the normal way you run your company.
From there, we started investigating undertaking some projects with it and, in 2009, we were engaged by a mechanical services company, working on a central government project, to put all of the services into a BIM model and to coordinate them all. That was our first major BIM project, which we completed successfully, and from there we've grown to be, we believe, one of the leading BIM suppliers and modelling companies in New Zealand.
As a company we're starting to win and as an industry we're starting to win. If you look at the shift in mind-set that's happened in the last three years, the number of BIM-enabled projects – although they're not fully BIM enabled – is increasing. We're doing one of the first fully BIM-enabled projects – that is, fully enabled from concept – here in Wellington: a $70-million hotel and car park project at the airport. When we went to the end of detail design, we had a project that was 99.95 per cent clash free; that hasn't happened in New Zealand to date, so this is the first one.
In terms of establishing a norm for what we should be doing as an industry, that should be the norm. At the time the contractor is ready to build, we shouldn't still be discussing where a piece of pipe needs to go – and that's where the major, industry-wide efficiencies and savings will come into play.
THE GAME CHANGER
Jeremy Shearer, president of the New Zealand Institute of Quantity Surveyors (NZIQS) believes BIM to be the logical next step in how the industry works together.
In 2014, the Government established the BIM Acceleration Committee, comprising people from throughout the construction industry and government. In June 2015, the committee commissioned the report 'Government as Client: Using Building Information Modelling on NZ construction projects' – in which it stated that the committee aimed "to capture [BIM's] many benefits, helping to provide affordable, quality buildings and infrastructure for New Zealanders at a time of high construction demand".
It is hoped most design companies will be capable of delivering BIM in the next five years and it will only be a matter of time before large-scale firms jump on board as standard practice to clients. However, companies that aren't operating a lean model now will soon be left behind by competitors that are operating faster and delivering more with better accuracy. How we work together to educate about, and implement, BIM is not only key but is also beneficial for all. Take, for example, the UK Government – which has mandated BIM Level 2. It is investing very heavily in training the existing workforce: the entire workforce, from designers to plumbers and everyone else in between.
According to New Zealand independent research organisation BRANZ and Building and Construction Productivity Partnership's recently published brochure 'Productivity Benefits of BIM', the UK anticipates a 20 to 30 per cent decrease in the life-cycle cost of its public-sector assets by utilising BIM on all infrastructure projects built after 2016. It goes on to state that 75 per cent of BIM users reported better multi-party communication, while 57 per cent of designers reported that BIM reduced errors during the design phase.
Similar research shows BIM's positive impacts in all aspects of a building has been a major driver to be used worldwide. Implementing Level 2 BIM maturity in New Zealand would have huge benefits − more importantly, it saves everyone money. This country's construction industry is tried and true but not as efficient as it could be, so there will always be room for improvements.
At it's most simplistic, BIM is about adding value to the project life cycle, from inception to end – that's where the client saves and that's where we, as construction industry professionals, need to step up to the mark.
BIM OBJECTS
Kerry Thompson is director of KTA, which developed and maintains the Winstone Wallboards BIM objects library as part of its initiative to support the increasing use of BIM within the industry.
Anyone working in the construction industry knows how complex modern buildings are; a state not likely to be resolved any time soon. If anything, higher performance requirements, added liability in health and safety, and changes to regional plans will make building even more fraught. BIM offers a way to compile information that will help to manage this ever-growing complexity; but there are challenges.
Like a real building, which is made up of many smaller elements – walls, floors, shafts or soffits − a digitally modelled building will be made up of hundreds, if not thousands, of BIM objects. These objects describe a component of the building − a fire wall, for instance. Unlike a simple digital render of an object which only visually describes the wall, a BIM object for a GIB Fire System will link essential data of that wall to the model − information like the fire rating, the STC rating or the system code that simply isn't included in the graphical representation.
For contractors to gain the benefits from BIM, the models produced with BIM need to be robust and accurate. BIM models, then, are reliant on accurate, up-to-date data in the BIM objects, the components that build the model. For BIM objects created by manufacturers, designers and contractors need to be certain that the linked data is correct and relevant.
Understanding the need to supply accurate, verified data, Winstone Wallboards approached BRANZ to appraise all GIB BIM objects – a first in New Zealand – with a focus on the associated meta-data they carry, giving BIM users confidence that the systems described accurately represent those tested. As BIM standards are still under development in New Zealand, BIM managers and designers need to be especially aware of potentially inaccurate data within BIM objects, particularly those developed overseas which may use different metrics or measurements.
So, why bother? The advantages include improved, detailed information like the ability for a quantity surveyor to identify the number of screws required or to test different scenarios or performance requirements like calculating energy use. Significantly, it allows better collaboration and communication between designers, engineers and contractors, allowing engineering to be refined and clashes identified and mitigated, including health and safety issues.
By keeping all the project's data together in one place, BIM avoids data loss and is particularly helpful for future maintenance and alterations. Ultimately, BIM is the future of construction and will bring major improvements in efficiency and cost savings, as well as improvements in health and safety and information sharing. For large projects, BIM is already indispensable and this will only continue to be the case.