World Architecture Festival 2016
New Zealand came away with several prestigious awards at last year's World Architecture Festival. We invited five Kiwi architects who attended the event in Berlin to talk about their experiences.
Dean Mackenzie and Hamish Monk of Monk Mackenzie and Henry Crothers of LandLAB presented Auckland's famous pink LightPath, which won Transport – Completed Projects category at the World Architecture Festival, otherwise known as WAF.
WAF was held in Berlin this year, having moved from Singapore where it had been held for the previous four years. The move from Singapore to Berlin seemed to create an obvious shift toward increased European entries and short-listed projects; however, New Zealand and Australian architecture firms were again well represented – as they seem to be at the festival every year since its inception in 2008.
Patterson Architects, RTA Studio, Warren and Mahoney, Archimedia, Crosson Clarke Carnachan Architects, Herbst Architects and Monk Mackenzie/LandLAB were all short-listed across various architectural subcategories, along with Isthmus in the new landscape category.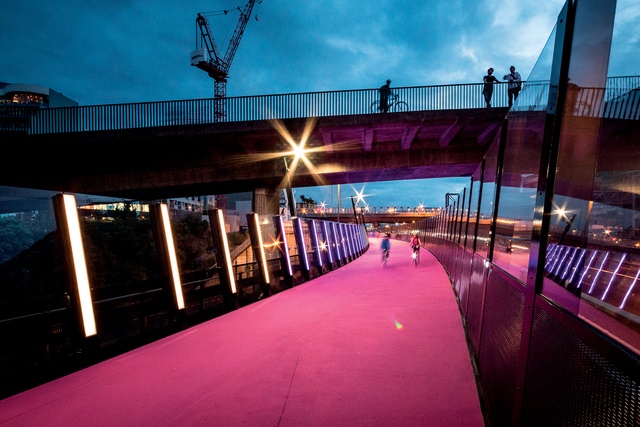 The format of the three-day-long festival was identical to previous years'. Multiple intimate presentation spaces allow each short-listed team 10 minutes to present their schemes with a further 10 minutes of questions from a panel of three jurors – made up largely from past category winners. Winners of each category are announced each evening at a function and, then, go through to compete for Building of the Year and Future Project of the Year.
The main jury – or so-called super jury – was chaired by David Chipperfield, along with jurors Louisa Hutton of Sauerbruch Hutton, Angelene Chan of DP Architects and the Bartlett's Frédéric Migayrou. We were happy to see Isthmus pick up the World Landscape of the Year award for its beautiful project at Kopupaka Reserve in West Auckland.
Isthmus' David Irwin writes about his and Grant Bailey's WAF experience, including its phenomenal Landscape of the Year award for Kopupaka Park.
The vibe for the World Architecture Festival is relaxed yet intense; most of the people attending are part of the presentation process. That is approximately 400 short-listed projects from more than 50 countries. It is, therefore, perhaps a lot like the Olympics; everyone has achieved a standard to get there in the first place and I felt a sense of compatriotism for the other New Zealand representatives.
In one big hangar-like structure on the banks of the River Spree, at least 400 presentations are given over 300 days. More than eight presentations are happening at any one time, from 10am to 6pm with one hour for lunch, and the time limit for each presentation is strictly enforced. While you wait to give your presentation, you have the opportunity to race around listening to others.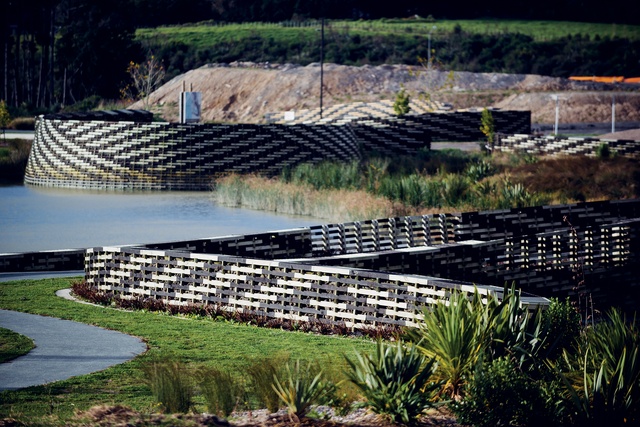 The atmosphere is collegial – with the best in the world presenting and some innovate designs and approaches. To win, I think you need an exceptional project, clarity in its execution, as well as excellent photographs and a good story. The 10-minute format makes you think carefully about what your project is and what to say. Presentations need to be submitted months before you actually present, so you cannot leave this to the last moment.
We had no expectation of winning an award. We entered to test and benchmark ourselves, so winning was a big surprise. The gala dinner was held in an old, disused railway station that you could only find in Berlin. Grant and I heard nothing of the citation and the rest is all a blur. We were whisked away for video interviews, photos and other 'Oscar-like' media attention. However, it was early winter in Berlin and we felt under-dressed as we were herded into a cold basement with a video crew. I bet that does not happen at the Oscars.
Overall, New Zealand can hold its head high in the world of landscape and architecture with the 'WAFies' (our nickname for the award), WAN Awards and the Biennale exhibition showing off Aotearoa New Zealand's design talents. It would be easy to think that the design gravitas, particularly in urban projects, is currently stemming from Copenhagen but I wonder if we should not look harder in our own backyard. It seems there is plenty of talent here that can foot it on the world's stage.
Warren and Mahoney's Shannon Joe talks about his first time at WAF, where he and colleague Bren Morrison presented the XV Pacific Games Village in Papua New Guinea in front of their international peers.
WAF was a great experience, particularly in being surrounded by like-minded people. We were always mindful of presenting among some of the best architects and projects in the world and we knew we needed to be concise with our delivery, while the question-and-answer section gave the opportunity to add more depth.
What is nice about the WAF presentations is that they are angled from an architect's point of view to an architectural audience, rather than a client audience, whom we typically address. Architects are the hardest to present to, often being critical and damning.
One judge was particularly harsh in his questioning of UN Studio before one of the presenting architects pointed out that he was looking at the wrong scheme! Those in the room had thought the questioning was unusual! I'm sure there'll be some difficult feedback to WAF about that.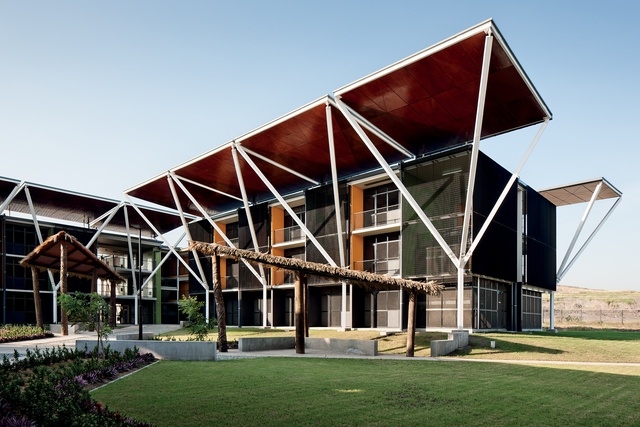 We thought our presentation went really well. There were 14 finalists in our category for the Games Village, arguably one of the toughest categories to be in, with some big-name architects to compete against. Fortunately, our judges were positively critical rather than destructive.
BIG presented before us and WOHA followed us, so the room overflowed with interested spectators. BIG probably rattled through 200 slides on its well-known tetrahedral VIA 57 West tower on the Manhattan skyline in the 10-minute presentation, which covered significant territory and, perhaps, information overload.
Unfortunately, many architects went well over time and were abruptly cut off by the judges. It was a shame as BIG's scheme only just got into its interior design which, from what we saw, looked pretty spectacular. The judges were interested in the way our project presented a unified identity represented in a contemporary manner within an indigenous tribal country, whilst still drawing on the ancient rituals, culture and values.
There was a general desire from all the judges to seek winning projects that offered social benefit and how architecture can instrument improvements to our world. Interestingly, many of the starchitects and their highly-publicised projects did not secure awards – perhaps the projects were too well-known and the element of surprise was one of the critical factors to success.
Andrew Mitchell and Luke Douglas from Pattersons Associates presented New Plymouth's Len Lye Centre.
We thought the WAF vibe this year was representative of location (in comparison to Singapore); the focus felt more aligned to Europe/Eastern Europe and there seemed to be fewer Asian and American projects represented. Despite it being winter, there was a typical European vibrant street life awaiting exploration at the end of the day.
We thought our presentation went well and, afterwards, we had some media outlets approach us for interviews, which was fun. It was lovely to find out in Europe that our little New Zealand project was already quite well known.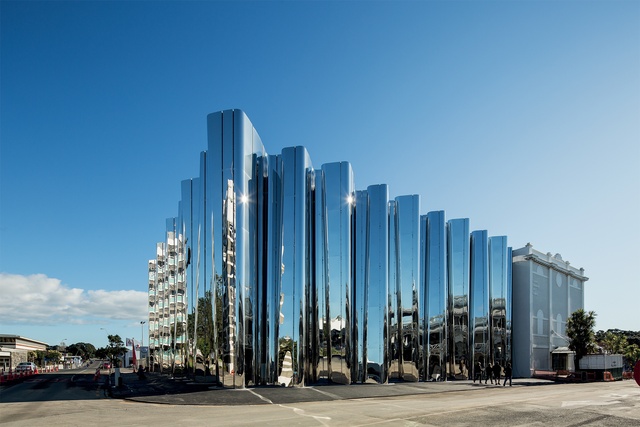 Highlights were presenting in a category alongside such impressive projects: Michele Pasca di Magliano from Zaha Hadid Architects presented after us and the buzz around his project was quite something – lots of photos and recordings of his presentation might be on the net by now.
Watching our category winner and the overall Building of the Year winner present was quite humbling – we realised the immense social upheaval that Poland has faced over the past 80 years and how this project has gone a long way to healing this town. Ole Scheeren from Buro Ole Scheeren also gave a captivating presentation on last year's Building of the Year and other recent projects from his office.
The event felt slightly leaner on participants this year but could be due to delegates coming and going from the venue throughout the day, rather than being marooned at the Marina Bay Sands for the entire day. Europe is a long way to travel to but the event is worthwhile; to be alongside such wonderful practices and to remind us how a once-torn city like Berlin can be so compelling.
RTA Studio's Richard Nash and Ben Hayes presented three projects: Hellmann Logistics and E-type House in Auckland, and Tarawera High School in Kawerau.
It was a very pleasant change to be in a wintery European city in an old 1927 brick-and-steel bus garage on the edge of the Spree. This made quite a refreshing change from the humid heat of Singapore. It wasn't just the gritty edge of the former East that shifted the vibe but also the measurable shift to a more Euro-centric delegation and project selection, delivering a new WAF flavour for 2016. However, the familiar pneumatic Mallow Puff crit-domes, housing the usual amplified voices of eager presenters punctuated by eruptions of clapping and chattering, reminded us where we were.
This year, our eighth consecutive year of attendance, we presented three projects, which, fortuitously, all fell on the first day. First up, Ben Hayes delivered an excellent presentation of Hellmann Logistics in the Production and Recycling category, and rebounded the flurry of judges' questions well. All in all, we felt that we were in with a chance, albeit up against temporary rice paddies on the top of dilapidated Chinese buildings.
Next up, I presented the E-type House in the middle of a competitive field of 17 entries. It felt like it was going to be a tough battle and it didn't help that my tactic was to dismiss the early Victorian housing stock of Grey Lynn as an outdated and defunct typology to a predominantly British judging panel. However, the E-typology was well received – the critique was enthusiastic and complimentary and we felt we might be in with an outside chance.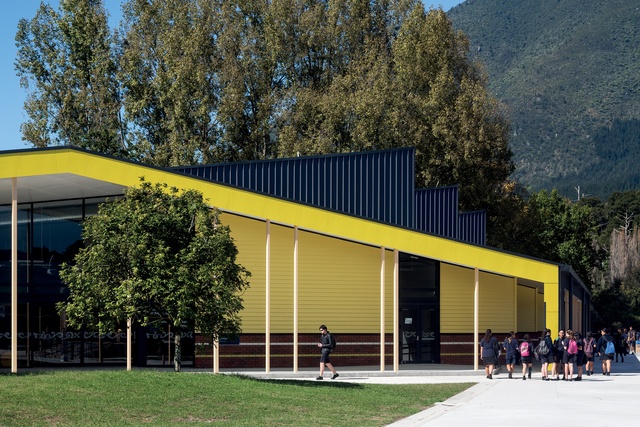 Last up was Tarawera High School in the Schools category. Charged by the two previous performances, I confidently launched in once more with our heartfelt story of a dysfunctional high school turned national success story. And, again, it was a solid presentation, complete with video haka and all. Through the judges' weepy eyes came affirming questions and commendations, once again leaving us buoyed with excitement of a potential chance at another W-shaped block of cheese.
That evening, we eagerly gathered to hear the winners announced. Each of our categories came and went without the familiar dulcet tones of our company name uttered. But, hey, short-lived pangs of disappointment faded as we marched off down the cobble-stoned laneways to find a suitably graffitied grungy club to debrief over some good German lager and fine Berlin house music.
In the end, we felt like our projects were all debated at the pointy end of the deliberations, and that we presented them as well as we could and, to top it off, we had sampled some of the year's best architecture that the world had to offer – and even more lager.
More information about the Kiwi winners at the 2016 World Architecture Festival here.