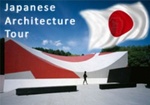 Japanese architecture is an eclectic mix of ancient and modern, east and west. This tour will spend six nights in Tokyo and four nights in Kyoto and give participants the opportunity to meet local Japanese architects and to visit some of Tokyo's newest contemporary masterpieces, classic buildings, art and architecture exhibitions, temples and gardens of Kyoto, including works of Le Corbusier and Frank Lloyd Wright.
It will be an enriching architectural and memorable cultural experience guided by Robert Day – architect, former Tokyo resident and Japan expert.
For more information contact robert@rdayarch.com.au.