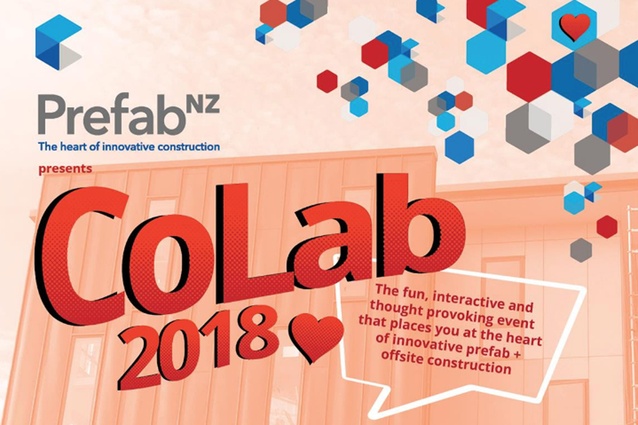 PrefabNZ's annual CoLab 2018 conference takes place 7–9 March in Auckland, featuring interactive site visits, a conference day with global and local speakers, and a members-only half day event.
PrefabNZ brings you the opportunity to connect and collaborate with inspiring individuals and organisations, and to learn about advances in innovative offsite/prefab projects. If you have an interest in the transformation of the design and construction industry then this conference is for you.
Conference Session leaders announced:
Mark Farmer, CEO of Cast Consulting, UK. Mark authored the October 2016 UK Government Review of the Construction Labour Market Model entitled 'Modernise or Die'. Mark has nearly 30 years of experience in the construction and real estate sectors and has become an influential commentator and thought leader on a variety of issues.
Rosie Toogood, CE of Legal & General Modular Homes, UK. tbc
Prof. James Murray-Parkes, science & engineering director, Scientific Solutions Group, Australia and director of the Advisory Committee for the MCCB. James will talk on the development of the Handbook for the Design of Modular Structures and what it means for the industry. He's a great wrangler of modular expertise, he is also an incredible mathematician, structural engineer, guardian of nurturing future talent and designer of everything from world-record-holding motorbike engines to Perth Stadium's incredible '20T on a point-load' structural system.
Susan Freeman-Greene, chief executive, Engineering NZ. Susan became chief executive of Engineering New Zealand in February 2015. She describes her current role at Engineering New Zealand, with its vision of 'engineering a better life for New Zealanders', as a privilege, a challenge and a fantastic opportunity. 
Daryl Patterson, Lendlease, Australia. For the past seven years Daryl has lead operational excellence initiatives for the Lendlease Property business. This work has ranged from the creation of governance models, the establishment of a national procurement function to the creation of the Lendlease Innovation Lab. At present he is involved in a major research initiative with the University of Sydney into advanced manufacturing techniques for multi-storey buildings.
Leonie Freeman. Leonie created thehomepage.nz and was the chair of the recent Auckland Housing Summit. Leonie will share her comprehensive solution to solve Auckland's housing crisis.
Chalydra Percy, chief executive, BRANZ. Chelydra has been CE of BRANZ since 2013. Prior to starting with BRANZ, Chelydra held a range of leadership roles with science and innovation organisations such as Callaghan Innovation, KiwiStar, Optics and Scion.
Louise Swan, The Building Business. tbc
More global and local experts will be announced soon.
Register and find out more information about CoLab 2018 here.