Architecture New Zealand, May 2016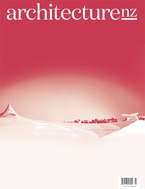 May 2016 (Issue 3)

Justine Harvey interviewed architect Marwa al-Sabouni, whose memoir is a moving account of living in war-torn Homs, in Syria.

Nick Roberts looks at two types of self-aware isolated urban enclaves: the corporate tech campus and the free-trade zone.

Not since the industrial revolution has the construction industry faced the kind of widespread change that BIM heralds.

Architects increasingly need to be more savvy when it comes to preventing and resolving disagreements.

Studio Pacific Architecture's new mixed-use apartment building is a classy addition to the heart of Wellington city.

Cheshire Architects' Rore Kāhu, in the Bay of Islands, is a portal that propels its visitors out to distant historic sites.

Harris Butt Architecture's museum is a subtle addition to a cluster of important buildings that discuss New Zealand's history.