Architecture New Zealand, November 2016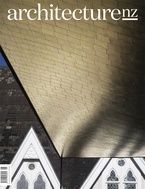 November 2016 (Issue 6)

Maurice Mahoney honours Don Donnithorne, a characterful Christchurch architect with a lasting body of work.

Five finalists have been selected for the Brick Bay Folly 2017 competition to design & build a temporary architectural folly.

Justine Harvey spoke with Lene Tranberg of Denmark's Lundgaard & Tranberg Arkitekter when she was in New Zealand this year.

Fearon Hay Architects' design for a chapel at the Holy Trinity Cathedral in Parnell is an elegant and delightful sacred space.

Maddie Palmer and Yousr Ali review some of the nationally held events, as well as the highlights from Wellington.

Colin Martin visited the 2016 Serpentine Pavilion and the newly-commissioned summer houses in London's Kensington Gardens.

Pip Cheshire reviews Peter Beaven ARCHITECT by Peter Beaven.