Architecture New Zealand, September 2017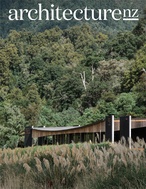 September 2017 (Issue 5)

Bill McKay and Jason Mann explored Tongatapu to discover its architectural gems and created a series of routed visitor maps.

Michael O' Sullivan has designed a lofty auditorium for the Māngere branch of the Free Wesleyan Church of Tonga in Auckland.

Lake Waikaremoana's new visitor centre by Tennent Brown Architects returns local iwi to its ancestral home beside the lake.

At Waimana on the northern edge of Te Uruwera, a modest wharemate absorbs the creation myth of Rangi and Papa in its form.

Colin Martin visited Amanda Levete's new Exhibition Road Quarter project at the Victoria & Albert Museum in London.

Colin Martin visited this year's Serpentine Pavilion in London, designed by Burkina Faso architect Diébédo Francis Kéré.