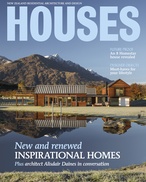 June 2015 (Issue 36)

The Ideal House is a high-performance home that has been built to showcase the latest in sustainable design and materials.

Houses talks to architectural graduate Charlotte Stewart of Tennent + Brown.

Dunedin-born designer Riley Sanders talks with Houses about combining technology and craftsmanship in his designs.

Houses talks to architect Alisdair Daines of Context Architects about the rebuild and affordability.

A portfolio of houses by Context Architects from across New Zealand in the 2014-2016 period.