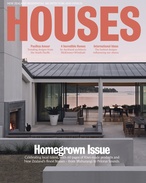 June 2017 (Issue 44)

A retrospective exhibition on British artist David Hockney's work, celebrating his 80th birthday, is currently showing in Paris.

French artist Anne-Sophie Adelys produces colourful figurative paintings that reconstruct life's forgotten moments and people.

A selection of Houses' favourite pieces and installations at this year's Salone del Mobile furniture design fair in Milan.

We look at some New Zealand companies that are creating innovative and exciting products and why being local is so important.

Known for their dry senses of humour, this Auckland-based studio designs carefully detailed houses that often make the complex appear simple.