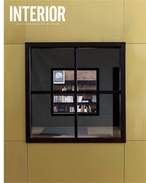 March 2014 (Issue 11)

Expanses of glass and intense swathes of black, shot through with faceted shapes and bold colours, are talking points at every turn in this new workplace.

A retail space in Auckland's Ponsonby Central is transformed into a haven for gadgetry.

The opening up of a formerly unused light well in this workplace was the catalyst for a revolution in staff engagement.

The interior design manager of Munich-based practice, Designliga, chats to Interior.

Interior explores two projects, each with a very distinct Scandinavian flavour.

Interior takes a walk through one of Auckland's most highly utilised lobby shortcuts – inside the PwC Tower.