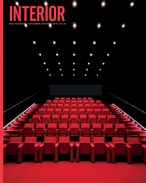 September 2015 (Issue 17)

Over 50 nominees have been selected to compete for World Interior of the Year award at INSIDE: World Festival of Interiors.

The Fearon Hay-designed flagship store for Kiwi fashion label Stolen Girlfriends Club works its rock-and-roll aesthetic.

Oko Dessert Kitchen merges contemporary with classic, with a traditional baker's marble countertop stealing the show.

The 2015 Interior Award judges cited the winner for Emerging Design Professional for the 'clarity and warmth' present in her designs.

Interior speaks with four up-and-coming furniture designers from across New Zealand about their influences.
Photographer Mickey Smith delves into the history of eighteen libraries gifted to New Zealand and their modern-day uses.

With two fairs in Frankfurt, Germany coming up, Interior asks veteran trade-fair-hopper Richard Bracebridge for his advice.

Jacob van Rijs, Dutch architect and founder of MVRDV, discusses his Market Hall project in Rotterdam with Interior.