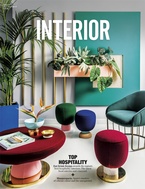 December 2016 (Issue 22)

Wellington design studio Proffer continues to define some of the best new hospitality spots in the capital city.

A new Auckland eatery with its heart in an Italian market and an alternative way of doing things.

Sarosh Mulla steps into the impressive refurbishment of the state broadcaster's headquarters.

Camille Khouri ventures to Waiheke Island's newest winery, Tantalus Estate, and discovers sensory surprises galore.

Leanne Amodeo chats with Spanish design duo Masquespacio and discovers a refreshing vitality and eye-catching combinations.

From accommodation to cars and furniture: Lynne Elvins explores what the new economies can offer the interior's world.

Luke Douglas is a part of the team at Patterson Associates and works on everything from residential to civic projects.