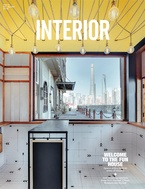 March 2017 (Issue 23)

A chat with the Major coordinator of Spatial Design and lecturer at the School of Design at Massey University in Wellington.

A collection of whimsical knick-knacks casts a colourful spell on Wellington's Seashore Cabaret.

This interior, devised by the film industry, is equal parts escapism, kid's haven and functional – all with a dash of magic.

Warren and Mahoney Auckland's new office is a gold box that reflects the beauty of its home inside an old shipping warehouse.