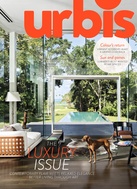 February 2017 (Issue 96)

A multi-generational home extension in Quebec uses contemporary flair to build on the past.

Young New Zealand expat, Briar Hickling, talks about succeeding in the competitive world of interior design in China.

Borrowing from Moorish motifs, Brazilian vernacular and contemporary art, this home is never, ever dull.

A show flat's interior is emboldened through a cross-continental lifestyle and design collaboration.

This Auckland home is a cabinet of curiosities filled to the rafters with meticulous design and well-curated art.