2017 Waikato–Bay of Plenty Architecture Awards
19 projects across nine categories were rewarded at the 2017 Waikato–Bay of Plenty Architecture Awards, announced at an event held at Tauranga Art Gallery on Friday 28 April.
Awards convenor and Hamilton-based architect Steven Chambers said that despite the diversity of the 25 projects Chambers' jury visited, there was one thing the award-winners had in common.
"At each property we visited it was a delight to see the architects and their clients revelling in the fantastic environments they had created. It was a testimony to the positive relationships that were formed right at the very start of each project, when briefs were written and concepts were investigated," says Chambers.
Chambers was joined on the jury by Nelson architect Andrew Irving and experienced Waikato/Bay of Plenty architects Belinda Ellis and Jane Hill.
Full list of winners with jury citations below.
COMMERCIAL ARCHITECTURE AWARDS:
South Bloc by Edwards White Architects
Through a considered process of rediscovery and removal, the architects have taken this building back to its strong modernist bones, reinstating and reimagining its presence to the street. Crafted materials and subtle recycling create light-filled, flexible and enjoyable spaces. This project adds immensely to the built quality of Hamilton's CBD.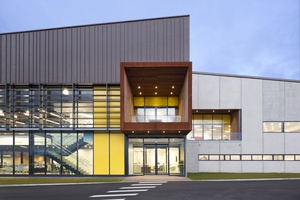 CUBRO by Wingate Architects 
This manufacturing, showroom and office centre has become a flagship for client, contractor and architect collaboration. The rich quality of the interior spaces belies the simple logic to interior planning. The use of high-quality materials, balanced with architectural restraint, has resulted in a strong and successfully composed façade that will age gracefully on a prominent site.
EDUCATION AWARDS: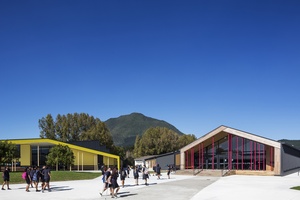 Tarawera High School by RTA Studio 
This inspiring exemplar of architecture embedded in place and community exceeds the potential limitations of budget to deliver uplifting and authentic innovative learning environments. The architect has creatively subverted the traditional education palette with a high level of care and detail. Colour is integral to this project, and has been used to connect the architecture with the school's values and to the community and landscape within which the school sits.
Resene Colour Award:
The well-handled use of strong colours works seamlessly with the architecture while reflecting the connection of the users with the nearby river, surrounding landscape and other natural elements of the area.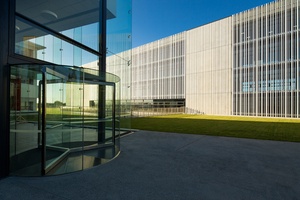 New Law & Management Building, University of Waikato by Opus Architecture
This large-scale complex project asserts itself boldly on its corner site, communicating both permanence and quality through its formal and material qualities. It is a powerful expression of solid mass and void, and the journey through the building offers a discovery of space, light and connection. The sunken courtyard and grass roof have cleverly given the building space to breathe and allowed visual connection through to the hills beyond. The admission of natural light deep into the building, and a commitment to sustainable design principles, is perfectly appropriate to this academic environment.
ENDURING ARCHITECTURE AWARDS: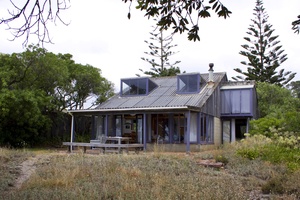 Karewa Parade House (1972) by David Page Architect 
Designed in 1972 as his parents' beach bach when the architect was a young graduate, this delightful time capsule is still in the family. As a testament to the design resolve, the bach has been unaltered, with the exception of an art studio added a year after completion. Every nook of this complex volume is occupied and enjoyed, and represents a crafted example of an architectural typology that has now come full circle – the tiny house. Simple materials innovatively and elegantly assembled reflect the patina of wear in a bach that sensitively occupies its coastal site, working with the natural undulations of the dunes.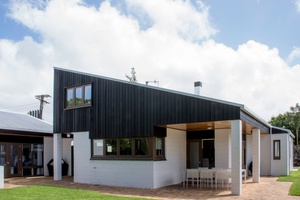 Miller House (1969) by Rod Smith Architect (Smith, Grant and Associates)
This truly is a gracious family home rediscovered. The current owner has had a penchant for the architect's work since his early 20's and leapt at the opportunity to purchase this home. Lovingly restored in great detail to its former glory, and undergoing a considered reworking, the house has been updated to allow a modern family to occupy it comfortably. Strong external forms and exquisite interior timber detailing and rhythm showcases the house's inherent beauty. The house will easily last for many generations to come.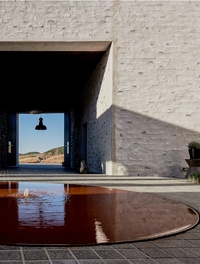 HOSPITALITY & RETAIL AWARDS:
The Kinloch Club by Patterson Associates
Materially and spatially rich, this project responds beautifully to its harsh lakeside setting. Patterson Associates has demonstrated its expertise across the full range of an architect's palette, working with form, scale, depth, light, texture and weight to create truly memorable experiences. Impeccable detailing reflects the design team's commitment to creating environments that are dramatic yet comfortable, lavish yet not ostentatious, and that yield spaces with a human quality and sense of welcome.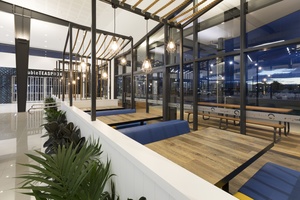 Papamoa Plaza by Ignite Architects
The architects have extended and refurbished an existing shopping centre with a commitment to returning a sense of place to a previously context-less mall. Strategically freeing the foodcourt from the interior allows it to occupy a light-filled, glazed public edge and addresses the interface between building and carpark well. A relevant canopy defines and articulates an active pedestrian edge resulting in a successful intervention that bridges the divide between community space and typical faceless suburban mall.
HOUSING AWARDS: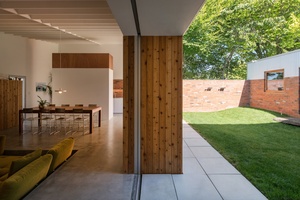 Townhouse by Christopher Beer Architect 
A refreshing take on the urban residential typology, this house intelligently explores the boundaries between public and private space. Three courtyards offset by three volumes create a sophisticated array of internal and external spaces that engage with the whole site, leaving no square metre wanting. Tight budget constraints have driven innovative craftsmanship, enhanced by simple materials which slip inside and outside, from low to high; the architect has kept a tight command of sightlines and scale in designing a dramatic home that is a treasure to inhabit.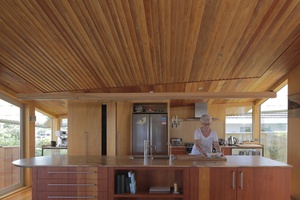 Andrews Family Home by Bull O'Sullivan Architecture 
This suburban home cleverly connects with the site context whilst maintaining privacy and intimacy. The architect pulls a complex fly roof over a simply expressed plan arrangement and revels in the resulting spatial complexity. Seemingly simple materials have been reimagined through beautiful detailing, creating rich and warm interiors that offer delight at every turn.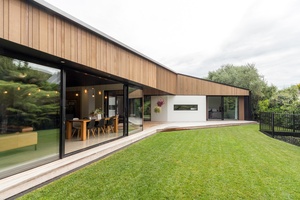 The Splay House by Edwards White Architects 
Located in suburbia with a hidden gully edge, this house utilises a bold unfolding site strategy that maximises interior and exterior space. The simple sculptural forms radiate around a generous central living court, creating intimate connections between all spaces. This is an excellent example of standard construction methodology expressed with considered material craft.
Farquhar House by Alignworks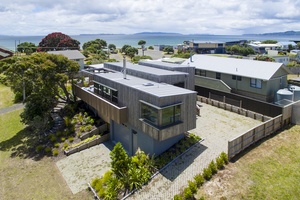 A good fit with its casual beachfront surrounds, this prefabricated building redefines how 'bespoke' and 'prefab' can co-exist within residential design. The house is sensitive to its surroundings; spaces ebb and flow through subtle changes in level and interconnection. Light-filled, and with materials that hark back to the bach, the house benefits from the architect's use of a soft interior and colour palette, elegantly deployed to enhance the notion of holiday.
Resene Colour Award:
The interior and exterior colour selections harmonise the house with the hues of a pre-existing gum tree on site while also reflecting the relaxed beachside atmosphere through muted accents and pops of colour.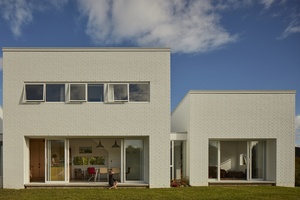 Sentinel House by Crosson Architects 
This bold sculptural form in the landscape is an appropriate solution for a family of artists/curators. A simple vessel that contains sophisticated space uses a restrained material approach, reflective of the owners' love of pottery. It plays beautifully with scale, texture and light to create spaces that are a delight to inhabit. This project celebrates a highly creative couple; the clients have gained immense value from engaging an attentive architect.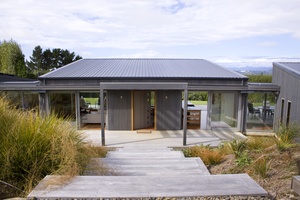 Paerata Ridge House by Architecture Page Henderson 
In this working 'farmhouse' discrete forms are arranged as a cluster of buildings oriented toward the north and extensive views. Simple, honest farm shed materials are imbued with colours that embed the building within its site and its wider environment. Pragmatic as well as elegant, the house explores a sensible environmental strategy of passive systems and power generation that supports farm operation. The space planning reflects the day-to-day running of a rural property, with an appropriate hierarchy of private to public spaces that works perfectly for an extremely happy client.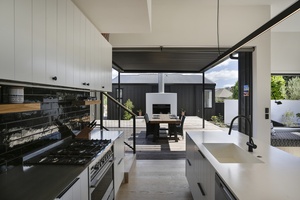 Pauanui Bach by Leuschke Kahn Architects 
Approached as if squeezing between a group of tents, this elegant assembly of three lean-to roofs unfolds around a sun-filled courtyard. Communal areas support inside and outside space, facilitating large gatherings around the kitchen or 'campfire'. Carefully selected views connect the occupants to immediate, close and distant hillsides from a variety of spaces. The hierarchy of building forms makes sense of the building cluster and allows sunlight to penetrate the social spaces.
HOUSING ALTERATIONS & ADDITIONS AWARD: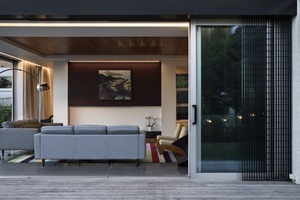 Architect's Own by Architecture Bureau
A carefully executed celebration of classic Waikato vernacular allows this house to support layers of family life in a seamless and elegant manner. This significant alteration has been sensitively handled with admirable consideration given to the relationship of old to new, upstairs to downstairs, and house to garden. The architect's approach has been respectful of the past with detailing and selections while also making a clear nod to the future; the result is a house that could successfully be a forever home.
INTERIOR ARCHITECTURE AWARD: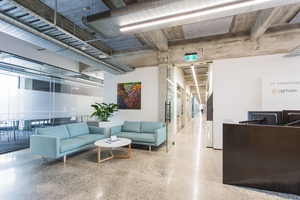 IT Partners Office Fitout by Edwards White Architects 
A well-handled interior fitout creates a fresh vibe for a progressive IT company. The long and narrow floor plate has been addressed effortlessly with simplicity and restraint, allowing the occupants to truly own their workplace. The architect's rigorous hand in the design of lighting and services enhances the pared back philosophy applied to the space.
PLANNING & URBAN DESIGN AWARD: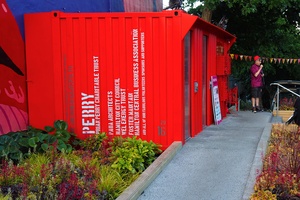 Embassy Park by PAUA Architects
This necessary urban intervention has opened up and occupied a once neglected city park, demonstrating the positive role of the architect in community initiatives. While this pocket park is yet to be fully realised, it establishes a framework for long-term reinhabitation, and provides a model for future stages and wider projects within the Hamilton CBD.
PUBLIC ARCHITECTURE AWARD: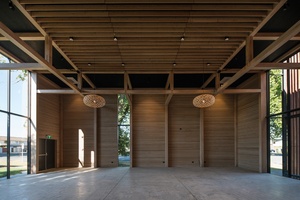 St Johns Church by MOAA Architects 
This new congregational space connected to the existing church is a delightfully unexpected addition. The architect's selection and use of a structural language acts to humanise and soften the interior space, producing a handcrafted modesty, fit for purpose. The make-up of the facade – an offset timber screen, glazing and weathered steel – and a simple shift in plan orientation gives this building a sense of permanence. It seems as if has always been part of this community, embedded in its site and watching over the adjacent park.
All winners of the 2017 Waikato–Bay of Plenty Architecture Awards are eligible for shortlisting in the New Zealand Architecture Awards, which will be decided later in the year, and announced in November.