Allendale House and Annexe
Sited on top of what was once known as the Surrey Hills Farm Estate and is now Grey Lynn and Ponsonby, Allendale House was designed and built in 1891. Naturally, it has lived many lives since then – as a private hospital, doctors' rooms, a boarding house, a private residence and a 'hostel for alcoholics', while many Aucklanders who were out and about during the '80s will remember it as Orsini's restaurant. Since 1989, it has been owned by the ASB Community Trust, who brought Salmon Reed Architects on board more recently to upgrade the NZHPT Category 1-listed historic building. And the project grew.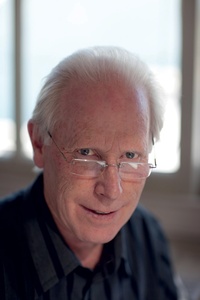 Justine Harvey talked with Peter Reed about the process of refurbishing the Victorian house and designing a new contemporary annexe next door.
How did the project start?
Well, we started with some deferred maintenance on the old building but, when we did a condition survey, we found that the roof needed replacing and then the verandah and, of course, all the spouting was plastic. It all seemed out of character, the air conditioning was completely past its use-by date and the décor was sad so it really needed a full refurbishment. The Trust said, "Get on with it" and then, just as we were getting the documentation together, the Christchurch earthquake hit, so they said, "We should be doing a seismic upgrade of this building as well", because, under the circumstances, when you're doing a major refurbishment, it's a lot easier once you've gutted the building.
And what did the seismic survey present?
To strengthen the chimneys, bolt the roof to the walls and tie the first floor into the walls, which is a standard upgrade for reinforced masonry, and the little annexe built in 1988, was just to be repainted and cleaned up. The Trust moved out for a year's tenancy down on College Hill but when we started opening up the annexe building we found that it was very badly constructed, there was a sag in the roof and the structural engineer said it was going to cost around $170,000 to fix. Then the Trust analysed their use of it and found that it was totally inadequate for their needs and could we investigate enlarging it a bit, making the boardroom bigger and rationalising the space above. Each month I'd report back to the Board with a new proposal and we'd receive a new part of a brief, so it ended up growing and growing. They said, "Well, let's just pull the whole thing down and start again", which was a major change in the scope of the project.
Quite nice for you.
Lovely in terms of the design opportunity but, in terms of stress, putting a package together so quickly was very difficult because we needed one plant servicing both buildings. We had to just shut down for six months while we got it all ready. But it all came together. 
Is the Trust thinking of occupying this site for the long term?
Oh yes; this is their 25-year anniversary. That decision was made beforehand and we helped them by pointing out the good points of this building, plus some of the downsides, but it was all about the image and location. This represents solidity and permanence and people have a great affection for the building; it was better to stay than to sell it on and move to some anonymous slab down Queen Street or somewhere (especially since they advocate and distribute funding for heritage building conservation). So they set their own example.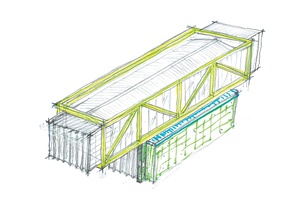 And so what was your concept in terms of designing a new build next to the old?
Yes, that's well-trodden territory for us. It's very difficult to mimic this (older) one and to try and do it…
If you're going to build a new building – build a new building.
That's right. There're plenty of reasons why you do it but when you design the new building beside it, there are a lot of first principles such as 'don't overshadow the old building'. We could have built right up to the boundary but, out of respect for this building and just knowing that we would buy into a fight with the town planning resource consent, I set it back at a 45-degree angle from the edge of that existing building and then we gave a lot of space between this old building and the new edge. We also had a one-and-a-half-metre easement to take into account on the other boundary, so we were left with quite a thin strip. We then had to account for all the parking requirements which meant so much parking out the front here…
Oh no, not the parking requirements?
Oh absolutely, minimum parking allowance on site. We've got some down there, some underneath and some up here, so that started setting… when you get to accommodate all those… self-imposed determinants…
But it's awful.
That's the rules. I know it is. Put it where you like but you know that governs what you do. So I was just left with a space, an envelope and the obvious thing was to cantilever out to get parking underneath and then that set me on a path that formed the bulk of the shape. 
It will be interesting when we have more public infrastructure, how it will help to define the architecture of Auckland.
Well, it sort of does.
Because at the moment it's defined by the car.
Oh, I see what you mean, yeah, if we could take that away. But then where are the cars going?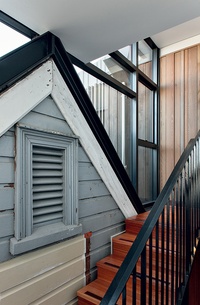 Well then people wouldn't need so many cars.
Yeah, there's no sensible bus service. Taxis. 
Normally I'd bike but, because it was so wet this morning, I didn't fancy it so I had to drive.
It's crazy. But with bigger centres, like London, there's no question about taking the car; it's just impossible. Density is economy of scale is density of people. We haven't got that.
I think in central Auckland we could.
Certainly down in the CBD and we're just on the fringe here. Anyway, it was a good outcome as a result.
Absolutely, and so what was the next step?
To make sure that we would have enough room inside the new building to make sensible office space for open-plan use, to meet the requirement for the meeting room and the boardrooms, and that all started to fit the package. We had the bulk and location and internal measurements that worked for the use of the building, so then we needed to give it some architectural expression. I worked with Philip Graham in our office, who assisted greatly at that point. I had the shape, the big rectangle in front and surging forward, and then he took over and fleshed it out, while I went on with all the other contractual stuff and liaising with the client. There was a huge role to play in getting the contracts in order because we already had a contract, so this involved terminating other subcontracts without getting into lawsuits.
Because you were building a whole package, was it harder to move the client back in, even as a temporary space?
No. They wanted to be camped here with contractors all over the show. As it happened, it was like that but only finishing up the courtyard and stuff because we put the pressure on to get them in by the time their lease ran out.
The hayloft over the stables at the back of the building is interesting.
Yes, they would throw the hay through a small trapdoor for the horse.
There are only one or two whole stable arrangements that are attached to merchants' houses in Auckland, so they were very protective of this arrangement with access to the street at the back of the house. So we left that intact and readable – it's not built over or anything.
Your client could do with inserting some really beautiful furniture in this great new office space but I guess that can be added to a long-term plan.
We can't demand how they use it. If it was a merchant bankers' house, well… we'd have leopard skin rugs (laughter). We've shifted them a long way… because they had great torment about how much they were spending, until they hit on the idea that this was a gift to Auckland because this was money that was given to them to administer carefully and they've been very conscious of that.
Well, they're providing space for community groups to use.
In the very early stages, the other question was about why they should spend a lot of money on the building, which was because they'd spent nothing on it for 20 years. I said, "You're supposed to spend one or two per cent of the value of the building on it each year" and we worked out what they hadn't spent. The next one was: "You're not overspending, you're not gold-plating anything; this is just good quality and you haven't overcapitalised". Now, then, all of sudden, they thought, "If we were in a forced-sale situation, we're not going to lose money". They all sat back and relaxed and it took on a different energy after that.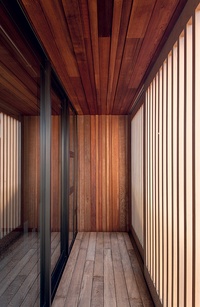 So were there any discoveries along the way?
A few but not terribly significant – no bones or things like that. The old wall on the stables was a nice discovery and the cresting on the roof is a interesting story. We found a little piece of the top of the cresting, like a spearhead, in the attic and thought 'what is that?' and wondered if it was off the fence. But it definitely wasn't off the fence. Then we found a section of heavy cast iron and I thought 'that looks just like the cresting we put on the Auckland Art Gallery roof, which I'd been working on at the same time. So then I started looking at old photos and discovered that there were only two or three good examples and that it was the cresting on the roof, so I had to go back to the client and say, "It will cost $10,000 to have it copy cast in cast iron and installed". Then I found microscopic traces of gold leaf on it but they couldn't bring themselves to add $2,000 worth of gold leaf on the cresting.
No, I suppose that's a bit of a stretch but, even so, it's a nice find.
Well, they said we can do it next time.