Architects amidst conflict
Lebanon is a nation of only 4.5 million people, yet it hosts over 1.1 million refugees, including about 600,000 children.
Thomas Denhardt examines how Lebanon's conflict-filled history, particularly the Lebanese Civil War, fits with the current Middle Eastern context and asks, "What is the architect's role during war and conflict?"
Without a shadow of a doubt, the world today is a fickle place. The talk of terror paired with raging conflict has created a dangerous and all-encompassing situation globally, exemplified by the agonising Paris bombings, the Berlin truck attack and even the questionable rascist crimes of law enforcement in the United States.
Terrorist attacks in western countries incessantly appear in our daily newsfeeds and even though New Zealand is oceans away from it all, seemingly wrapped in cotton wool, it has become inextricably drawn in to these world events. But these types of conflicts aren't a recent revelation either; conflict is an ancient problem, and one nation in particular can be considered the quintessence of a country that is caught up in cycles of conflict – seemingly never to end.
Lebanon, bordered by Syria, Israel and the Mediterranean Sea, is a nation that epitomises the effects that conflict can have on a country and its people. Riddled with wars, psychological trauma and dwindling facilities, Lebanon has experienced it all.
To briefly summarise, in antiquity the region was conquered by Alexander the Great, it endured the Roman-Persian wars for many centuries, it was conquered by Muslim Arabs in the seventh century, it survived the Crusades, Ottoman rule and so on – including numerous sectarian conflicts and various 'foreign manipulations' – until 1922, when in the wake of World War I, the League of Nations Mandate was put into effect. This essentially carved up the wider region, ensuring Lebanon came under French control, resulting in fractured racial, cultural and religious demographics and a discrimatory balance of power.
During World War II, Lebanon became the site of further conflict until, in 1943, the French were forced to accept Lebanon's independence due to mounting international pressure. But, by the 1960s, things changed yet again.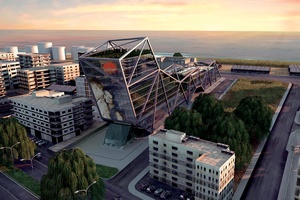 From 1955 to 1975, Lebanon actually became known as the 'Paris of the East' – the land of milk and honey – offering a sumptuous lifestyle and a culturally diverse city, Beirut, in which migrants could indulge themselves. The western way of living blended with Beirut's traditional Arabic character, making the city a star attraction globally – and it captivated people in droves.
However, on 4 April 1975, things took a turn for the worst. Lebanese Civil War began – caused by internal social conflicts and by other nations conducting their own agendas on Lebanese soil. It became a long and devastating conflict littered with daily bombardments, chaos and inhumanity, leading to the endless cycle of violence that we still see in the Middle East today, four decades later.
Lebanese people experience a daily fear of conflict, which affects both their personal and professional lives. So what types of challenges and changes do architects working in this territory face? What is the architect's role in all of this, and how do they respond effectively to the ongoing conflict?
Omar Samir Harb was born in Lebanon during the Lebanese Civil War and established Omar Harb Architects in Beirut in 2005. He describes how challenging it was to receive a normal architectural education during the conflict: "Bombings, explosions and snipers were the norm during the Civil War, when all we could imagine was being killed."
The social instability and lingering fear prevented countless Lebanese civilians, including prospective architecture students, from going to school. Lebanon developed an acute miasma due to the war and differing opinions in politics. Public establishments quickly lost their credibility, the ramifications of which can felt by the next generation of architects.
Architecture students lacked the necessary training and the knowledge needed to distinguish between good and bad design. A fortunate few were affluent enough to go abroad and undertake reputable architectural studies, yet, Harb suggests that "most of them did not return to their homeland to help the city grow during the conflict". Stability became nothing but a pipedream, and opportunities rapidly diminished due to poor education. The relentless conflict invisibly stripped all Lebanese of their future livelihoods.
Another challenge to the profession was the influx of architectural immigrants who came from all corners of the world and were appointed to design and plan the future of Lebanon, both before and after the Civil War.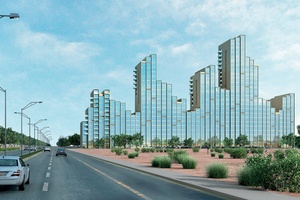 Harb explains: "From the 1950s to the 1970s, urban masterplans and local landmarks in Lebanon were designed by well-known foreign architects, such as Alvar Aalto and Oscar Niemeyer. Lebanon soon became trade-marked as the 'eastern Switzerland' and even the 'avant-garde capital' of the Arab world. This infatuation with international designers prior to the Civil War is still widespread in the industry today, with little public interest and local designer expertise depended upon."
Harb describes the reconstruction of Beirut downtown as one example: "Solidere [the heart of Beirut] is the only region where Lebanon imposes that a foreign architect must work in collaboration with a local architect in order to get a project assigned by developers," says Harb. But other regions have no controls when it comes to professional arrangements.
In addition to this handicap, when there is an open or closed competition conducted for a specific project inside the Solidere zone, "appointing an international architect is considered a non-negotiable aspect, since Solidere believes local Lebanese architects do not possess the necessary competence to undertake such work in the region, nor have the right aptitude to design a landmark or iconic architecture," Harb states. The only stage in which a local architect is incorporated into this process is for documentation purposes, because it is compulsory to have a local architect to register the legal documents and permits.
This festering bias among competitions has tarnished the profession and what it means to call oneself an architect in Lebanon, and is further exacerbated by the Civil War. Arguably, as a result of this, the Lebanese cityscape is being filled with repetitive architectural monotony, rather than felicity and diversity.
Additionally, from 1975 to 1990, the Lebanese cityscape became sterilised because the real-estate industry stood still – this affected entrepreneurs, developers, investors and architects. Harb explains, "The implementation of planning and construction ceased to exist and was kept frozen for 25 years until the late 1990s, once the main conflict had passed."
The effect this had on the building industry was insurmountable; the city's infrastructure did not evolve at the same pace as demographic changes, through urban development and suburban expansion. "Unless you're a chameleon, it is impossible to adapt so quickly to these things, whether one is amidst the conflict or looking at it from the other side," he adds.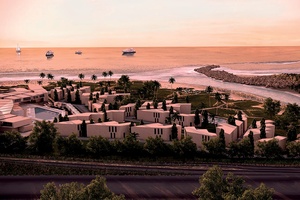 Furthermore, Harb pinpoints a lasting conflict: how political parties have ossified and become hidebound since the war. He describes them as "still fighting for their own causes, rather than supporting the Lebanese nation" – by creating more opportunities in the economic, industrial, health and education sectors. He believes that the personal interests of political figures, who are often descendants of wealthy families, are prominently focused upon one thing – wealth. "How can we work in such an unhealthy yet wealthy environment, where this fixation on personal gains is evidently coming at a cost to the people of Lebanon – which is physically apparent in the built environment today."
Nevertheless, surrounded by these challenges, past and current, Harb is committed to his country and holds onto hope, believing that "an opportunity for change will have its time. Everything is bound to change one day."
Conducting professional architectural services in a challenging and erratic environment such as Lebanon is destined to influence the way architects go about their work, from designing and planning through to building and realising their imagined architecture.
Steven Townsend, an associate at SOMA, which was established by Lebanese architect Michel Abboud in New York before subsidiary branches popped up in Beirut and Dubai, has worked on various projects in Beirut and draws attention to how the ongoing conflict has crippled the progression of architecture since the Civil War, contributing to the death of developments at various stages.
"Our projects Nikki Beach, Khoury Home and Aura, among others, are just a few that have been put on hold indefinitely due to economic instability in Lebanon but, also, due to the violent and physical conflict in the wider region," Townsend explains. The prolonged duration of these conflicts has caused a shift in design sensibilities, where a more conservative aesthetic approach is being preferred to an interest in contemporary forms and materials. "This is a reaction to the instability and conflict, not unlike the reactions seen in Europe after the world wars there," he states.
This revelation is manifesting itself in some of the residential projects being worked on by SOMA in Beirut, where the firm has had to adapt by conducting an analysis of traditional Lebanese architecture, followed by an application of modern architectural thinking. Unsurprisingly, because of the conflict, fewer investments are being made into public projects, with the market turning towards private home developments.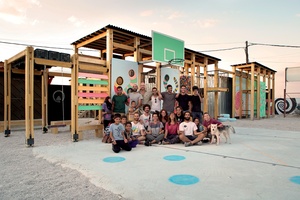 But there has been a notable upturn in security infrastructure requested by clients. Townsend reports that physical elements are being incorporated into some of SOMA's projects, with specifications such as safety rooms and secure quarters, emphasising the concerns the conflict has forced on clients and developers in Lebanon. Even though Townsend is physically detached from Lebanon's current context, due to his firm's primary location in New York City, he still shares a strong affinity to the country and its people, recognising how gallant locals and colleagues are who reside there.
"I am always amazed by the resiliency of people living in 'conflict zones', many of our team members among them. Most recently, there was a horrific bombing in Beirut and while it wasn't close to our office or any of our staff's homes, it was a major attack. Had this happened in New York, I think everything would have shut down, yet, in Beirut, everyone more or less went along with their business like it was a minor hiccup." Volatility in Lebanon is the norm rather than the exception, but what has come before is not forgotten by the locals, including its architects, who must constantly adapt in order to continue.
Situated next door to Lebanon, Syria's current crisis has created an exodus of refugees, now displaced by the devastation and terror in their native land. Escaping the conflict has placed increased pressure on nations in the Middle East, creating more dysfunction and unrest and contributing further to the problems in Lebanon. Riccardo Luca Conti, executive director and architect at CatalyticAction, a UK-based, not-for-profit design studio, is one of many individuals working and responding at the frontline of this refugee crisis, bringing hope to Syrians and their children.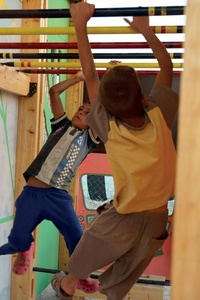 The completion of the 'Ibtasem' playground in the Lebanese region of Bekaa was made possible due to a generous and altruistic crowd-funding campaign by Catalytic Action. Its journey began with Conti and his team considering how they could use their expertise and experience to respond to the calamity by providing child-orientated spaces in refugee camps that employed humanitarian design.
"For this purpose, we decided to visit Lebanon, home country of one of CatalyticAction's co-founders, Joana Dabaj, and a few months after that visit, we started developing a proposal for our pilot project in response to the Syrian refugee crisis," explains Conti. Participatory planning workshops were held throughout the design and development process, where children contributed their ideas to the final design of the playground and, consequently, participated actively in the construction of the spaces.
CatalyticAction's principal focus within the context of the Syrian crisis in Lebanon has become education. Quality education being available to Syrian children is a grave concern in this environment where "play is not only vital to a child's development, but, also, a powerful tool in overcoming psychological trauma caused by the Syrian war," Conti states.
This reasoning supports the motivation for designing and building playgrounds in Lebanon as spaces for education, which is reflected in the end-users' involvement throughout the design-and-build process, creating a sense of ownership and attachment to the playground. The playground typology has provided an area of play, rest and, most importantly, a space of security in what is otherwise a highly vulnerable environment.
The cementing of relationships with local authorities and communities was evident throughout the process, becoming integral to CatalyticAction's philosophy. Conti believes "the transferring of skills and the learning process will be a long-lasting change in the lives of refugees, especially through the building process where they are able to transfer new life skills, techniques and even potential livelihoods." This approach makes the design project specific to the time and space it occupies, where the product is not detached from its processes and is inclusive for all participants (local community members, governmental agencies and international agencies).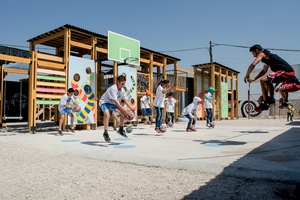 "Architecture always needs to relate to the context and, in particular, to the people who will live in your buildings," Conti explains. "Engaging with people and their cultures is therefore fundamental before initiating any project, and this applies to Syria and New Zealand in the same way." CatalyticAction has now designed and built a school and another playground for Syrian refugee children in Lebanon. Maintaining this pledge to education is reassuring to locals, whose children are arguably the most vulnerable in the crisis.
The Lebanese Civil War and its veil of dehumanising conflict has produced countless victims, instigating collateral damage that is both visible and insidious. Architects Harb, Townsend and Conti's stories exemplify the vast challenges and changes faced by designers who conduct professional services in a divergent context.
Even though instability is inherently part of Lebanon's existence and has contributed significantly to the way architects operate in the region, they continue to work at their passion for architecture, proving that commitment and adaptation are essential in their individual successes.
Working in what some would consider a nightmarish existence, they endure the unimaginable and do their part to support the local economy and those who are defenceless. Boiled down, this is due to their passion for Lebanon and an insatiable moral purpose to help those less fortunate, which is most notable through aiding children in the middle of this crisis. The tenacity of these architects and the Lebanese people to continue in such a grisly and crippling context is beyond remarkable.