Natalie Bradburn attended the recent in:situ conference to listen to leading architects from around the world. It is summarised here – extensive coverage will be published in the May/June issue of Architecture New Zealand.
With enough enthusiasm to fill over a thousand seats, architects, graduates and their friends from across the country came together to bask in the biennial NZIA conference in:situ. Leonard Cohen might have been right about love, but there is surely no better cure for the post-holiday blues than three and a half days with some of architecture's finest contributors.
Los Angeles Times architecture critic Christopher Hawthorn suggested that, while the recent global architectural focus towards open-source, humanitarian work has been a direct critical response to the global economic meltdown, "The pendulum has swung too far away from form-making". Hawthorn offered five registers for how cities can be the platform to re-ground architecture in its discipline.
Alison Brooks, from Alison Brooks Architects in the UK, talked about 'ideals and ideas' in her practice and how a generation brought up with the anxieties of modernism and anti-ornament can return to the beauty of things. For Brooks, research always starts with looking at the 19th century plan and she offered a historical lineage to each of her well-articulated private and public projects. She discussed contributing to the civic realm with front doors, how air travel killed British seaside towns and why "no house is complete without a veranda or front porch".
Barbara Bestor demonstrated how her LA-based firm, Bestor Architecture, lives firmly by the idea that "everyone should experience strange beauty", suggesting that everyday life is where the important things happen. Bestor's honest approach to architecture, and all-round A-class attitude, is easily exemplified in her diverse portfolio of work. A distinct use of materials and textures seamlessly transitions between scales, from multi-unit housing to a music school and, even, to a silent disco exhibition for sleep-deprived students.
Hua Li, from Chinese studio Trace Architecture Office (TAO), presented his restrained and well-portioned take on the traditional Chinese courtyard house, responding directly to the realities of density. The day concluded with Sir David Adjaye presenting Adjaye Associates' remarkably sculptural and contextually rich architectural productions.
The breakfast workshops on day two proved to be an engaging and productive experience. Then the Australians took to the stage. Ian McDougall of ARM Architects speculated on why we're afraid of colour, on the art of being discontinuous and how all his firm's projects "have always been about challenging what is right". John Wardle from John Wardle Architects exhibited an extensive body of work from recent years and considered how 'coincidences' emerged within his practice.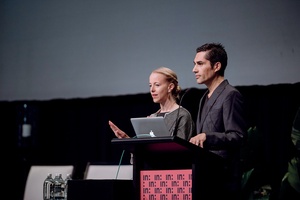 Sofia von Ellrichshausen and Mauricio Pezo, from Pezo von Ellrichshausen, had no trouble discussing beauty and proudly confessed to what Bestor coined 'a practice without footnotes'. The Chilean duo discussed how they make up their own rules as they go along; a refreshing strategy that produces an intimate survey of the plan. Their limited materials palette offers a thorough inquiry into the craft of concrete and has produced a body of work fit for a museum.
Todd Saunders, from Saunders Architecture, stated that "briefs are bullshit" and explained how he brought back business to his hometown on Fogo Island, off the coast of Newfoundland in Canada.
Spanish architects Benedetta Tagliabue and Igor Peraza, of Miralles Tagliabue, reminisced on their partnership with the late Enric Miralles, offering family photographs and insights into their early careers. With broad sincere smiles that were as contagious as their love for architecture, you couldn't help but wonder if there was something to be said for the Barcelona sun.