Inside ASB's new regional branch in Tauranga, a workplace where an overt theme takes precedence over company branding, and where an Activities Based Workplace (ABW) philosophy has been employed.
CPRW Fisher is no stranger to ASB work or to Activities Based Working (ABW) systems. The architecture firm's work for the bank has traversed branch retail outlets and drive-through banking, a human resources office and a Hub – or 24/7 call centre – in the city formerly known as Manukau.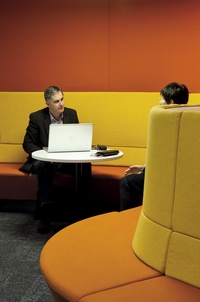 Last year, in collaboration with BVN, the Australian firm that has led the work on the ASB head office at Wynyard Quarter, CPRW Fisher started work on the prototype of a new kind of office. Situated on Constellation Drive, in Auckland, this project involved transforming an undistinguished warehouse space into a small-scale corporate office based on the principles of Activity Based Working (ABW – for more on this, see pp.72-73). The aspiration for that first project, says practice director Michael Fisher, was to make work "more effective, efficient and enjoyable for the organisation and its staff". ABW, he says, is a "dramatic approach to rethinking the office", which is based on shared work points designed to cater for various focus levels and activities. In an effort to create a more dynamic work environment, private phone booths, window seats, individual lounges and clustered workstations replace the systems of the traditional cellular office and the open-plan office.
To define how ABW will work in practice, that is, to define the spaces and freedom of how to work and when to work, ASB works with Veldhoen + Company, a Dutch company that collects raw data from the bank before embarking on a bit of number crunching and plan revision to ensure that enough of the right types of spaces are included.
Since that the Constellation Drive office (a finalist in the 2012 Interior Awards) was completed, CPRW Fisher has rolled out three more regional offices. Each of these offices is themed to its region but, beyond the regionality, there is a consistency of amenity – and a consistency of hardware, such as office chairs and works stations that should allow the bank's staff to easily adjust to working in any of its offices. In all instances, the regional theme is the major chord; the bank's branding messages the minor.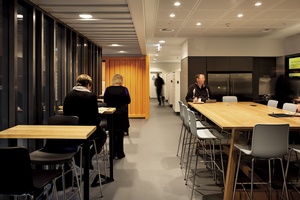 In Greenlane, for instance, an ASB office is just being completed with a racecourse influence (Ellerslie racecourse is just down the road). At Lincoln Road, Henderson you'll find an ASB office turned out in raiment that references the winemaking history of the region. There are also devices at play here that reference the wider area's natural beauty (the narrower area, i.e. the four-lane concourse of Lincoln Road, certainly didn't warrant too much consideration). At Lincoln Road, as with the other offices, there are collaboration areas designed to provide a mixture of settings to cater for different types of meetings, explains Michael Fisher. "Formal meeting room walls retract to become event spaces, large timber wine vats provide circular-focused lounge settings for smaller meetings and clustered furniture provides for more open, or casual, meeting areas."
A particular highlight of this west Auckland project, which also encompasses an ATM and customer service lobby, is it's bright white circular stair and natural plywood cladding.
At ASB's Tauranga office, images of which you can see on these pages, the city's active port was an obvious contender for thematic duties. It is in Tauranga, that the thematic development has been, arguably, the most successful.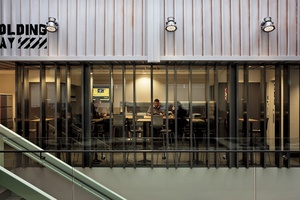 "Steel, containers, and industrial hues anchor it to the location of Tauranga," says Fisher, and "a large industrial steel stair designed around the portside trusses and ship gantries links the two floors together via a top-lit atrium space."
"The design is two big moves, piled containers and a gangway simplified to create a continuous credible spatial experience," he says. To implement the design, the architects needed to devise
a roof structure that could  support the requisite ceiling loads.
"The large sloping ceiling plane," says Fisher, "is totally independent of the roof structure, supported by a hidden 18m-long steel truss that transfers all the load to the floor."
In a working port, he says, stacking containers on top of each other is relatively easy.
"What's not as simple is to redefine volumes inside of a building to create the 'feel' of a pile of containers."
To achieve a valid expression of the theme, the designers explain that first off, big plasterboard bulkheads were proportioned and composed, then a light skin, made of aluminium extrusions and polycarbonate cladding was placed over those and painted to dress the shapes as containers. The single 8.5m long and several-thousand kilogram staircase, made off site, was rolled in through the front door and lifted in position with hydraulic jacks which, as Michael Fisher points out, is more closely linked to the activity you would find at a port than it is to an interior building fitout.