Bathroom focus: international trends
The smallest room in the house now hosts some of the coolest (and hottest) trends. Colin Martin investigates bathroom trends that range from industrial chic to efficient modernism to sybaritic excessiveness.
Historically, dedicated rooms for ablutions are a recent phenomenon. Richard Norman Shaw's plans for my own four-storeyed terraced house in London, published in Building News in 1878, included a ground-floor privy and bathrooms (with flush lavatories) on the first and second floors. It was advertised as situated in 'the healthiest suburb in the world'.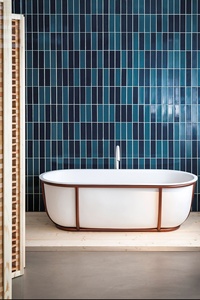 Given plumbing costs, financial expediency dictated that the lavatory, wash basin and bathtub were grouped in close proximity. Before separate cubicles were introduced, showerheads were installed over bathtubs. This basic Victorian layout persists with minor variations in the 21st century. Whether used for hasty ablutions (showering) or relaxation (bathing), most bathrooms remain the smallest domestic room, at once both private and public, shared by family members.
Before bathrooms were introduced, poor people washed in their kitchens and the better off washed in their bedrooms. It's ironic that bathtubs have now reappeared in the latter, either brazenly at the foot of the bed, or more modestly, behind an extended headboard. The ubiquitous domestic spa bath has its antecedents in the expensive but Spartan plunge pools installed in a small number of 18th or 19th century aristocratic houses.
The contemporary bathroom design spectrum is as wide as clients' pockets are deep, ranging from industrial chic, reflecting modernism's mantra of hygienic efficiency, to sybaritic decorative excess. Of course, any concerns that our culinary skills might not match our state-of-the-art kitchens are eclipsed by the thought that our physiques might not be sufficiently well-honed to merit our bathrooms.
Industrial chic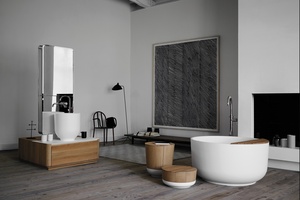 Brutalism is resurgent, and concrete is popular again, even in bathrooms, although cynics might think it works best in communal prison shower blocks.
Runway Grey satin-finish porcelain tiles, patterned to resemble concrete and used on walls and floor, have brought some urban edginess to our Cotswolds cottage's bathroom, and its window's tiny lead light panes hint at incarceration. 
Plain English often uses metal screens and partially glazed partitions to create smaller spaces, including bathrooms, within larger, formerly industrial spaces. Daylight enters but there's also a comforting sense of containment while bathing. 
'Subway' tiling in bathrooms remains strong. Fired Earth's small rectangular Metro Retro tiles, available in a palette of muted colours, work in property styles, from Victorian to modernist via reclaimed industrial. 
Using Colour – 'Whiter Shade of Pale' or 'A Bigger Splash'?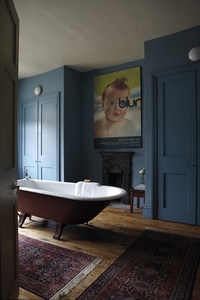 People often mistakenly chose light colours or white for bathrooms, in the expectation that smaller bathrooms will appear larger, but the result can also appear characterless or dull.
Farrow & Ball's palest blue Borrowed Light No. 235 works well in small bathrooms that have some natural daylight, as well as in this architecturally striking penthouse bathroom.
Strong colours, such as Stone Blue No. 86 in this large panelled bathroom, create dramatic but intimate sanctuaries for enjoying nocturnal soaks. The underside of its free-standing bathtub is painted Rectory Red No. 217.
Retro, free-standing bathtubs add architectonic drama to bathrooms. Polished metallic finishes, like painted undersides, are a simple means of adding some chromatic drama too. Catchpole & Rye's double-ended French style Le Bain de Bateau fits the bill. 
The Dip D-lighting and Chromo+ bathtub, manufactured in Brussels, is large enough for two and brings disco into the bathroom. Its translucent body either changes colour randomly or colour can be selected to suit the mood. 
Key Focus – 'Bathrooms for People'
The major theme for bathrooms and sanitary ware at the 2017 biennial ISH trade fair (Frankfurt, Germany) was the design and furnishing of 'barrier-free' bathrooms. This terminology refers to bathrooms that are designed and equipped so that people of all ages – young or elderly – and physical abilities – able-bodied or those with limited mobility – can access bathrooms and easily use appropriately designed bathroom furniture and fittings.
Ease of Use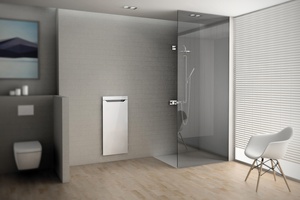 Raised toilets are easier for tall people or those with back problems.
Innovative WCs incorporate, for example, multi-functional heated towel rails and flush plates with intelligent functions.
The touch-pad sensor that operates Grohe's K7 Foot Control tap can be placed wherever is most convenient, and its temperature can be pre-set. 
Accessibility
Large floor-level showers without door sills eliminate potential trip hazards and allow people plenty of room for movement while showering.