Cedar crucible: ASB Waterfront Theatre
A new theatre complex in the heart of Auckland's Wynyard Quarter is a vibrant hive-like complex designed by Moller Architects and BVN Architecture.
Apart from wanting a peek at the architecture, I had two questions about Auckland Theatre Company's new theatre complex down near the waterfront. How is it different from Cheshire Architects' Q Theatre completed in 2011? And why is it down at North Wharf rather than in the Arts Quarter (or The Edge or Auckland Live or whatever it's currently called)?
Gordon Moller is both architect of the new theatre (with BVN Architecture) and chair of Auckland Theatre Company (ATC). The new building in Wynyard Quarter is distinctly different from Q's big Rangatira space, a flexible black-box-style venue seating 340–450 people. The need had been identified in the performing arts community and by ATC for a new 600-plus-seater venue that would allow a substantially different business model and a wider range of opportunities.
And, as Auckland grows up, the Waterfront Theatre spreads the love, adding a cultural dimension and entertainment facility to the redeveloping Wynyard Quarter, which currently consists only of office blocks and restaurants. A theatre down here offers something extra after hours and the public can have dinner, take in a show and stroll the waterfront and imbibe a drink afterwards.
The new building is tucked behind the newish ASB Bank headquarters on Halsey Street and opposite the wharf-edge site on which a new Hyatt hotel is to rise. On three sides its simple exterior cladding of timber and glass mean it's not a very demonstrative building, but on the Halsey Street frontage the curtain metaphysically rises, as opal glass gives way to clear, and we see a curved container behind the glazing, giving the impression of a cylinder coiled in a cube. This hint of pent-up energy is reinforced by a vivid red spiral staircase.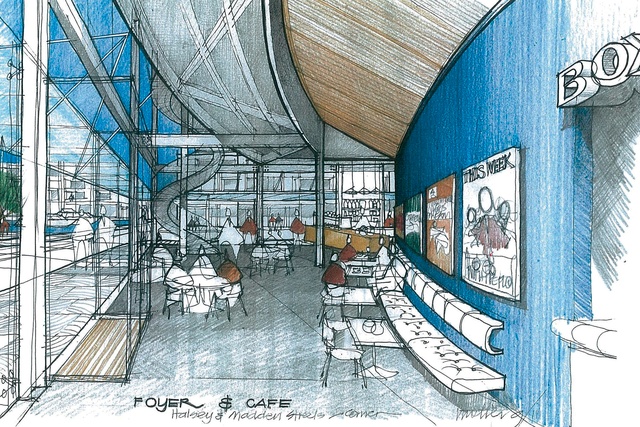 The theatre, behind this curved wall, is lifted up into the air, allowing the ground floor to be an open, airy and light-filled space. A café occupies one corner of the site and the box office, cloakroom and bar wrap around another two frontages. The bar, in particular, is broad and expansive with huge doors opening onto a laneway-type space, Logan Campbell Yard, between the theatre and the ASB Bank HQ. I can imagine people cutting through these ground-floor, semi-public spaces during the day and at night; patrons spilling out onto the street and laneway, which will both enliven the urban environment of the precinct and draw the public in.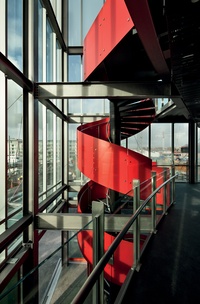 The spiral staircase, a lift and a grand timber staircase carry patrons up to the first level where a semi-circular mezzanine and lobbies allow access to both sides of the theatre's seating. There is also an airbridge at this level connecting across to the ASB Bank HQ's first floor, which houses a smaller 200-seat black-box-type theatre.
All this highly visible public circulation creates a sense of a vibrant hive-like complex and, in contrast, the theatre space itself feels like a great culminating cocoon at the heart of things: Moller calls it a "cedar crucible". And he knows theatres well. The seats are multi-coloured, so that even a half-empty theatre will seem full, and are arranged in arcs so that you can see your neighbours and get a sense of the audience's shared presence and focus on the stage. The floor curves up towards the back of the auditorium, increasing the feeling of a dramatic bubble of space.
It's a big space but has a sense of immediacy and intimacy that you don't find in other theatres – I think it will become a favourite venue for both audiences and performers, especially for spoken-word productions. There are even a couple of old-fashioned boxes for those who come to the theatre to be seen rather than see. And some lovely touches to the detailing as well: the seats seem to float on dimmable lantern-like bases that diffuse air and provide a magical quality of light as you search for your seat.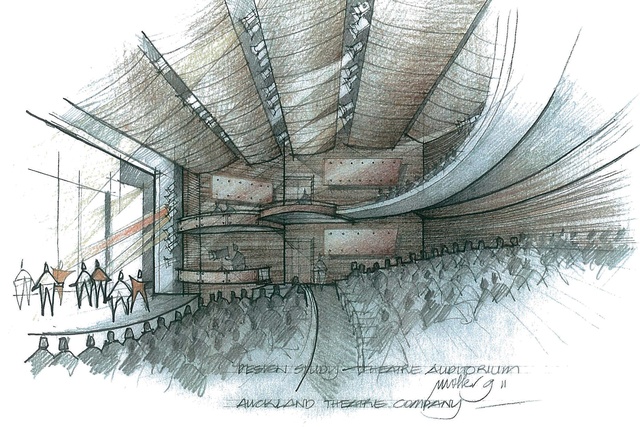 A tour of the entire complex makes you realise just how sophisticated this building's interior is and provides a lesson in the complex machinery of theatre making. There is a labyrinth of behind-the-scenes circulation, loading docks, storage and props areas, wardrobe, several Hollywood-style dressing rooms, administration, as well as an under-stage space accessing stage trapdoors, fly space, lighting bridges and sound, lighting and stage management stations and, of course, a plant room.
The toilets for patrons are huge, to pump the crowds through at intermissions, but well thought out with pretty circular mirrors and little ledges for your phone when you tweet your half-time pronouncements on the performance. On the mezzanine level, there is also a VIP guest or sponsor's lounge that can also accommodate meetings or post-performance parties, with an outdoor deck for the luvvies to smoke their heads off – or throw themselves from in the event of distressing reviews!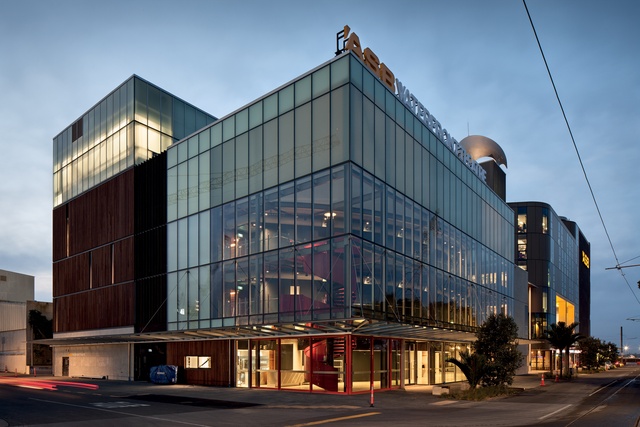 After all this richness of architectural thought, there are also a couple of artworks as well. Robert Jahnke has designed a 6m-tall pou (carved post) for what will be the more ceremonial of the entrances and a kinetic lighting work by US artist Leo Villareal is being installed over the double-height shell of the auditorium. This will make that glimpse of the theatre space from Halsey Street even more lively in the evenings.
More than 20 years after Auckland Theatre Company – formed out of the ashes of the Mercury Theatre's demise – put on their first show at the Watershed Theatre, ATC has returned to the waterfront in style with its own theatre. Lots of good things are happening in Auckland at the moment and this is another sophisticated new piece of infrastructure that makes us feel like we live in a grown-up city.