CNC – the new approach to building
The utilisation of CNC technology is changing the way architecture is constructed today in New Zealand. Thomas Denhardt spoke with some passionate pioneers of 'PC-guided production', who are exploring alternative and improved ways of designing and constructing buildings.
Who can forget Celia and Diana's patronage towards the experimentative self-build company 'Facit Homes' on Grand Designs, where CNC technology was employed directly on site to erect a modern home with all the bells and whistles fit for their retirement? It is projects like this, which harness CNC – computer numerical control – that are beginning to change the way we choose to construct architecture today.
Described simply as PC-guided production, CNC is gradually superseding traditional fabrication delivery systems through providing higher precision, greater variety, faster manufacture, lower costs and even safer assembly. These qualities embedded in the digital craft are attracting some New Zealand architects and designers to become passionate pioneers, hijacking its inherent potential to explore alternative and improved ways of constructing, even designing.
In Wellington, Chris Moller of CMA+U, in collaboration with Jaap Dankert, has optimised the benefits of CNC technology by driving an idea that started from 'spatial sketching' into a speedy and simplified architectural fabrication that essentially 'clicks'.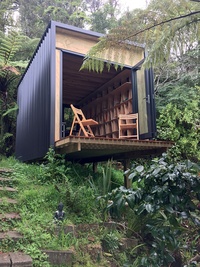 Initially seeded by Moller's desire to create "a new minimal habitat", 'Click-Raft' design is a plywood lattice structure comprising post-tensioned, straight click beams and sine curve-shaped, click-leave panels. Through clicking and weaving, stable diaphragms or rafts are formed, morphing into floors, walls and roofs with various potential configurations. Structure, cladding, power, plumbing and other typical abode necessities are accommodated within the weave of the plywood structure.
'Click-Raft type 02' is one of a series of projects that utilise this innovative system; pieces are manufactured with a CNC cutter, then flat-packed, transported and rapidly assembled on site into an additive system of components and sub-assemblies. Unlike long-established New Zealand timber-frame construction, Click-Raft doesn't involve intricate jointing, detailing or protection. Instead, the system simply fits together like a piece of IKEA furniture made of numbered, interlocking parts.
"CNC is a great tool, just like a pencil is," allowing "rapid prototyping and dimensional accuracy", Moller says, with swiftness in production being highly valued. CNC fabrication in this sense not only allows designers to fine-tune their building designs down to simple building blocks but also provides a platform on which the buildability of schemes can be tested and churned over with prolific agility and stamina. Through exploring versions of the original spark idea with CNC technology, the Click-Raft system has now become a do-it-yourself success story, breaking ground with New Zealand construction.
Another collective that is part of this CNC initiative in New Zealand is 'EDFAB' (Eco Digital FABrication), created by a group of researchers at The University of Auckland who recognise the ease with which a layman can build when employing this digital technology. CNC has been showing great promise in Europe and North America, and it soon became an aspiration to construct and investigate a small timber-based sleepout suited to New Zealand conditions, which used CNC fabrication techniques, giving birth to the syndicate of 'EDFAB'.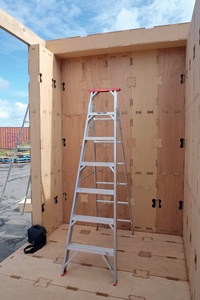 The system consists of stackable, repetitive plywood cabinets, like adults-sized LEGO blocks, which are structurally braced using 'butterfly plugs' as joints. Similar to writing code in order to program a website, software was relied upon to subdivide the plywood prototype into a number of labelled modular parts which were fed directly into a CNC router for fabrication.
The 'EDFAB' model was showcased at the Whau Arts Festival in Avondale, Auckland. It was transported to the site as flat-pack components, which were erected into large rectangular boxes by students, like-minded individuals and the Avondale community. Yusef Patel, a digital fabrication technician who was part of the assemblage, said there was "little need for skilled labour and expensive tools…. allowing for a broader spectrum of people to take part in the building process".
What the 'EDFAB' prototype reveals is that building is becoming less exclusive through implementing CNC technology, where people at the event switched from strolling through the displays to helping build a small timber sleepout. This game-changer in construction has the ability to reduce hefty skilled labour costs, which come with building territory today, while permitting people to make buildings that embody all the benefits of digital craft.
Also in Auckland, Daiman Otto's CNC galvanised system, 'Analog Structures', extracts the most amount of structure with the least amount of waste. He was driven by the preliminary question: "What is the most possible building I can get out of a single sheet of ply?" In 2012, Otto displayed 'Feel Free Analog Structure' during Shed Light at Federation Square, Melbourne. A celebration of DIY culture, this was his architectural response to this question, achieving what can be described as an uncomplicated compartment of contact.
Using only 16 sheets of plywood, the micro-architecture displayed minimised construction waste because each plywood sheet was cut digitally with optimum efficiency, with offcuts being reused as packing for structural integrity. Like a jigsaw puzzle for children, the structural system was easy to assemble for the event and dismantle. Covered with a modular system of mesh and polypropylene panels that were repetitive and responsive, the shelter created an animated ethereal light show dictated by each visitor's interaction.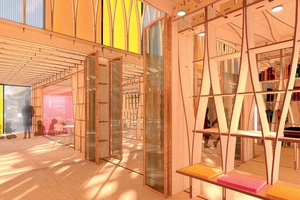 The application of CNC technology yielded a highly sustainable building process, while allowing Otto to "calibrate the resultant building section to other material dimensions and sizes", further reducing cutting by hand or mechanically. What is modelled in digital space is literally what is built in reality, eliminating the need to waste building materials on site; this waste, normally, would end up as landfill.
Prototyping for the shelter was achieved through email dialogue prior to landing in Australia for the event. With CNC technology becoming more internationally accessible, this method of simultaneously designing in one time zone and constructing in another is becoming more feasible, producing original approaches when it comes to working in the industry.
"CNC is almost universally available and understandable," Otto explains. Through employing CNC technology, some New Zealanders are clearly changing the way architecture is constructed today. From traditional methodologies to digital capabilities, 'Click-Raft', 'EDFAB' and 'Analog Structures' all epitomise what it means to be influenced and inspired by CNC fabrication, highlighting the plethora of rewards that come with thinking outside the timber-framed box, so to speak.
It is incredible that, with a flick of a switch, a 3D model is translated into 2D planes fit for assembly. It makes you wonder whether, in the next five to 10 years, we can expect to be surrounded by high-precision edifices designed by CNC aficionados that exemplify this technological boost. With all this praise and infinite opportunity, we can certainly guarantee CNC technology will not be a bystander but, rather, a pivotal participant in the next evolutionary wave propelling forward the way we build architecture here in New Zealand.