This triangular building gains its strength from a mass of concrete and steel reinforcing, and its circular core.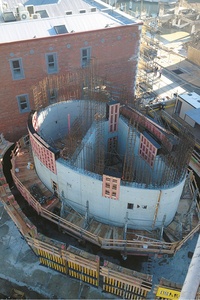 The new Leighs Construction headquarters in central Christchurch will be one of the strongest commercial buildings in the new city, built to Importance Level 4, or 188 per cent of the building code, the same strength hospitals are required to reach. But it's not just the strength of this building that makes it unique. It is based around a central core that utilises circular crane assisted self-erecting formwork, a first in New Zealand.

And the concrete pour for the slab of the main building - the project is made up of two adjoining three-level buildings - was the largest single concrete pour in the red zone - at just under 700 cubic metres. Throw in a unique construction methodology for the reinforcing, slab and piles, and it starts to become clear this is no ordinary office build.

The $13 million development, owned by KPI Rothchild, is on the intersection of Manchester, Lichfield and High streets, and sits on a tight corner site that was formerly home to the Strange's Building, a Category 1 Historic Places building dated to 1899. The historic building was an iconic remnant of Christchurch's earliest department store, Strange and Co. "We know our building is going to be a worthy replacement, a stunning example of modern architecture, and one that we're proud to be calling our home," Leighs Construction managing director Anthony Leighs said.

With seismic stability at the forefront of this project, nothing was spared in attaining this goal. "We used 160 grout piles, which are usually used for highway stabilising," Leighs Construction site manager Neal Rippey said. "Because of issues with consents, we started construction prior to receiving full consent documents, and the foundations were well underway with a separate foundation consent.

"We started with extensive ground testing down to 24 metres and looked at alternatives to traditional piling," Mr Rippey said. "We ended up with high pressure grout piles, a first for Christchurch buildings. We then installed a raft-type floor slab, 1500mm thick." Mr Rippey said this slab was similar to one he installed at the Transpower HVDC Pole 3 project to support three 500-tonne transformers. "But in this instance it supports the extensive reinforcing for the walls."

Steel and Tube Reinforcing Christchurch senior detailer Paul Kempt said much of the slab used multiple layers of heavy grade deformed bar, tied together with thousands of links fabricated from smaller diameter bar.

"The two main concrete structures also contained multiple layers of large diameter reinforcing, placed horizontally, vertically, and diagonally," Mr Kempt said. "To add to the complexity, one of the structures contained curved walls, which reduced in width from 500mm down to 400mm, requiring items to be carefully fabricated to follow these curves. In total, almost 300 tonnes of reinforcing steel was detailed, supplied and fabricated for use in this building."

Ground stability was an early challenge for the project team to overcome; the post-earthquake influences on the soil structure meant there was a big difference between the founding depths at each end of the site. In February, the site made headlines when the slab was poured, requiring 32 trucks, two pumps and 19 staff, to pour just under 700 cubic metres of concrete. "We used a special 'reinforcing intensive' mix. The construction methodology was based on the huge amount of reinforcing, not only in the slab, but also in the walls. So we chose self-compacting concrete for the insitu walls."

Allied Concrete national sales manager Glen Paterson said self-compacting concrete with low shrinkage characteristics was originally specified for the core walls due to the heavy reinforcing with 40 mm diameter bars in some places. "During the initial construction of the lift core section of the building, a stitch joint concrete was used that is typically pumped from the bottom," Mr Paterson said. "This concrete was extremely sticky, which increased pumping pressure. Optimum flowability was achieved at higher than normal spread levels of 750 mm and this meant the concrete was vulnerable to segregation. Before the start of the circular core structure in the atrium of the building it was decided to change the design of the self-compacting concrete. Development of the new mix was done in the laboratory and on selected smaller projects around Christchurch to ensure a decent track record of performance."

The building is based around a centralised egg-shaped core, which gives the structure its strength. "The egg structure was built using crane assisted, self-erecting circular formwork from Doka. It came together well with materials coming from offshore. Leighs Construction designed an additional $30,000 steel shutter to form a void in the centre, and had it fabricated here in Christchurch."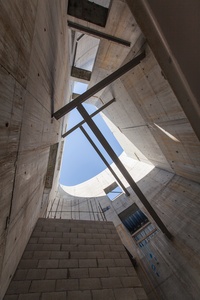 Curved plywood secondary whalers were CAD drawn from the formwork drawings, and CNC-machined in Auckland. Single grain bending 9mm form ply was sourced from Australia. Because of the risk involved with using a new method, Mr Rippey decided to have a one-off concrete pad built on an empty site down the street to test the formwork prior to its installation on site and check the coverages to concrete.

"It was crucial that we pre-assembled all the formwork for the core and tested it before we did it on site. It's a one-off structure. Nobody has ever built a core with this type of formwork before so there is a fair bit of risk in it," he said. "It was a massive undertaking to get a full-size replica done on this pad while things were still happening down the road on site."

More than 300 cubic metres of concrete went into the core, with pours averaging about 100 cubic metres. The core structure will hold the lift shaft, stairwell, shower facilities, toilets and services, and will be visible from the exterior of the finished building. An extensive glass curtainwall forms the exterior of the buildings; the 15-week glazing progamme will be complete at the end of November. "With a complex building to construct, it was critical during the methodology phase to get early buy-in from key trades."

Not only has Mr Rippey been busy managing this project, he made headlines when a fellow worker in the red zone collapsed near the site. When Mr Rippey checked the man's airways he realised he wasn't breathing and was starting to go blue. An ambulance was called and Mr Rippey started CPR. "It felt like half an hour [doing CPR] but it must've been two or three minutes. I was dreading the worst. Then I just remember him starting to breathe on his own. I was just so relieved. His eyes just came alive."

But despite this and the various challenges associated with this build, Rippey has run a tight ship, and construction is on schedule for completion in December this year. The buildings will incorporate mainly office space, with a bar at street level in the second building. A walkway  will link the two buildings at level two  and three.

Leighs Construction will tenant the majority of the upper levels, and RCP has also leased office space in the building.