Design people: Katie Smith
Textile designer Katie Smith creates bold and inventive homeware under her label, Smitten Design. Trained at Goldsmiths in London – whose alumni also includes the likes of Damien Hirst, Mary Quant, James Blake and Sam Taylor-Wood – she now works from her studio at the historic Corban Estate Arts Centre in West Auckland.
Justine: You're English-born. What brought you to New Zealand?
Katie: I was born in Manchester but I came to New Zealand when I was five. My parents had been told it was like England in the '50s so we came in a big boat that took six weeks to get here. I grew up here and I think of myself as a Kiwi, but I have family in England so I went back at age 19 and stayed there for 10 years. I fell head over heels in love with London – from the shoe shops to the galleries; everything.
Justine: Where did you study?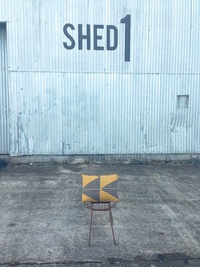 Katie: I wanted to get under the skin of London. I'd just completed a craft design certificate at Otago Polytechnic in Dunedin, which was a great foundation; it's where I learnt to screen print, dye yarns, make paper and weave. I learnt so much in two years and was so inspired, but it wasn't enough so I went off travelling.
I looked at the different places in London to study textile design and Goldsmiths really appealed because it's an art school. I went straight into an MA, based on my diploma and portfolio, because they saw potential in all of the crazy stuff I was doing. It was expensive to study but I was lucky to have a grant for some of my fees through the old Queen Elizabeth II Arts Council in New Zealand and I lived in a council flat in Peckham – on the smell of an oily rag.
Justine: Was that about the time the famous YBAs [Young British Artists movement] attended Goldsmiths?
Katie: I was there in the wake of Damien Hirst and it was surreal. Studying textile design, we were very influenced by the fine artists studying there – and all of the exhibitions going on. For my graduation show, I went to the local London bus garage and asked them for some upholstery fabric from the seating used on the buses and trains; then I made up a jacket and took a photo of someone wearing it while sitting in a bus. It was all about invisibility and anonymity and textiles being a backdrop to our lives.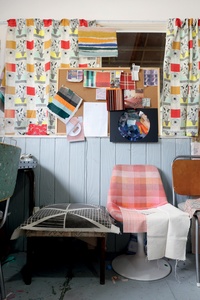 On the weekends, I'd hang out at the London Print Works Trust in Brixton, which was set up by this really cool guy called Stewart Russell, who is now in Australia running a textile business called Spacecraft Australia. Graduates could go to the trust and hire a table by the hour and use all of the equipment and facilities. Russell really mentored people and he connected me to a textile agent who I used to design fabrics for and she'd sell them to textile mills. It was also a space for artists and designers to experiment; it was so inspiring.
Justine: It would be great to have that kind of place in Auckland, like an entrepreneurial hub for creative graduates.
Katie: Yes, because there's nowhere to go for graduates. You use your kitchen table or your garage but you need support after you've graduated. I also think that so much is being produced digitally now and many of the schools don't do much screen printing so I don't want it to be a dying medium because it's so important to be hands-on with designing. While I use Photoshop all the time, it's much nicer to be spontaneous, even if it's more labour intensive.
Justine: It's interesting that through the process of creating, you can gain a different outcome than originally imagined – and often it's even better.
Katie: Completely. I have designs that were happy accidents, like the triangle design that came about through demonstrating to a student how to paint directly onto the screen. I printed a little triangle and put the ink on too thickly so it went a bit blobby, but we liked it and now I've designed a collection in that design. I like designing patterns that can work across different mediums, whether it's a chair or lampshade or bedhead or cushion, and one of the things I enjoy about hand-printing is that I can produce short runs and collaborate with people.
Justine: By designing bespoke, can you work more sustainably?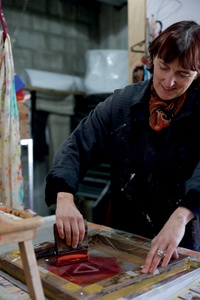 Katie: Yes, with short runs I use up every bit of fabric. I've worked for textile wholesale companies and seen how bolts of fabric go out of fashion and can't be sold, so they go on the skip. There is so much waste and I don't like waste so, if I have off-cuts, they get sewn into pencil cases and soft pots for plants. I like to be resourceful and I don't mass-produce. For my collections, I work with printers in Otara – working with local companies helps keep those businesses alive.
Justine: Why work on homeware, rather than fashion?
Katie: I worked for an interior designer for a while and discovered that I enjoy creating homeware: working with people on what they might paint their wall colours or what they've upholstered the couch in – or a rug or painting. I love being able to join all the dots – whether it's a watered-down colour for a lampshade or a real pop for a cushion – helping to pull the colours and spaces together.
Justine: Where are your designs sold?
Katie: All over the place, including: Coexist at Victoria Market in Auckland; Vessel in Wellington; Blue Scarlet in The Tannery in Christchurch; and The Framing House in Hamilton. People also come to me directly through Facebook, Instagram and my website. I'm also working on some textile art, creating wall panels – working more intuitively and spontaneously – and I'm organising a curated textile art exhibition for May this year. You can check my website or blog for details.