Designer profile: Olivia Smith
Inspired by nature and her incessant travels, textile designer and founder of Nodi Rugs Olivia Smith speaks to Interior about her craft.
Interior: How did you come to work with textiles?
Olivia Smith: I initially moved to Milan to learn Italian and cruise around Europe. I did that for a year and then I didn't want to leave; so I found a university and studied textiles. I then spent a year being an intern for three different people. The first was with an American woman, who was doing block-printed textiles out of India. She was collaborating with a big Italian company that do sheets and bedlinen; they had this old museum set up and I went and did printing with them using these old blocks.
IR: Did that have a long-lasting influence?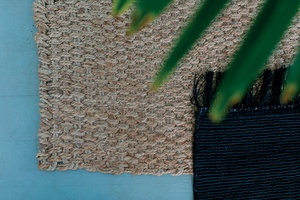 OS: That opened my mind, I guess, to handmade and to what traditional textiles were being created out of India. While I was an intern I was also making hand-knotted necklaces. When I was doing that I learnt about the word nodi, which means 'knots' in Italian – I loved the form of the letters and how it sounded; it totally encapsulates what a knot is if you look at the form of the letters.
IR: How long were you in Milan?
OS: For three years. The financial crisis hit in 2008 and when I left in 2011 Italy was in a shambles. There were no prospects for me, so I had to leave. I was heartbroken. I decided that I was definitely not going back to Wellington, where I'm from, so I moved to Sydney and worked for a furniture company who set up the import of Fendi furniture and Kenzo furniture. It dealt with an Italian distributor, so we set up the showroom and I looked after the trade account, working with interior designers and architects specifying furniture. That opened my eyes to how interiors, trade accounts and projects work.
IR: Were you still doing textiles during that time?
OS: I was still making necklaces, but it was all just lodged in the back of my mind. At some point I saw these cheap flight tickets to Japan – I decided I needed to get out and make some decisions. I went to Japan and while I was there decided to move to India to go back to my dream. I went with the intention not to start a business, but just to learn, to up-skill, and I connected with an agent over there who led me to a whole lot of different rug factories. I chose one that I gave some designs to and they wove them.
IR: What were your designs like at that stage?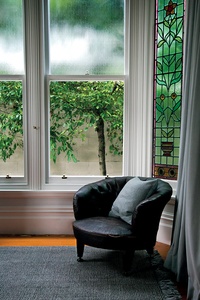 OS: I actually went over with some designs, which I redesigned while there. It reiterated how much your surroundings affect you. Travel really opens everything up for me. It's an essential part of my life.
IR: How many designs were there?
OS: There were five designs for full rugs, as well as swatches. I'd never picked up a rug in India because men just appear and unroll everything and re-roll it; so when the FedEx truck arrived, the rugs were 35kg each and I was in this tiny little terraced house in Surry Hills – lugging them up the stairs thinking 'what have I done?!'.
I decided to put together a catalogue and photograph them and attempt to sell them, which I started doing with the contacts for all the interior designers I had from my previous job. However, I knew that if I wanted it to be a business I needed support. It was too difficult in Sydney; I had no support, no family there. So I moved home and ended up moving to Mt Maunganui with my partner at the time – and set up the bones of the business there. I got some retailers on board and slowly started selling, then released another collection. Now I'm about to release a third collection.
IR: How have your designs changed since then?
OS: In the second year, I realised that I couldn't just have bold design rugs in New Zealand. Kiwis are so conservative, they buy beige everything. So I quickly learnt that, if this was actually going to make any money, I had to introduce another range. So I released two collections – organic lines and staples. I designed those in The Mount from my office. There was this amazing natural light that would come through the windows and the shadows were just so beautiful; so the whole range is inspired by shadows and light and the organic forms that are created through that. 
IR: What materials were you using at that stage?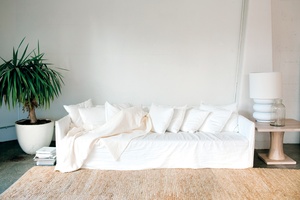 OS: I used jute as a material and banana silk and cotton – materials that were well-suited to the coast, so, again affected by my environment. Are you selling much to the commercial sector? There's a handful of key interior designers that we work with who are quite active in that market. Our name is finally starting to get out there. That part of the business is growing and that's what I love – creating custom-made rugs for a certain space.
IR: Tell me about the new collection.
OS: It has been the hardest one to design so far, because now it's a business – so there are parameters around creativity and creating something that is unique but that sells. I can't tell you how many times I've redesigned this collection!
IR: What's new?
OS: We've introduced a wool part of the staples range, which has been received really well, and then we've used different kinds of jute and spun it in various ways to create quite a complete range of staple rugs. The designer range is called Luna, which has a big focus on texture and yarn. 'Luna' means moon in Italian, so it's inspired by the moon – nature is a big inspiration for me.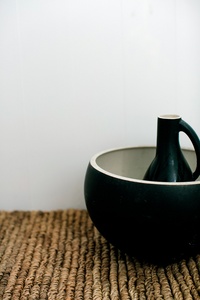 IR: And how's that reflected in the end product?
OS: Colours, textures and materials. It's all natural. We don't use any synthetics. There's no poly, no acrylic. If you think about wool and jute, the way that they're used in nature, they're put under a lot of pressure – they undergo all sorts of things and they still stand up.
IR: Where do you see yourself in, say, 20 years' time?
OS: Exhibiting at Salone in Milan and at Maison&Objet – all the big trade fairs – and becoming a worldwide brand, still with the hub in New Zealand. I love this country. This will always be home for me but there's so much happening in the world and in design beyond here – so I'd like to reconnect with that.