Could plastic be the architecture world's most underrepresented and under appreciated material? Until recently, the design industry hasn't seemed to view lightweight plastic polymers – in the form of ETFE and polycarbonate (PC) – as suitable for use as a primary material.
This may be about to change, however, with the more widespread understanding of the benefits of utilising plastic for a wide range of projects, alongside technological innovations that are continually expanding the potential of the material.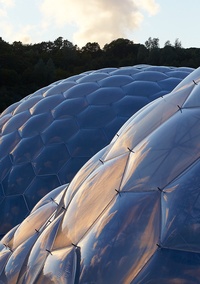 Ethylene Tetra Fluoro Ethylene, otherwise known as ETFE, is a fluorine-based plastic that is both recyclable and long-lasting. Originally developed in the 1970s by DuPont as a heat-resistant film coating for the aeronautics industry, for the first ten years of its life the material was mainly used as an upgrade for the polythene sheet used in greenhouses.
Unlike plastics with an understandably bad environmental rap such as PVC, ETFE is widely accepted to be cost-effective and highly durable. Due its extremely light weight it also requires minimal energy for both transporting and installing.
ETFE first came onto the architecture scene in 2001 with its use in the Eden Project in the United Kingdom, chosen as the enveloping membrane due to its high level of solar control and ability to regulate environmental conditions – fundamentally important to the sensitive plant life inside the biomes.
In 2008, ETFE was selected for use in the Beijing Olympic Aquatics Centre, aptly nicknamed the Watercube, for its aesthetic and acoustic qualities. ETFE has since been been utilised for several large sports stadiums, as well as in transportation projects, offices, schools and installations.
Alongside ETFE, polycarbonate plastic is now being used more often as a building material. Benefits include its ability to maximise natural light, improve a building's thermal efficiency and its high strength – PC panels are 200 times stronger than glass panels and are often used for residential projects, temporary structures and cultural buildings.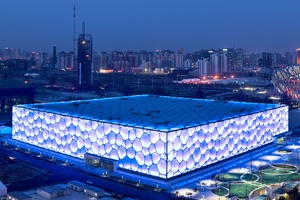 The material allows for a wide range of design possibilities. Polycarbonate can be cut into different shapes and designs, can come as textured or corrugated panels and is available in a wide range of different tints, from blue to bronze. Like ETFE, it is cost-efficient due to its light weight and is durable and easy to clean. 
Translucent polycarbonate enables diffused daylight to flood the interior without compromising the residents' privacy. At night, when illuminated from the inside, the material creates a soft glow that gives buildings a blurred, almost ethereal quality.
The use of both polycarbonate plastic and ETFE is becoming more widely accepted in architecture. The 10 projects below and in the slideshow above illustrate how this versatile and malleable material can be successfully utilised in a wide range of typologies.