Since ancient times glass has been used as a functional and decorative material, although it seems we've never really tested its capabilities. Until now, that is...
People can now live in glass houses and, should they wish, throw stones without shattering the strengthened, double-glazed panes. Ongoing developments in glazing products mean people can enjoy unobstructed 360-degree views 24/7 while staying warm and having the option to shield themselves from prying eyes with switchable privacy glass.
The alliance between architects, engineers, builders and the glass industry has created some spectacular – and fanciful – buildings of late. You could, for example, be forgiven for thinking you were in the Land of Oz rather than the city of Minsk, when looking at the glazed façade of the 24-sided National Library of Belarus, or, similarly, the red, blue and yellow-hued Netherlands Institute for Sound and Vision in Hilversum.
Closer to home, the benefit of light and views afforded by glass curtain walls was used to full advantage by architect Ian Athfield for the Wellington Central Library, where the floor-to-ceiling windows allow people to read or study by natural light. The glass façade of Jasmax's NZI Centre in Auckland creates a light and airy work environment and acts as a connection to the life of the city outside.
The Supreme Court building in Wellington includes a spiral stair balustrade and enclosure, a glass floor, concourse wall cladding and a glass library stair, while the courtroom itself includes a glass feature ceiling and dual-glazed public viewing window, which can be changed from clear to opaque with the flick of a switch from the judges' bench.
Glass Association of New Zealand (GANZ) chairman, Gary Walden says the most significant change for the industry was the government's introduction in 2007 of increased thermal insulation requirements for residential buildings, which has resulted in the majority of new residential buildings incorporating energy efficient double-glazing into nearly all windows.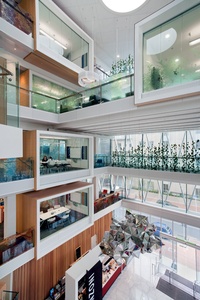 "The impact on the homeowner has been that their windows lose 48% less heat than a typical pre-2007 home. The most noticeable difference is in the level of comfort now being experienced in these new homes with the general feedback received by the industry being overly positive in favour of having double-glazed homes even in the warmer climates such as Auckland."
While not legislated, double-glazing is certainly a simple method of compliance and is now widely accepted by the general public, says Walden. As a result, retrofitting is one of the fastest growing segments of the glass industry as many homeowners double-glaze their existing homes. This includes lead lights, which are encased inside a double glazed unit. Sound insulation is also commonly requested and provided by specifically designed laminated glass products.
Other technologies such as high-performance low-emissivity (low-E) coatings are continually being improved, partly driven Walden says, by consumer demand for even higher levels of thermal insulation than provided by standard double-glazing. Low-E coatings of invisible metal on the inside surface of the glass reflect radiant heat back into the room.
"This further improves the insulation of the window and follows an international trend to maximise natural light and solar gain but minimise the loss of that heat when it matters most."
Clients, builders and architects have a substantial choice for exterior glass facades or internal fit outs says Andrew Hibbert of Viridan Glass.
"Whether it is switchable glass, Profilit glass, glass blocks, low-E glass, acoustic laminated glass or printed glass there are so many options, and they need to be talked through with the right people. A recent example is a house that was being built in the South Island and they were planning on putting Planitherm XN low-E glass within the building, however using this product alone would have meant that the building would have been so hot during the day. The correct design needed to either incorporate louvers, or a combination of Coolite low-E glass so that there is greater solar control."
Some commercial buildings feature decorative, printed glass for solar shading, which allows light in and cuts out direct glare. Screen printed frits, now moving to digital print, are a tool for solar control as well as decorative effects, says Mike Stanford of Metro Performance Glass.
"Ceramic ink technology fuses ink into the glass during the toughening process, making frits and patterns more durable."
When energy efficiency is a priority for commercial buildings, Walden says clients look for a product that is a combined solar controlled feature with low-E glass – giving thermal insulation as well as reduced solar heat gain. Low-iron glass, covered with high-performance coatings reduces heat gain.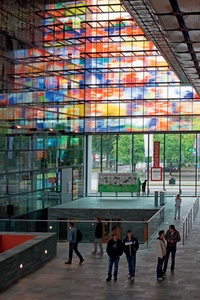 "The iron content in glass is what gives the product a green tinge [therefore] the low-iron versions are much clearer. Utilising a high performance coating on low-iron glass means that the building will receive much clearer, cleaner light, [thereby] reducing the lighting costs for the building."
Walden says architects often have to balance the amount of heat with the light they let into a building. A double skin of glass, used overseas and also in New Zealand over the last five years can be a successful solution.
"The NZI Centre building is a good example. There is a double glazed exterior façade and a 300mm to 400mm gap or even more and then another single glazed façade around the outside that gives quite a good reduction in heat gain and also cuts a lot of noise – in effect a double curtain wall around the building."
Some commercial façades utilise a combination of high-performance and low-E glass as well as glass fins for solar control and shading, while laminates, digital printing and the continuing use of screen prints serve a range of functions.
"Whether it's for decorative purposes, controlling solar gain, heat loss, road noise, and/or safety concerns all of these technologies can play a part," says Stanford.
On the residential front glass balustrades and pool fences have become a common feature of a new home. Glass is also used for floors and stairs, some walls, and to create the sides of swimming pools where the glass must contain the water and withstand the pressure.
"A recently completed [residential] project in the far north has no solid external walls just glass to the full perimeter," Walden says. "There is an increase in specific design applications where glass companies are engaging engineers specifically trained in glass products and properties as architects and designers push the boundaries of glass use."
But glass still has a long way to go if it is to replace solid materials. Even with recent improvements, glass can't compete with a material such as concrete for insulation, Walden says. However, that may not remain the case. In Europe, he says, quadruple glazing has been used, and the very thin glass used in mobile phones, which is very strong and lightweight as well as being flexible, is being experimented with for possible external glazing applications.