Isn't it good, engineered wood
Progressive Building talks to Jeff Parker, Wood Producers & Manufacturers Association technical manager, about the latest advances in timber – and takes a look at a couple of new products putting timber back on top of the construction heap.
Progressive Building: How much is the timber industry in New Zealand worth on an annual basis?
Jeff Parker: Figures compiled in 2014 by the New Zealand Institute of Economic Research on behalf of the WPMA showed the timber industry – not including pulp and paper – was worth $2.83 billion. That figure includes export and domestic markets.
PB: How much of the total output is exported?
JP: 53 per cent.
PB: How much of the 'raw product' is earmarked for the local construction industry?
JP: Construction includes structural and non-structural, eg cladding, mouldings etcetera, so most of the domestic product goes to construction.
PB: Which, if any, other local industries is the 'raw product' supplied to?
JP: Chips produced during sawmilling go to pulp and paper, which is in itself a $2 billion market.
PB: Given the advances in structural timber products, what is the growth potential for the NZ marketplace?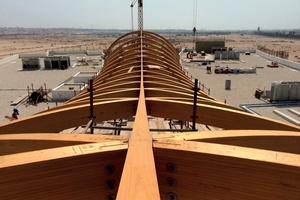 JP: Growth potential is high, as the development and introduction of CLT is combined with the ability of other engineered wood products (EWP) such as LVL, plywood, glulam and engineered light timber truss systems, to enable economic construction of taller, multi-occupancy wooden buildings which have the advantages of easier foundation work, rapid construction, smaller work crews, faster erection, improved thermal mass and thermal insulation and at the end a remarkable amount of carbon is sequestered in the building.
PB: Does the timber industry produce enough 'raw product' to meet the potential demand?
JP: At the moment the tight spot in demand is log supply, with overseas buyers seemingly willing to pay high prices for a range of log qualities, which are then exported. New Zealand manufacturers have to compete in this log market. Given this, there is a trend for larger New Zealand manufacturers to buy their own forest resource, which they then manage for their own requirements.
PB: Could New Zealand become a global leader in the manufacture of these engineered wood products?
JP: On a technical basis, New Zealand is already a global leader with companies which manufacture EWP and provide technical support to their customers. New Zealand EWP companies are set up so as to be able to supply significant volumes for export, but as local companies have to battle against non-tariff barriers and subsidised exports from other countries, it is not known how large the export market will become.
PB: Where are we seeing the greatest level of innovation in wood products?
JP: Timber and wood products used in buildings come in all shapes, sizes and categories. The total is often divided into structural and non-structural. Non-structural products can also, generally, be divided into two categories – external and internal – and comprise such things as weatherboards, cladding panels and decking as well as decorative lining products of a variety of timber species.
While these products are thought of as conventional, there are some innovative products now on the market. Firstly, and spectacularly, are the curved 215mm timber weatherboards manufactured by Woodform. Also, several producers have developed and obtained building code approval for conventional weatherboard systems that have improved detailing and fixing systems. Similarly, building code approval has been given for weatherboards that have been heat treated, rather than the more common treatment processes involving infusion of anti-decay chemicals.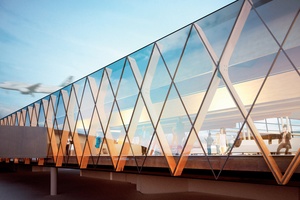 Secondly, for products used internally, there have been developments in the reaction-to-fire area of the code where changes to Clauses C1-C6 had restricted the use of clear coated timber products in public spaces. By allowing the European Single Burning Item test to be used to assign Materials Groups under the code, a range of clear coatings with Materials Groups ratings of up to 1S have been made available to the New Zealand market and at an apparently reasonable cost.
Structural products account for the largest use of wood in buildings. Structural products range from smaller-dimension sawn timber, through laminated veneer lumber (LVL) and engineered timber I-beams to glue laminated timber (Glulam) and cross-laminated timber (CLT). Sawn sizes of structural timber are being used increasingly in complex truss layouts, where advanced engineering software, coupled with the growing reliability of graded structural timber and the ability to place LVL components in particularly highly loaded areas have extended the options available to building designers.
Overseas, applied research into fire-resistant systems has allowed the use of 'light' timber framing systems to be extended to six-storey buildings. Work is progressing on this front in both New Zealand and Australia. Above the light timber-frame systems come the heavy, engineered wood components such as Glulam and LVL. Separately or together, these materials are extending timber construction into areas where it has not competed before.
PB: Can you give us a run down of the benefits that each of these EWP products brings to the table?
JP: Glulam comprises layers of sawn timber (usually) face bonded into beams of larger sizes than can be obtained by other methods. Glulam can be manufactured to a variety of straight and curved configurations so it offers architects and designers artistic freedom without sacrificing structural requirements.
LVL can be manufactured to required strength, stiffness, shear, bearing and connector properties; so for particular projects LVL components can be manufactured to perform the job at optimum cost and use of resource. The very high strength-to-weight ratio of LVL means that loads are lower and therefore other structures such as foundations and connections can be smaller.
CLT is the latest addition to the engineered wood product armoury. While it has been used in Europe for some time, a New Zealand factory (XLam in Nelson) is now producing CLT panels and has developed design and construction methodologies for local conditions. The structural properties of CLT mean that the whole design envelope for wood structures has changed, and worldwide larger and taller structures are being planned and built.
For instance, a nine-storey CLT apartment building has been built in Melbourne's Docklands area. In Christchurch, a 300-bed backpackers building is under construction comprising CLT floors, walls and ceiling structure (approximately 5500m2 of CLT in total). The building was modelled in 3D on CAD/CAM software and all panels were CNC cut to millimetre precision, which allowed for a rapid build programme.
PB: How are the advances being made in EWP impacting on other areas of technological development?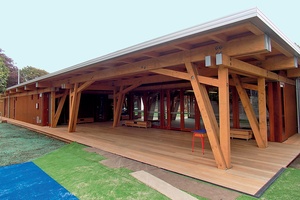 JP: Overall, the utility of glulam, LVL and CLT has been extended by the large investments made in CNC machinery which will saw, rout, bore and groove the timber products into components ready to be lifted, placed and fixed on site. For example, details from one such machine (used by TimberLab Solutions Ltd) show that it enables the processing of Glulam, LVL, CLT and solid-timber elements up to 30m long, 4m wide and 600mm deep.
The speed and accuracy of this manufacturing process significantly decreases construction time and the time required on site for heavy lifting machinery. All of this makes the production of extremely complex structures substantially more cost effective.
PB: Where to then for these products in terms of their ability to be used together?
JP: All these technologies can come together in Expan timber buildings. Expan was researched and developed at the University of Canterbury's School of Engineering. It utilises engineered-wood beams which have steel tendons running along them, and locking them to engineered-wood columns. The result are buildings that will move predictably in an earthquake but sustain no permanent damage.
An example is the Kaikoura District Council Building. This post-and-beam gravity structure is made of Nelson Pine LVL, while the walls, or the lateral structure, are CLT and LVL. They are post-tensioned to create 'rocking shear walls'. This is the first time in the world a CLT and LVL combination has been used to make shear walls – the walls are 70 per cent CLT & 30 per cent LVL; the LVL is significantly stronger and was added to areas where there was maximum strain to provide added strength: in each end of the walls and within the core of the walls where the largest post-tensioning strain is.
For the floors, a stressed-skin panel flooring system – manufactured by Potius and fabricated using LVL – was used. The floor acts as a diaphragm between the shear walls; unlike in most commercial buildings, there is no concrete in the flooring systems. Also installed were Potius ceiling panels, which were pre-insulated with polyurethane spary foam and lined with pre-primed MDF.