Were you born in Dunedin John?
Yes, I was born and bred in Dunedin. Ted [McCoy] was here all his life as well.
So you went to high school there?
I had a Catholic upbringing and I went to St Joseph's School which is no longer. It was an old Victorian school, and we were taught by the Dominican Order of nuns. It was a combined primary school, then you were streamed off into boys and girls' schools. I've forgotten the girls' school but the boys' school was Christian Brothers, so you went there for Standard 4 and 5 then you went into secondary school. I went to St Paul's High School; it was a boys' school. That was designed by Ted – he won a gold medal for that one.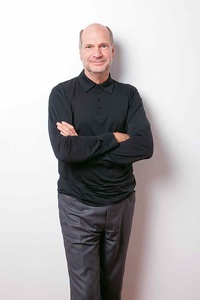 You attended after the work on that school was complete?
Yes, that's right; the building had just been completed. I was going to go there anyway because it was just part of a Catholic upbringing in those days.
When you were attending classes did you think 'wow, my Dad designed this'?
It didn't register to that degree from my memory. All my brothers and sisters had an interest in the arts because of Ted. He had a very strong interest in the arts. In our household we always had nice art in the house like Hotere and Woollaston and all those things … Lucie Rie pottery and the like. So we were all interested, mainly because of Ted's interest and what we saw around, like Len Castle pottery. The way that the school works you're streamed and when you're in the junior school you're doing Latin and all those sorts of subjects and then the school streams you. They tell you what you're going to do and what you should be doing and I ended up being interested in science. I was always interested in science; so I went down that stream in school with science and maths and all that. I ended up doing a biochemistry degree. It was a natural progression of my schooling and then I got to the end of that and for the last year there I spent most of my time in the lab. When I finished that, I thought I'm not going to carry on with this all my life, so I enrolled in a BA in Classics in Dunedin. I also thought architecture interests me, so I put my name forward to the school in Wellington, the new school that had just been started. I was accepted, so that was great. Ted had all these staff members who started when he first began his practice in the 1950s and one of them was Bill Haydn – he now works for the Catholic Church as a South Island property manager. He said the other day that Ted didn't even know I'd enrolled into architecture so that was interesting because I couldn't remember whether I'd discussed it with him or not. Obviously I never discussed it with him so I just did that off my own bat and went through Wellington and really enjoyed it.
Was your father pleased when he heard that rather than becoming a biochemist you were going to study architecture?
Yes, but we don't discuss much, the McCoys. My brother was even worse than I was because he did law, practised as a lawyer for five years and then he went back and did architecture. So he's an architect now, too.
So how many architects are there amongst your generation?
Well Natasha, my younger sister, is an architect. Jane in London is an architect and Tim is now an architect too. And Pauline, one of my other sisters, did interior design whilst she lived in London. She's now back here in New Zealand; she's got a family and so forth. And Genevieve, my other sister here in Dunedin, did the Fine Arts course here. I've got a lot of her work; she's very good. There's always been that interest in art in the whole family so that's probably the driving force – art, not the architecture necessarily, although I really did like the work that Ted did. Even though he's my father, I think he's still one of the best. Whenever I saw other people's work I always judged their work against his. To me, he's one of the better architects in New Zealand, certainly of his period. There was Peter Beaven, Miles Warren and Ted. To my mind, they would have to be the main architects of that period where he worked in the 1960s, 1970s and 1980s.
Did he design the house you grew up in?
He did, yes. We also had a holiday house in Wanaka when we were young and he did that too. That was quite different in its time. It was a sort of Sea Ranch vernacular in a loose way with cedar shingles and cedar board and batten, quite an interesting shape. The family home was 1959, I think; so I was very young when we moved there but I can just vaguely remember we had a house before that which was quite nice but it was just a Victorian house. Ted's always been interested in Victorian architecture too and he always spoke about the good architects that Dunedin had. He would always point out the good buildings from bad. He'd show us what was a good building and that was part of our upbringing too.
Did Ted have offices or did he work from home?
He had offices all the time, apart from the first job that he did, which he told us he did from the kitchen table. That was the Aquinas Hall project. He also won a gold award for that.
Did your father go to Auckland to study?
Yes, he went to Auckland. I think Peter Beaven was either in the year behind or in his year; so he had interesting people at school and he was with Vernon Brown also. I think Alan Wild might have been in his year too, just thinking about it. He wasn't influenced by The Group or anybody like that. He said Vernon Brown was a big influence on him because The Group hadn't formed at that stage.
So you started at the University of Victoria the year after the architecture course started?
Yes. Gerd Blok was the head of the school at that stage. He came from Melbourne and he brought a couple of other lecturers from Melbourne with him. One was Barry Perce; he's now teaching back at the RMIT. The interesting thing when I was at school was talking to the other students, I think. Talking to like-minded students about what work was being done and what they were interested in. I had some good friends who I'd always talk with about that and I think when you're a student that's probably as important as anything – that discussion you have with your peers.
What made you decide to go to Wellington?
I can't remember … I'm not even sure if I applied for both schools or just Wellington.
Did you enjoy studying in Wellington?
The school was good. I think Wellington is a very fine school of architecture. When I went through, there wasn't much design emphasis … it was an engineering-based course because they were offering a lot of subjects that led to what was then called a Bachelor of Building Science, which was an intermediate to a degree in architecture. I believe you should be mentally stimulated when you're a student – about design and that side of it – to at least put you on the straight and narrow because realistically there's only so much you can learn at varsity. You learn it all when you're out. That's what I believe anyway.
When you studied architecture did you come from a different background to your peers who may have come straight from school?
Well it was interesting because the early intake at the school in Wellington were what I'd term mature students. We had a lot of people like myself who had done something else first. We had Denis Fortune in my class, who was Roger Walker's right-hand man; so that was an interesting influence. He's now practising in Wellington. But they weren't all straight out of school by any stretch; some were, but there was quite a group that had done other things.
Do you remember what year you graduated?
I think it was 1979.
What was happening in architecture in New Zealand around that time?
Ian Athfield was riding the wave of success in those days and there was the influence of Roger Walker and co., but then there were the others: John Scott, Miles Warren doing his good work as he always does and John Blair was just starting out. Gordon Moller was just starting out too, in Wellington; so it was an interesting time. It was good. That was the late 1970s when the quintessential New Zealand house was still recognisable and they were all doing that. Then there was postmodernism in the 1980s which killed everything; any New Zealand design sort of got watered down with the influence of these overseas trends because up to that stage there wasn't an overseas trend. It was all about New Zealand. We had a strong identity then, and then it went off the rails – and went further off the rails later on in the late 1990s. The greed of everybody was about building as big as you could and in an international style. All the housing … it could have been anywhere. It will be interesting to see what happens now with the downturns and with people being more conscious about what they're doing. I think there might be a trend backwards to a more modest style. I'd like to think there'd be a trend back to a more modest New Zealand vernacular. I think the days of those big international-style houses have gone, I really do.
Do you think from the projects you're seeing around that there is already a move in that direction?
I think so, when you look at what's being done now. I think the box glass, minimalist style, there's quite a movement away from that in my mind. There's now more natural materials, timber and just that softer approach to design.
What did you do once you'd graduated?
I wanted to travel, so I went to Australia and worked in Melbourne with an architect called George Domes who was a very interesting sort of character. He was very good. He went to the RMIT but in his last year he had so much private work that he didn't even finish his last year. So he wasn't actually a registered architect but he was doing interesting and nice work, which I liked. He was a strange character because socially he knew virtually everybody of influence in Melbourne. He used to come to work about 10 o'clock, pick up the phone and organise his lunch and you'd never see him again. When he had to do something, he would just sit down and it would just flow off his drawing board – it was just incredible – and he'd say that's it and then draw it up and he'd be away again. Then I went over to London. I stayed with my sister; who was living in Bonnington Square, she's still living there in the same house. I just sort of travelled around. That was in the early 1980s. I had this huge list of architects I wanted to work for and I knocked on all their doors but there was just no work. The closest I got was sitting down with Terry Farrell and having a good chat. He was the only one genuinely interested in what work I had done – but they all just apologised and said there's no work. I stayed in London, a year I think, and then I went back to Melbourne and worked another year. Ted had a lot of work on at that stage. He'd just got the Otago Boys' High School job, which was a big redevelopment, as well as a few other things and he said 'Do you want to come home? Can you come and help us out?' So I left everything in Melbourne and just came back. I've been back since then.
How many siblings do you have, John?
There's 13 in our family, so I have 12 brothers and sisters.
That is incredible. You've got siblings all over the world by the sounds of it.

No, not really. Pauline has come back from London. She lived there with her husband and when they had their children they always wanted to come back to New Zealand. Jane and Marguerite are still there. Gabrielle my other sister's in Sydney and Rachel, who's a doctor, used to live in Perth but she's back in Dunedin now with her family, and Natasha who's an architect is in Auckland. Tim's in Auckland. Genevieve is in Dunedin. Madeline is in Dunedin. Louise is now teaching art in Clive. Most of the rest have sort of drifted back to New Zealand. They've all lived overseas. Madeline used to live in Australia too; so everybody kind of gravitates back. That's probably natural. Most New Zealanders want to come back and live their later years in New Zealand.
So there's five of you living in Dunedin still?
Yes, and Ted and Nola obviously still live here.
Are they still in your family home?
They're still in the family home, yes. So you obviously stayed on and worked through the Otago Boys' project. The office was already geared up for that. I was probably doing other things and then Hamish, Peter's [Wixon] son, came a year or two after me I think. Peter is now departed unfortunately. He was a great person – very mentally quick, a great administrator. He and Ted had a great business relationship, probably as good as you could get, probably like Warren & Mahoney's. They were both very good at what they did. Ted was good at the design and Peter was very good at keeping everything on the straight and narrow.
When did Peter Wixon start working with your father?
In the 1970s, but it wasn't working for, it was a straight partnership. He came in as a partner.
Had he been working on his own?
He was a Nuffield Scholar in London and then he came back and worked for Stevenson & Turner and then he came down to Dunedin to build the public hospital here. They probably met through their professional relationships. I don't know how they decided to form a partnership but it's been very successful.
Did you already know Hamish from your parents working together?
Yes, and also Hamish went straight into architecture and he went to Wellington too; so that might have been one of the reasons I went there. So he was a year ahead of you? He was a year ahead of me, yes.
You worked together at McCoy and Wixon with your fathers for how long until you took over the partnership?
We became partners; so there were four partners (and I'd have to look up the details), but then Peter retired first and then Ted retired a year later I think. So they retired very much at the same time. I think it would still be unusual in New Zealand architectural practices to have the sons take over the fathers' businesses in that way.
Did much change around the office?
No, because we were the only partners. Last year we took on a new Director, Regan Hall, as we're thinking of succession. Obviously James my son is also here. It's his choice what he wants to do but he's very welcome to come here. Just like Ted, I don't want to tell him what to do – Ted never told me to do architecture. We've still got two staff members here who have been at McCoy and Wixon for 35 years each I think – they were here long before Hamish and I arrived. They're the only two who were here when Ted was here. There's 13 or 14 of us here but we've got a lot of young new staff who've been with Hamish and me for quite a number of years. Our staff stay. If they've gone away they've come back or want to come back. Your staff are your business. We've got good staff and Peter had established very good systems in the office. The way the office operates is still largely the way that Peter had set it up.
Do you work mainly on new builds or a mix of adds and alts?
No, it's mainly new residential work. To be quite honest, we probably do more commercial work than residential. We have got a very good relationship with Foodstuffs South Island that is a great client for us. We've also done a lot of work for the University of Otago, again a great client. It seems an anomaly with a supermarket chain that they want good design but they do. And the same with the university; design is important for the university. So they've both been great for not only ourselves but for other architects in Dunedin. Then there's obviously the Council and a few others, but there isn't much private development work in Dunedin. It's not like in Auckland.
What do you enjoy most about working as an architect?
Creating something where you actually see something for your effort at the end of the day. You're transposing ideas from your mind onto paper through a technical process of documentation to the built form and the journey that you have in getting there with the owner or a client whether it's a commercial business client or a home client.
Do you enjoy seeing your work around town?
Not to the point that I'd consciously look at it. It's interesting that, whatever you do, you always think 'oh I might have done that slightly differently'. Ted said that it's natural; there's always something you'd look at differently. So I don't go around looking at a building and analysing what I would have done differently. You just accept that what's done is done. I'm probably more interested in what other people have done and what's been done around the city, whether it's good or bad, because you certainly notice the bad as much as the good.
Maybe even more?
Well you do, and you think that it's not good for the city, or something like that. Dunedin has such a heritage of good buildings though, it really has. Basil Hooper has done some good commercial work and lovely houses, and the same with Fraser Mandeno who are great architects too and did a lot of significant commercial work as well as brilliant houses. We're in a Fraser Mandeno house here in Dunedin as our office; it's nice. You can appreciate good design at all stages of Dunedin's growth. As I said, you don't consciously just look at your own. You're looking at everything and that has influence on you, too. And I'm sure the old buildings have an influence on the new work that's being done.
A final question for you, John – do you have a favourite New Zealand house?
I think rather than saying a single New Zealand house I'd prefer to point to the 1960s and 1970s and even back to the late 1950s where there was a strong and quite clearly identifiable style that was different to a lot of other areas around the world. It was a style of New Zealand architecture that sort of grew from New Zealand with the early baches that were done and the like. So instead of saying there's one particular house, I'd rather say that then would probably be my favourite period, which I think was a strongly identifiable New Zealand, residential architectural style.