Kuaotunu house by Evelyn McNamara Architecture
Kouaotunu is a beachside village in the Coromandel. This Evelyn McNamara-designed house sits immediately across the road from the beach, on the site where the camping ground used to be. When McNamara was a child she and her family camped with the family of project manager John Lloyd in the exact spot where the house now sits.
The roofline of the house is not dissimilar to two tents lined up side by side. This, McNamara says, is not a tribute to her history with the site, but designed to create a feeling of compatibility with the old cabins on the site next door. It also allowed her to include a vaulted ceiling. McNamara's clients wanted a house that would fit into the environment and sit modestly alongside its neighbours so the silhouette and materials of the house were selected with this in mind.
The exterior is clad with cedar-faced plywood with cedar battens and stained a slate colour. It is a dark sandy hue and, as the clients hoped, means the house sits comfortably and quietly on the beachfront site. 
The dwelling is reasonably compact, due to restrictions on the site protecting neighbouring views and drainage. The square shape of the plan was designed to push as far as possible into the corners of the available footprint. Despite being reasonably compact, the house has four bedrooms and three bathrooms. One bedroom and bathroom is for guest use.
The main entrance is at the back of the house and opens onto a gallery space. To the left the hallway leads to the guest bedroom and bathroom and then the living space. The family bedrooms and bathrooms sit on the east side.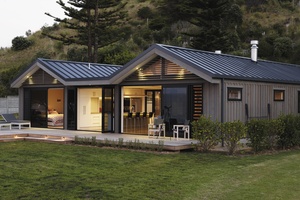 At the front of the house on the north side the open-plan living, dining and kitchen enjoy fantastic sea views. The front lawn is a lovely spot, but it is exposed to coastal winds and not always a good place to sit. So McNamara built the house around a small central courtyard-like room to provide a sheltered outdoor space to enjoy dining and entertaining. Glazed doors open up onto the outside room from three sides – creating a large open space throughout the core of the house. 
In the living room the ceiling is vaulted with exposed trusses painted white. This gives the room a feeling of spaciousness and light that is spot on for a holiday house by the sea. This room, like the rest of the house, is made up of a neutral colour palette. Timber, white paint and a polished concrete floor give the space a clean, timeless look.