Milan report part 2: Resident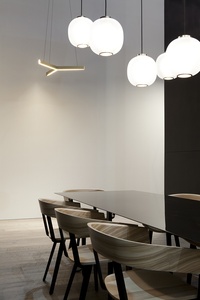 Resident's Dark Matter exhibition has been by far our most successful show to date. We have had an extremely high calibre of buyer and design consumer from what is a purely internatonal audience and this has translated into new partnerships with dealers throughout Europe, Asia, the Middle East, Africa and the USA.
Never before have we experienced such high volume, high quality trade show traffic.
This year we had Rufus Knight on board to design our stand, which has stood out among the rest for its material selection, colour pallet and product presentation.
All items have been well received, with special attention going to the new products – Circus Lights, Bloom Pendant and Ofset Series have been welcomed as strong and relevant additions to our collection.
Today is the last day. Tomorrow we will have the packdown and then the long trip home to spend Easter with our families.