Not really of this world: Moriyama House
Architects Andrew Barrie, Jeremy Smith and Woo Min Lee recently travelled to Japan for a 'nerds' tour' of Tokyo. They report their impressions of one afternoon looking at the Moriyama House.
ANDREW BARRIE: I stood in front of the Moriyama House trying to remember what I thought about it. I'd had a number of protracted discussions about the house with perplexed students at the University of Auckland. The house is in fact a small apartment complex, rendered as white cubes scattered across a largish suburban Tokyo site.
Designed by Ryue Nishizawa, the Moriyama House is one of a series of residential projects by Nishizawa and sometime partner Kazuyo Sejima in which the building is exploded in some fashion – the volume dispersed into small boxes, pasta squiggles or Tetris blocks – to maximise the surface area and allow the intertwining of inside and outside. The Moriyama House resembles a miniaturised section of the city, the boxes separated by little lanes and courtyards.
During those student discussions, questions abounded. Many were sceptical of the way it was furnished in published photographs – bare interiors inhabited only by a few skinny steel chairs, little stacks of books, and scraggly pot plants. Surely people didn't really live that way? Where was their stuff? How could the owner afford to scatter a handful of rentable rooms across a site on which most would have stacked a dozen apartments?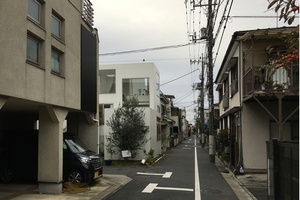 Standing in front of it, my questions were about the landscaping, or rather the lack of it. The Moriyama House's white boxes are crisply detailed in plate steel and glass. In contrast, huge effort had gone into the seamless realisation of this architecture. The in-between spaces seemed to have received almost no design attention: a couple of trees, a few concrete stepping stones, a designer steel chair tilting into the mud. It was occupied mostly by weeds.
This seeming abandonment of the landscape surrounding Nishizawa's and Sejima's houses is consistent in their work. On visiting another Sejima-designed apartment complex, I'd twigged that many of the weeds struggling up through the mud were Deadly Nightshade.
In architecture focused on intertwining interior and exterior, how was it possible to reconcile the immense care taken with the buildings and the conspicuous lack of regard for the spaces around them? This is especially perplexing in Japan, where 'nature' is traditionally cultivated to an astonishing level: the pine trees prized in traditional gardens are often felt to be too bushy, so gardeners will painstakingly work over the trees – hand plucking needles to give the tree the desired airiness.
In the Tokyo context, the Moriyama House's landscaping resembles the weedy strips seen between where a patch of roadside soil escapes the attention of the adjacent homeowner. The Moriyama landscape is not so much a garden but the uncontrolled space of the street invading the site. For an overworked Tokyo architect, perhaps the spaces of the city and nature are the same thing: something to be addressed, fronted up to – but not controlled. 'Outside' is nice, it seems, but life out there is not something for architects to concern themselves with.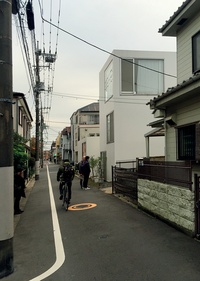 Here in New Zealand, we have our own contradictory attitudes to external space. Rather than too much the same, we perhaps see landscape and urban space too differently. While Kiwi architects, following both our Mãori and farming traditions, love to invest meaning in landscape and place in rural settings where the landform dominates, we aren't (or at least are not yet) good at applying that thinking to urban settings. We have architects able to produce really original houses but, when working with densities above the suburban, that distinctiveness tends to evaporate.
I was recently surprised to discover that one of our most inventive and exciting residential designers deals with their urban projects through a separate firm employing a highly accomplished yet very different design language. For nations that pride themselves on intimacy with nature, the architects of both New Zealand and Japan don't seem as comfortable outdoors as we'd like to believe.
JEREMY SMITH: I can't say I expected to see pinned-up curtains at the Moriyama House. Welded walls, the removal of craft – this house is supposed to embody all the stuff Tom Heneghan ascribes to Kazuyo Sejima's Plum Grove House in his 'Exquisite Apart' essay on the difference between Japanese houses (conceptual) and Kiwi houses (pragmatic). The Moriyama House may indeed be 'not really of this world' but, somehow, I imagined tacking up curtains as more of a New Zealand thing.
Where pre-modern Japanese houses had engawa – verandah-like spaces with layers of seasonally adjustable screens and blinds – much of the Japanese architecture we see today (at least from afar) has much less around the edges. Where we in New Zealand undertake alterations, Japan rebuilds. Where we've accrued more bits, they've now taken them off. All to the point where houses like the Moriyama act, as Heneghan argues, "as a foreground, to which inhabitation must adapt". Put more simply, after taking all these layers off, Heneghan suggests it is now the people who must adapt, not the buildings.
But surely pinned-up curtains mean something different? The Moriyama House is supposed to be super-finished, not shrouded in makeshift curtains, let alone pot plants, chairs, even bicycles. It's supposed to be nude, engawa-less, little white boxes scattered around like birdseed, driven by Nishizawa's interest in the spaces between buildings rather than by any conventional notions of privacy. These spaces are small – privacy, who needs it! None of that space-consuming engawa here; Nishizawa reduced it to the thickness of a steel plate. Well, he had, but the house's occupants aren't going to adapt instantly to living in full view. Nishizawa's building isn't finished; its engawa is returning one curtain at a time.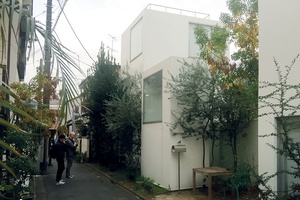 Does any of this curb my enthusiasm for the house? Not at all! It's glorious, thought-provoking, beautiful. On the way back to the train station, I find myself doing an impulsive Atelier Bow-Wow behaviourology-type survey of how other local houses deal with privacy. The result? Screens, screens and more screens; not a pinned-up curtain in sight. Might the new fabric layers of the Moriyama House be part of Nishizawa's cunning plan? Perhaps, but it makes you think about all the stuff we send our buildings out into the world with and how we assume our design is finished. Even in Japan, there is only so much you can take away before you start having to put it back. Being finished really is finished and it turns out I really quite like curtains.
WOO MIN LEE: I stood in front of the Moriyama House astounded by just how small it was. Although I had studied it in books, seeing it in the flesh gave a sense of a scale that was at once refreshing and shocking: some of the units were more like large tree houses that children in New Zealand play in.
Just when you thought Japanese houses couldn't get any smaller, Nishizawa shows that they can – and that this smallness can bring a new intimacy between a building's interior, its external landscape and, consequently, also with neighbours. The Moriyama House was inherently, to my mind, about its occupants sharing a plot without strict boundaries.
At first, I thought that perhaps this sharing was only possible because Japanese people are so polite and therefore don't have neighbour issues. However, imagining myself as part of the young Japanese generation sharing a flat and having few possessions of my own, I thought it was quite possible and much more exciting than simply living in an apartment or Kiwi villa. Even without occupying a quarter acre, I could have access to a tiny but cute garden (I'd probably only have time to grow one or two plants anyway) and the odd persimmon fruit from a collectively-owned tree.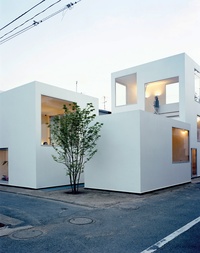 Although the Moriyama House is not about maximising density, it does offer useful lessons for diversifying the way we increase density, while also providing a unique way in which to live. It's a reminder that our role as Auckland architects is not just to design for increasing densities but also to imagine other opportunities and house forms that might contribute to intensification.
Andrew worked for Toyo Ito. If we are feeling cheeky, Jeremy and I, as Andrew's PhD student and staff respectively, can locate ourselves in the Japanese architecture family tree as descendants of the Ito lineage. Our trip to Japan was to see what our architectural 'rellies' were up to – spotting links and divergences, both obvious and obscure, was the game played on our tour.
It was possible to see a nod to Toyo Ito in Ryue Nishizawa's Moriyama House. Ito's drive for new ways of ordering space, starting with Sendai Mediatheque, was discernible in these scattered boxes at the Moriyama House, with its field-like arrangement familiar from the Sendai tubes. This established lineage was not only about 'who worked for who' but also about the inherited concepts and values being extended afresh by each generation. That is, rather than simply setting aside influences and starting completely anew, as Kiwis tend to do, these Japanese architects offered a new take on their former boss's ideas.
As we toured Tokyo, it was charming to think of such great architects as Ito as our granddad, Kazuyo Sejima as aunt, Sou Fujimoto as our illegitimate cousin, and so on. As a graduate, it was also cool to see these architectural heroes, such as uncle Ryue, not as distant figures but as family members, and to aspire to inherit and expand their rigour and audacity in our generation.