The apartment is located in an original 1970s' building with a ceramic mosaic-tiled façade, on the most exclusive avenue in Monte Carlo. In creating the interiors, French designers Humbert & Poyet were inspired by the photography of Slim Aarons, whose 1970s' images of beau monde lounging poolside in Monaco, Palm Beach and Palm Springs became iconic of the era and area.
The home is made up of a blend of mid-century and contemporary furniture and objects, with an emphasis on comfort, explains Emil Humbert. "We don't want to make our projects become museums. It is great to have nice furniture but you also need to be able to sit down. Some of the pieces are from French and Italian galleries, some from flea markets and some are contemporary works. We also design our own, such as the white three-piece sofa in the living room."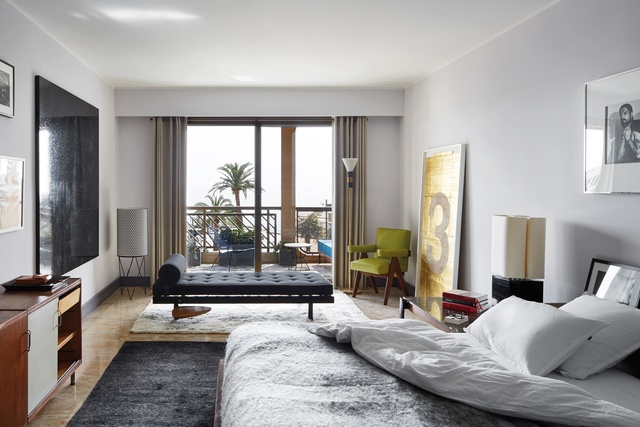 Most of the furniture sits lightly to the floor on narrow legs or with reflective bases, giving a sense of ease and floating to the space. The colour palette is taken from the beach, with sandy yellow-greys and deep-ocean blues, and touches of metal adding a sense of distinction.
Highly decorative wallpaper is used to add an element of playfulness and a touch of colour in smaller areas and on the headboards in the bedrooms, while the majority of the walls are a neutral white that blends into the ceiling.
The living room has been treated slightly differently, with some deeper and more theatrical materials and colours, such as purple velvet in the Italian mid-century armchairs and a chocolate-brown leather Flexform sofa. Two Humbert & Poyet-designed pendants hang on either side of the sofa.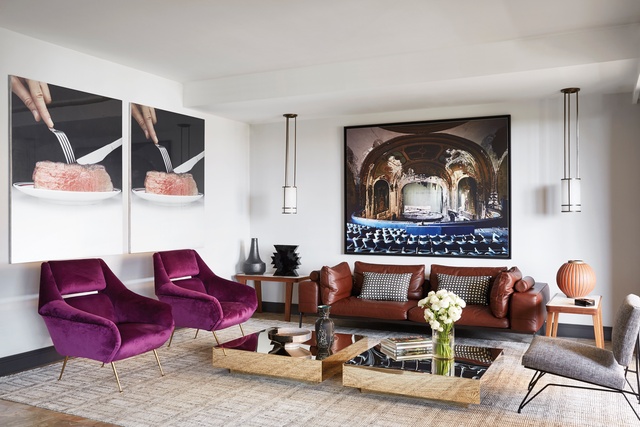 "The home-owners are design connoisseurs with fine taste. One is a collector and one is an entrepreneur. While a lot of people in Monaco adhere to more of a Ralph Lauren style, it was an honour to be able to design to their lifestyle, creating something ambitious and playful and not too conservative," says Humbert.
The homeowners had a specific request for the main bathroom to be in an urban style, similar to something you might find in New York City. The result is monochromatic with Calacatta marble walls and chrome fittings. A band of black tiles frames the bath and floor, and bends around the wall.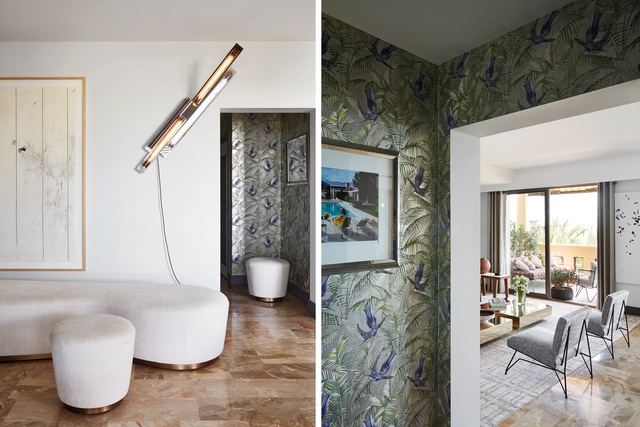 The house has several terraces, which are treated like outdoor rooms, with rugs, metal furniture and brightly coloured and patterned bench seats. Green walls give a sense of freshness. The building's tiled façade adds authenticity to these spaces.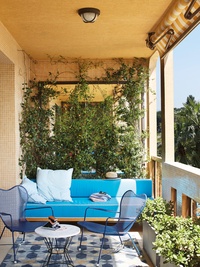 "We are inspired by the work of Carlos Gamper," says Humbert. "The relationship of different materials, such as the juxtaposition of matte wood and shiny brass, or sleek stone with rough wood – this is representative of our work and Gamper is the master of it. This is our inspiration for every project in terms of how we work with materials."
Humbert notices a return to craftsmanship in France. "Designers are looking to create the most beautiful, simple pieces with the most noble materials. We are seeking knowledgeable manufacturers who design to a high level of quality. It used to be about progress and creating the most modern, futuristic thing, but now it is about going back to the roots of the process and working with beautiful, strong materials such as alabaster, brass, gold and exclusive lacquers."
This apartment exemplifies how a return to simplicity does not have to mean a decline in elegance.