New ways of building: PrefabNZ CoLab 2017
The 2017 PrefabNZ CoLab conference day took place at AUT in central Auckland on Tuesday 21 March. Amelia Melbourne-Hayward reports back.
The 2017 CoLab conference kicked off rather differently to previous years, with the launch of PrefabNZ's new 'logs4jobs' initiative, which aims to encourage women to enter the construction industry and to help fill the skilled worker shortage we are currently battling in New Zealand. Warren Quinn, chief executive of BCITO, explained that only 237 women are being trained with the company at present – this equals a measly 2.35 per cent of trainees in construction.
Although the statistics may be grim, the logs4jobs video, which was produced in collaboration with Carter Holt Harvey Woodproducts, BCITO and CareersNZ, was one of positivity, with the goals of raising awareness of work opportunities, normalising females in the manufacturing, design and construction industries and demonstrating the realities about these roles. It is a much-needed and commendable call to action.
CoLab's first international keynote speaker was Helena Lidelöw of Lindbäcks and the University of Luleå, Sweden, who gave a thorough and interesting presentation about the history and current state of design and construction in her home country, stating that "after the much-criticised Million Homes Programme, we had a shift from an architect-driven to a contractor-driven industry. The architect's role in Sweden is now purely for aesthetics".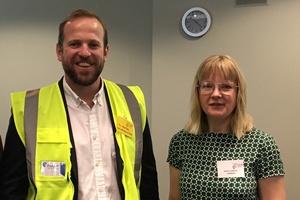 Lidelöw also explained how the strict systems and processes of Lindbäcks have helped to enable them to become one of Sweden's leaders in industrialised construction of multi-unit buildings. Key points included keeping to a very specific, repeatable platform, minimising variables and ensuring a high level of prefabrication takes place inside the factory. Lindbäcks only operates on design-build contracts and has thus far produced 10,000 dwellings, with a new facility opening this December.
After a short morning break, Dr. Don Elder of Spanbild Group and Concision presented the second keynote talk, on pre-site manufacturing in New Zealand and Australia. Very early on, he stressed that we need prefabrication badly, as the construction industry is just not innovating fast enough in New Zealand, and one of the problems is that the market risk around large-scale pre-site manufacturing is just too high at present.
Talking to Auckland's issues, he mentioned that while the Unitary Plan enables around 400,000 dwellings, it doesn't build them. "We need a game-changing approach, desperately, at a large scale," he said. "Alone, pre-site manufacturing isn't the silver bullet, but it can help enormously, and it offers significant potential for cost reduction. However, what Auckland really needs in order to make a sizeable difference to the housing crisis is a large panelised plant and capital of $50 million, optimised for target market segments." 
Simon Waldren, managing director of Apex Wiring Solutions, was up next, and talked about his company's plug and play modular electrical services. He explained that Apex is somewhat out on a limb, as there is "a big reluctance at present to use modular services – there needs to be a collective push to cross the chasm". Waldren emphasised the need for a collaborative approach across the industry and encouraged the sharing of technology and knowledge. 
The ever-growing popularity of Cross Laminated Timber (CLT) panels was illustrated in the talk by Gary Caulfield, chief executive of XLam. In 2012, the firm commenced manufacturing CLT building panels in Nelson and started working on residential builds. In a relatively short time, they have had good growth and have just built a big factory in Australia. Their work now includes commercial projects, including Merchant Quarter in New Lynn and Park Lane Retirement Village in Christchurch, which is just about to start. To round off the morning, Jim Rickard of Builtin gave a short talk about insurance and better finance for the prefab construction industry.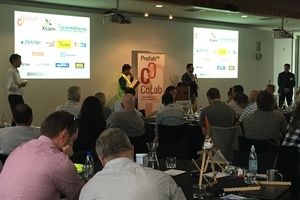 Post-lunch, John Lucchetti, prefabAUS director and principal of Wood & Grieve Engineers, discussed the important work that the Modular Construction Codes Board has been doing on producing new codes for best practice in modular construction in Australia. Lucchetti commented that parametric design is one of the most exciting areas in prefabrication today, and emphasised that it is "still possible to create interesting buildings that are modular", and that we need to "design buildings that work as buildings but can also be easily manufactured". 
Is compliance stifling innovation in New Zealand? Rob Tierney, chief executive of Holmes Farsight – who provides building code compliance services – thinks yes, stating that "regulation is a key barrier to innovation". Some of his key points included perception of risk by building consent authorities, not enough guidance around the codes and no consistency with what councils are asking for. However, compliance is necessary, so to simplify the process Tierney believes that building professionals need to "focus on compliance early for confidence," and ensure they have robust, qualitative data, as "without data you are just another person with an opinion".
Dr. Chris Hartshorn, chief technology officer at Callaghan Innovation, gave the next talk on bringing innovation to the market. A very active and energetic presenter, he stated that "architecture's oldest new idea" is prefabrication, and that digitisation across the industry is inevitable and will enter into various steps in the construction process sooner than we think, so "if you don't have a digital strategy, you don't have a strategy – and I don't mean just using Twitter!"
Hartshorn discussed technologies such as virtual reality, augmented reality, project management software and 3D scanning – all of which will improve the efficiency of architectural design, construction and retrofitting. His talk concluded with a statement that echoed other sentiments of the day: "Partnerships are more important than technology".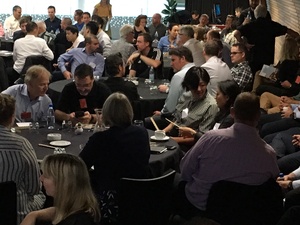 Refreshed from an afternoon break, the crowd heard four lightning presentations of 15 minutes each on the future of tech. Peter Crawley of CADPRO Systems discussed VR, stating "virtual reality helps form an emotional engagement with the product. It helps turn a prospect into a customer". The University of Auckland's Dermott McMeel talked about data, robots and disruption in design and construction, and Ljudmila Koprivec of the University of Sydney spoke briefly on BIM.
An interactive workshop component on disruptive business systems rounded out the CoLab conference day, presented by Anthony Pelosi and Melissa Clark-Reynolds. There was great teamwork at the tables, and the mixture of Pelosi's academic background with Clark-Reynolds' business/software background ensured robust and diverse discussion. PrefabNZ board deputy chair Chris Moller summarised the day and many delegates then continued on to Wynyard Quarter for a short presentation by Sustainable Coastlines founder Sam Judd, closing remarks from Hon. Louise Upston and more discussion, drinks and nibbles.
CoLab 2017 featured a range of knowledgeable speakers that are all passionate about changing the status quo in construction and design in New Zealand. While challenges in the prefabrication industry are rife, they are not insurmountable. One of the key themes apparent throughout the day was that a collaborative approach across the entire industry is necessary for widespread change.
Digital technologies such as virtual reality, BIM and augmented reality are expected to be the next big game changers for construction, and companies need to start thinking hard and fast about getting up to speed or risk being left behind. Finally, the importance of attracting and including more women in the industry was explored through PrefabNZ's great logs4jobs video, and this idea needs to be widely disseminated across the country.