Revisioning 'waste' as 'resource'
Jill Rice of Get Outside specialises in the design of educational facilities for children. She worked with the Learning Centre staff at the Waitakere Transfer Station to design an experience trail that would excite children about the possibilities of recycling and repurposing discarded materials, and ultimately inspire them to re-vision 'waste' as 'resource'.
The completed project features a 3.5 metre water tower incorporating an old gas bottle, fan, muffler, colander and soup bowl, activated via a repurposed exercycle. Learning occurs both through the children experiencing an environment where 95 per cent of materials were reclaimed and repurposed, and by engaging in the 'Make Space', a small classroom and colourful deck area used for creative constructions. The trail is very popular with school groups, and booked out months in advance.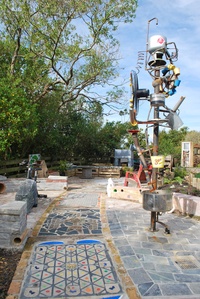 The Learning Centre project is an example of starting off early with behavioural change, and there are many other projects targeted at fostering early awareness in the area of waste minimisation.
Affecting adult behavioural change, however, is complex. Actions often occur in the home instead of in public, and habits are so taken for granted they remain unrecognized. The huge impact of small daily actions multiplied by millions – such as wasteful energy consumption, wasteful purchasing choices and wasteful disposal habits – is one the most difficult problems to address. And, when negative behaviours are exposed, adults are more likely to resist change.
The emergent fields of environmental psychology and community-based social marketing are discovering ways to make collective behavioural change possible. Niki Harre's book, Psychology for a Better World, describes how new habits can be introduced to adults. As social creatures, we model ourselves after our friends and neighbours. By demonstrating personal determination to change, we exhibit our commitment and valuing of change to others.
Taken to a level higher, when groups of people collectively commit to trying something new, others are even more likely to take the effort and initiative seriously. Environments that step people through a series of engagement levels, and where the behaviour of others can be observed, enhance social uptake.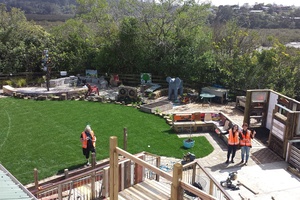 Doug McKenzie-Mohr describes the process of others watching these group efforts and taking up the behaviour In Fostering Sustainable Behavior: An Introduction to Community-Based Social Marketing. Creating positive places where groups of people demonstrate their commitment to change is, therefore, highly important.
My thesis, Daylighting Waste, presented a community recycling centre (CRC). The programming of the site created opportunities for staff to engage with end-users and demonstrate less wasteful behaviours through progressive levels of interaction with discarded materials, cumulating in participants being encouraged to try the new behaviour for themselves.
Like the Experience Trail project, the CRC sets up a comfortable, positive learning environment that models sustainability, engages communities and makes it both easy and desirable to try something new.
I believe we do have the ability to effect change in behaviour by design. What better way to use our skills as landscape architects than to modify physical environments in order to bring about more sustainable ways of living?