"You've got to be tough to make it on the streets," says plant breeder Todd Layt. In this article, he examines some of the best-performing plants for these challenging conditions.
Roadsides are a great testing ground for plants. If a plant works there you can be confident it will work well in most commercial and residential landscapes. With lots of roadside landscape projects planned for New Zealand, it is timely to look at some of the best-performing roadside plants and weed control techniques, including mulch selection.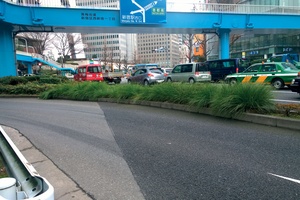 New Zealand's varied climate, which ranges from cold and wet to drought, certainly tests a plant's toughness. Generally these roadside landscapes are non-irrigated, and receive little maintenance. Caring for plants needs to be kept to an absolute minimum due to the high cost, and the danger posed by traffic.
Tanika® Lomandra has stood out as the best-performing roadside plant for New Zealand, working well in most parts of both islands, staying evergreen, requiring cutting back only every three to seven years. It survives well in drought, and the periodic wet and humid times of Auckland, yet also copes with the cold of the South Island. So what other plants share this tough plant's abilities? Nyalla® Lomandra, slightly larger, with blue-grey fine foliage is equally durable, and it copes even better with salt-laden winds right near the coast.
If you are looking for something much smaller, but just as hard-wearing, the new Evergreen Baby™ Lomandra is the answer. With a height and spread of only 40 to 45cm it is the perfect plant where a low line of sight is needed for median strips, roundabouts and verges. One bonus of this plant is that it copes very well with wet feet in bio-retention swales that are periodically wet and dry. It is totally immune to Phytophthora, which is often present in these situations. All three of these Lomandra are sterile.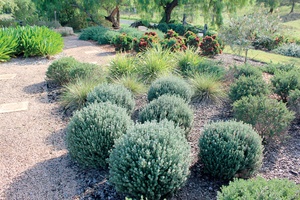 Tasred® Dianella, Revelation® Dianella, and Breeze® Dianella are known to be great performers all across New Zealand, and offer a wider-leaf alternative to Lomandra. All of the plants mentioned so far are evergreen strappy leaf plants that, when planted at 4 to 6 plants per square metre, have excellent weed suppression abilities and need less pruning than most other plants.
Newer low-maintenance evergreen ground cover plants and shrubs are providing even more choice. The star ground cover is Mundi™ Westringia, widely used on roadsides, due to its low spreading habit, and its ability to cope with wet feet in Auckland. Grey Box™ Westringia is just as tough in drought, and even more cold-tolerant. It has a natural compact ball shape, retaining much lower heights than other Westringia shrubs. Rhaphiolepis indica is known as one of the toughest all-rounders in the world, but seed set has often disqualified them from roadside use.
The new, female-infertile, safe Cosmic White™ Rhaphiolepis is changing that. Indestructible, with lots of white flowers, it is the perfect medium-sized shrub. Gazania, although perfect for roadside use, has become quite weedy, spreading easily by seed. Double Gold™ Gazania is the only sterile form available in New Zealand. With its blue-grey foliage and masses of yellow flowers it makes a great choice for these landscapes.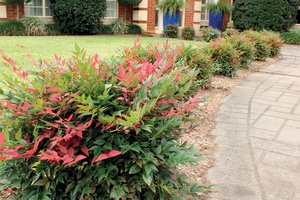 For a little more colour – but still keeping with the requirement for tough, low-growing, low-maintenance plants – some new non-seed forming Nandina that are red both in winter and summer are really making a roadside statement. Obsession™ Nandina forms a natural ball shape, and has red foliage for about nine months of the year. Blush™ Nandina is vivid red in autumn and winter, with red tones in summer. Flirt™ Nandina is the baby, growing more prostrate, and has red foliage about six to seven months of the year. All other Nandina only go red in the colder months.
Sweet Mist® Phormium is the only compact purpurea Phormium tenax, and shows far better roadside attributes than all the compact Phormium cookianum types. The best way to stop weeds is use the right mulch. Chunky mulch with no fines works best at stopping weed seeds germinating. Mulch with lots of fines acts as a potting mix, often actually improving weed seed germination. Long-term weed suppression can be obtained by planting for weed control. Plant so that after 12 to 18 months few gaps between plants are noticeable. It is these gaps where weeds love colonising.