Considered by critics to be 'one of the renovators of Portuguese sculpture', José Pedro Croft's art installation at this year's La Biennale di Venezia was one of Colin Martin's personal favourites. Here, he reports.
"The impermanence of time (visible in the water, in the mirrors, in the wind, in the colour of walls) is the defining mark of Venice – and that is what José Pedro Croft's sculptures wish to capture and divulge," says João Pinharanda, curator of the Portuguese artist's sculptural intervention in the grounds of Villa Hériot on Giudecca.
Built by a Parisian family in the early 20th century, its neo-Gothic façade directly faces the lagoon. Well positioned for observing the ever-changing Venetian light, it's often buffeted by strong winds, stirred up by approaching storms.
Huge panels of translucent coloured glass or mirrored glass, framed and supported by steel, form six monumental sculptures. Their angled planes reference the many-hued façades of the city's decaying palazzi and tarnished mirrors within, completing the tally of features comprising what Pinharanda terms the "infinite, fractal form of Venice".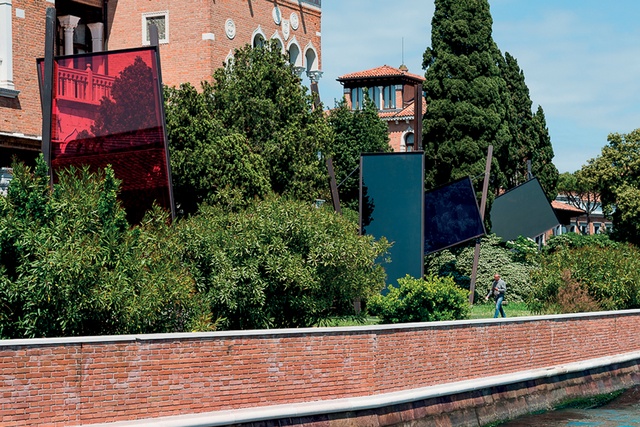 Wandering among Croft's sculptures, glimpses of reversed images of the villa's architecture, its garden, lagoon and sky, reflected in mirrored glass panels, and similar fragmented details filtered through translucent coloured-glass panels, provide a kaleidoscopic experience of reality 'through a glass lightly'. Concrete abstraction metamorphoses to unstable illusion.
Emotionally, Croft's intervention hovers between joie de vivre and melancholy, the latter mood intensified within the villa's deserted ground-floor rooms. Its family long departed, the villa's upper floors are now occupied by university conservation where, in a resonant coincidence, students are taught to reverse or arrest material damage caused by passing time.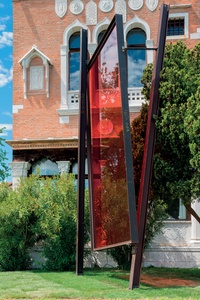 Originally Croft's sculptures were destined for display in a contemporary architectural setting, within an imposing 70x30m public piazza at Campo di Marte, a social housing complex under construction immediately behind Villa Hériot, but building delays necessitated a change of venue.
Croft drew inspiration for his sculptural forms from the proportions and dimensions of windows designed by Portuguese architect Álvaro Siza Vieira for a building on one side of the square. Croft doesn't make preparatory sketches of his sculptures, although he does prepare technical plans for subcontractors who manufacture their component parts. Twelve tonnes of steel and glass were used in making the Venetian sculptures. Transporting component parts by sea from Portugal, for reassembly on Giudecca, was a major logistic operation.
Other challenges were avoiding damaging archaeologically-interesting artefacts buried in the villa's gardens, by designing shallower footings; and addressing the navigation authority's concerns about siting panes of highly-coloured or mirrored glass (as large as 8x3m2) beside the lagoon. In-situ, untitled works retain their individual autonomy, while collectively establishing a rhythmic choreography, uniting villa, gardens and lagoon.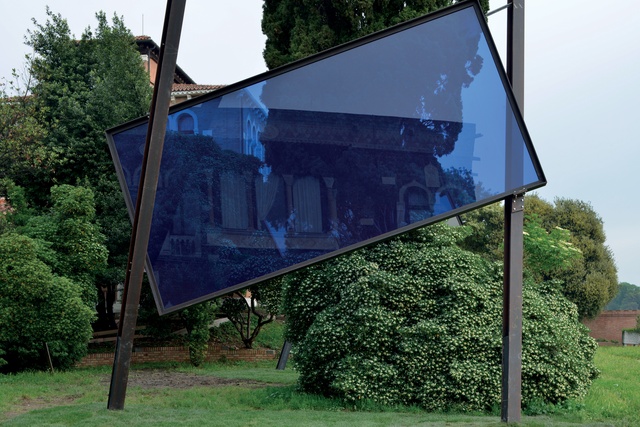 Architectural scale models and photographs of earlier sculptural interventions by Croft, exhibited within the villa, provide context and illustrate his creative process. Architectural scale models for dam projects in Portugal and Brazil are linked with Venice by their shared relationships with large bodies of water.
A maquette of a circular fountain designed for the incomplete development refocuses on Venice. "[Croft's] sculptures function as elements of construction and deconstruction: instruments for reflection, multiplication, displacement, transparency and deregulation of all orthogonality," concludes Pinharanda.
José Pedro Croft's Uncertain Measure (Medida Incerta) runs until 26 November 2017 at Pavilion of Portugal, 57th International Art Exhibition, Venice Biennale, Italy.