Welcome Shelter jumps the first hurdle
There is a certain satisfaction that comes from completing a set of drawings. It's usually accompanied by a feeling of relief, but mostly it is the excitement that what has been drawn will soon become reality.
But there are always a few hurdles to jump on the way to that final outcome, the first being resource consent. This can be a complex process, especially if you are doing something a little unusual. However, I'm happy to report that the Longbush Ecosanctuary Welcome Shelter has received its resource consent! We are now ready to jump the next hurdle of building consent, when I lodge the application early next week.
This type of work doesn't happen with just one person. I've been lucky enough to have the support of a fantastic team of specialist consultants, who have made the preparation of the documents possible. Each one of them has applied an exceptional level of skill in their work on the welcome shelter and has enabled me to push the project forward towards construction this summer.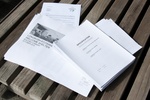 There are many examples. Liam Taylor and Hamish Nevile, of Holmes Consulting Group, have over the past weeks engineered the large canopy roof of the welcome shelter (among other things), with particular attention to how the volunteer labour force could erect the structure without a crane. Georg Winkler, of Land Development & Exploration, stepped into the breech to provide geotechnical analysis of the site. This has allowed specificity in the design of our foundations and insights into how the landscape has changed over the years. Martin Feeney, of Holmes Fire, has provided the fire engineering analysis of the project, ensuring public safety while also making sure the design isn't compromised.
These are only three of the many professionals who have volunteered their expertise and I can't thank them enough. With their help I'm confident that we'll have our building consent soon and will be swinging hammers in the summer sun at Longbush in no time.
If you would like to volunteer or donate to the project, contact Sarosh Mulla by sending an email to sarosh@saroshmulla.com
The Longbush Ecosanctuary Welcome Shelter is a community project developed by volunteers with the generous assistance of the following 50 organisations:
Abodo Wood, Fabric Structure Systems, Locker Group, Huhtamaki, Chartwell Trust, Mico Design, Otahuhu Engineering, Gib, Ecoinsulation, Thermakraft, Fletcher Easysteel, Calder Stewart Roofing, IMO, Ecostore, Macdonald Industries, Metroglasstech, Devan Plastics, Nicks Timber Joinery Ltd., BioLoo, Plytech, Graeme Swan, Rosenfeld Kidson, AGM, Weatherall Transport, IPL, SnapIT HD, Grant & Cooke Surveyors, One Steel, Diffuse Screenprinters, Sika, Corporate Culture, Goldsworthy, KiwiSpan Gisborne, Holmes Consulting Group, LDE Gisborne, Bunnings Warehouse Gisborne, Emmerson Transport, Francis Yates Builders, Graham Ball Builders, Monkey Toe, FL Bone, CNC Pro Cut, Tumu ITM, Holmes Fire, Architectural Metalformers, Anzor, Red Stag Timber, Rosser Foundation, Greenpeace Educational Trust, CSP Coatings.