Zaha Hadid: "…No end to experimentation"
The life's work of Zaha Hadid has been celebrated in two exhibitions in London, reviewed here by Colin Martin.
Dame Zaha Hadid's death in 2016, aged 65, was a significant loss to architecture. At year-end, a temporary exhibition of her early two-dimensional works and a new permanent museum exhibition designed by Zaha Hadid Architects (ZHA), both in her adopted city of London, celebrated her prodigious talent.
An exhibition of her rarely seen drawings and paintings was held at Serpentine Sackler Gallery, a former gunpowder magazine in Kensington Gardens, which ZHA renovated and extended in 2013. Hadid graduated in mathematics from the American University in Beirut, before studying at the Architecture Association in London, so her practice was an apt choice for designing the mathematics gallery at the Science Museum.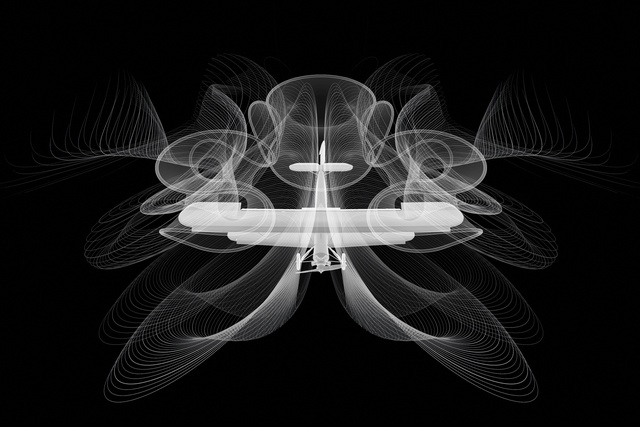 "I believe that there's no end to experimentation," wrote Hadid. Emblazoned across a wall inside the Serpentine exhibition, this mantra was a fitting introduction to her drawings and paintings, which were made to explore her spatial ideas or to support competition entries.
The exhibition's genesis was the RIBA lecture she gave last February, marking her Gold Medal award, which included some early works. Planning for the exhibition commenced shortly before her death. Displayed in vitrines are pages from her bound and ring-bound notebooks and sketch pads filled with sketches and carefully executed drawings, made while exploring ideas for her buildings. They are both intricate and intimate, providing glimpses into how her ideas for speculative or specific buildings evolved.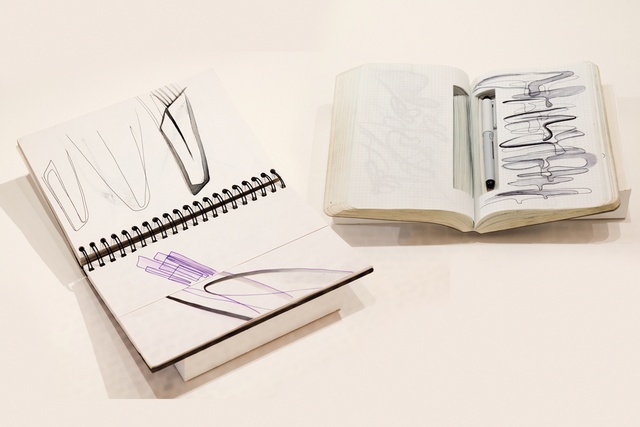 The razor-sharp lines of her early abstract compositions, inspired by her admiration for early 20th-century Suprematist artists, give no hint of the spatial fluidity of her later designs, which defined her style internationally.
The stand-out room is filled with Hadid's dazzling drawings and paintings for a residential and leisure complex in Hong Kong (The Peak, 1983), including a painted building exploding in a Suprematist snowstorm of coloured confetti. Hadid's scheme won the competition but was not realised.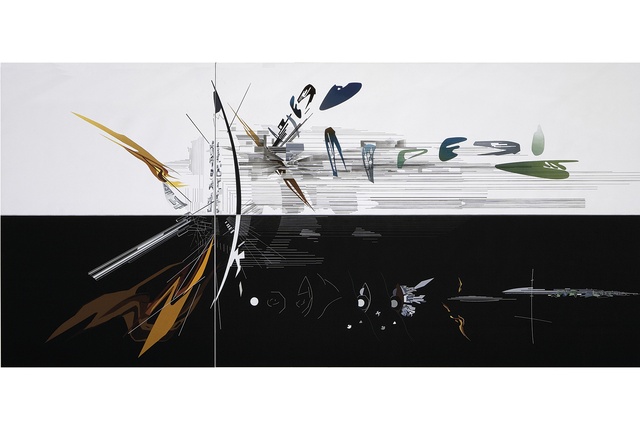 Other exhibits that remained on the drawing board include her designs for The Hague (Dutch Parliament Extension, 1978–1979), Dublin (Irish Prime Minister's Residence, 1979–1980), London (Grand Buildings, Trafalgar Square, 1985; Leicester Square, 1990), Berlin (Victoria City Aerial, 1988), Hamburg (Hafenstrasse Development, 1989), Madrid (Vision for Madrid, 1992) and Cologne (Rheinahafen Development, 1993). Foreshadowing digital rendering, these designs both celebrate drawing's historic power and confirm its continuing relevance for 21st-century architecture.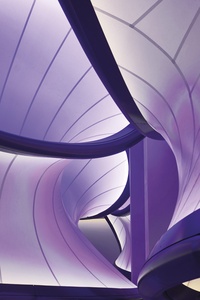 ZHA won the competition for the 913m2 Mathematics Gallery in 2014. "Our design was driven by how aircraft displace air when in flight," says ZHA's senior associate on the project Bidisha Sinha. Computer programming was used to visualise the 'flow' field around an important exhibit, a Handley Page aeroplane (1929), located centrally in the gallery and suspended from its ceiling.
The fluid dynamics of airflow is physically manifested in the gallery's floor plan. The aircraft is surrounded by complex, three-dimensional curved structures, made from rigid fabric. These provide the organising principle for displaying 100 exhibits thematically within the gallery space. Curved lines on its wooden floor subtly reinforce this principle and aid way-finding. Graduated coloured lighting is used in spatial definition within the gallery.
Zaha Hadid Architects' new mathematics gallery, the Winton Gallery, is a permanent exhibition at the Science Museum, London.