2015 Western Architecture Awards
A diverse range of projects were recognised at the 2015 Western Architecture Awards, which were announced at the Manawatu Golf Club in Palmerston North on Friday 19 June. 11 winners took home awards on the evening for projects such as a new medical centre, a preschool and a range of houses. 
Community-based buildings were lauded as a highlight of the Awards, with jury convenor Mike Swann stating, "one purpose of the Western Architecture Awards is to showcase work that enhances the human spirit, and these award-winning buildings certainly do that."
"The awards jury was also impressed with the quality of work across many sectors, and the skill of design execution, despite limited means in some instances," he continued. New Plymouth-based Boon Goldsmith Bhaskar Brebner Team Architects were one of the stand-out firms at the Western Awards, picking up all of the housing awards, along with two others in different categories.
Full list of winners with judges citations below:
COMMERCIAL ARCHITECTURE AWARD: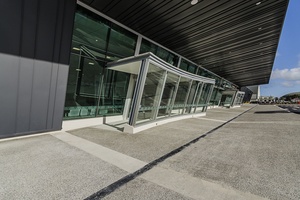 Ohakea Air Movements Terminal by Beca Architects and Architype Shadbolt Architects in association
The large open spaces belie the planning required for the multiple uses this building is required to perform, both as a local and international terminal and as a function centre. A striking metal cladding wraps the walls and roof in a simple shed form, with the structure revealed with glazing at openings. The clever use of materials is highlighted in the use of floor coverings both for added colour and wayfinding.
EDUCATION AWARDS: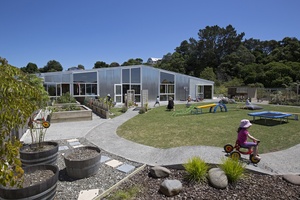 Jumpstart Preschool by atelierworkshop
Facing a difficult challenge to locate a pre-school in an industrial area, the architect has responded by using the industrial aesthetic of simple form and basic materials appropriate to the scale, robustness, and limited budget of this project. The result is a simple but well planned environment, with the industrial aesthetic lifted through the use of opalescent cladding and counterbalanced by a natural outdoor play area.
He Whare Manaaki Tangata Teen Parent Unit, Horowhenua by McKenzie Higham Architects
A vibrant and well detailed project creates a wonderful environment for parents and children alike. A simple structure is articulated along its front face, opening up onto a deck and garden area. An appropriate scale and fit-out aesthetic for parents and children defines the different spaces. The architect has really enhanced the environment of a building which provides such a great social service.
Resene Colour Award:
The restrained use of bold colour, both externally and internally, works both on the new standalone facility and with the existing school. The bright colours really highlight the vibrant environment.
HOUSING AWARDS: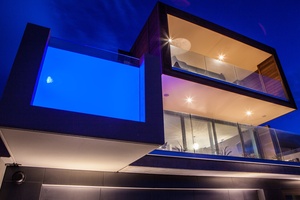 Lynskey House by Boon Goldsmith Bhaskar Brebner Team Architects
The architect has maximised the use of a narrow site, creating surprising outdoor spaces, including a cantilevered lap pool overlooking the coastal view, to make the most of indoor–outdoor flow. Flexible spatial use creates a good flow through the home's interior. Attention to detail and a mixed palette of materials including glass, local stone, and cedar, create moments of delight.
Peacock House by Boon Goldsmith Bhaskar Brebner Team Architects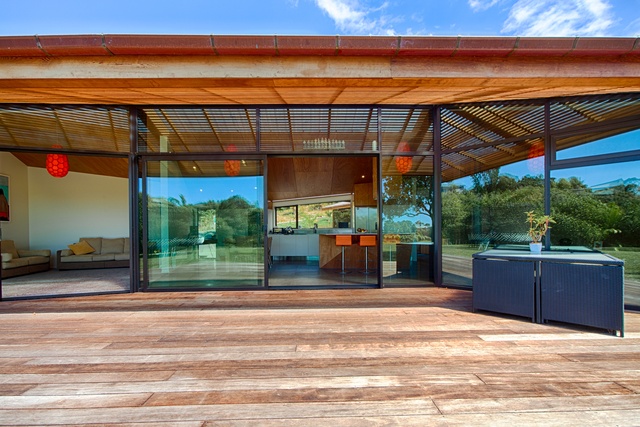 In this house, a simple exterior form combines with a seamless flow of dynamic interior space, which can be closed off to create separate spaces for children, adults, and guests when required. The long, linear house opens up to the north, but is protected from overheating through a textured eave. A rich but contemporary feel is created inside through the use of angles and selection of materials. From house to joinery, the consistency in detailing is seamless.
Krough Bach by Boon Goldsmith Bhaskar Brebner Team Architects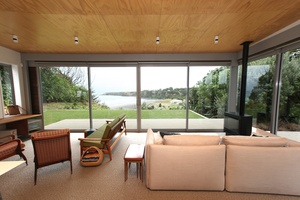 A delightful interpretation of the typical New Zealand bach, this house makes the most of the site's amazing views. An open plan living pavilion is contrasted with a small suite of bedrooms and bathroom areas to make good use of every square metre of space on a modest footprint. This is housing pared back to its essential qualities.
HOUSING – ALTERATIONS AND ADDITIONS AWARD: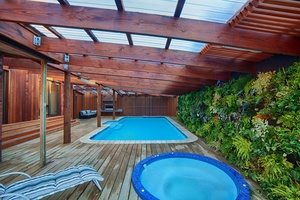 Wells House by Boon Goldsmith Bhaskar Brebner Team Architects
An addition to an existing house, this project has transformed the living spaces of the house from cellular rooms to open plan living, with great indoor–outdoor flow to make the most of views of the natural surrounding bush. A living vertical garden feature wall by the pool echoes the house's close relationship to nature which this alteration has enhanced.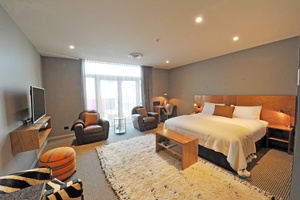 INTERIOR ARCHITECTURE AWARDS:
King and Queen Hotel Suites by Chapman Oulsnam Speirs
The elegant and well-detailed interiors of these suites befit the building's status as a boutique hotel. An exotic ambience has been created through the judicious use of fittings and furnishing obtained from overseas excursions.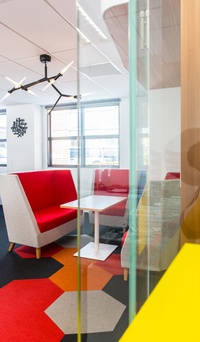 Aon New Plymouth by Matz Architects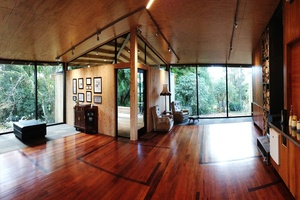 In this project, a narrow footprint is well utilised to create a vibrant office environment. Judicious use of glass creates an open environment, with sufficient privacy where required. Materials, details, and fittings all contribute to making a successful transition to an open-plan office environment.
Resene Colour Award:
The corporate colours of Aon are deployed in an effective but restrained palette, and contrasted with the use of timber to create a warm and vibrant environment. Colour is used in a fun, but refined way, to complement the architecture.
PUBLIC ARCHITECTURE AWARDS:
Hollard Gardens by Boon Goldsmith Bhaskar Brebner Team Architects
The architect has created a pavilion of natural materials which nestles into the surrounding natural environment. Transition spaces from inside to out blur the line of interior versus exterior space. A warm palette of materials carries on inside to unify the main space of the open-plan pavilion. A richness is created with memories of the previous accommodation embedded into the new structure.


Te Waiora by Bruce Barry Architects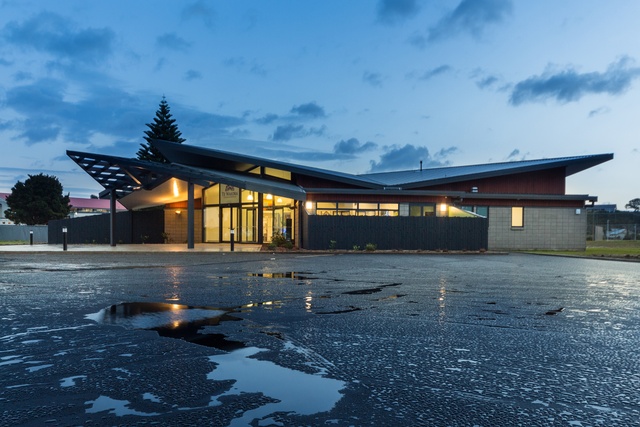 Creating a vital amenity to service the health needs of patients, this project is a triumph for the Foxton community. The architectural form responds to site, function and, most importantly, cultural context. The gable roof and building forecourt evoke whare and marae respectively, creating a warm and welcoming environment in a facility which meets the diverse medical requirements of its community.
All winners of the 2015 Western Architecture Awards will be considered for the 2015 New Zealand Architecture Awards, which will be announced this November.