2016 Serpentine Pavilion revealed
The Serpentine Galleries in London has revealed the completed structures for its expanded architecture programme for 2016, including the 16th annual Pavilion designed by Danish studio Bjarke Ingels Group (BIG). Conceived as an 'unzipped wall', the structure explores the concept of binary opposites.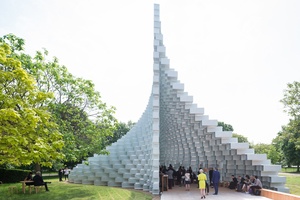 Bjarke Ingels comments, "We decided to work with one of the most basic elements of architecture: the brick wall. Rather than clay bricks or stone blocks, the wall is erected from pultruded fibreglass frames stacked on top of each other. The wall is then pulled apart to form a cavity within it, to house the events of the Pavilion's programme."
"We have attempted to design a structure that embodies multiple aspects that are often perceived as opposites: a structure that is free-form yet rigorous, modular yet sculptural, both transparent and opaque, both solid box and blob," Ingels concludes.
Serpentine Galleries director, Julia Peyton-Jones, and co-director, Hans Ulrich Obrist, said: "Bjarke Ingels has responded to the brief for a multi purpose pavilion with a supremely elegant structure that is both curvaceous wall and soaring spire, that will surely serve as a beacon – drawing visitors across Hyde Park and Kensington Gardens to visit the Pavilion and the four Summer Houses."
Alongside the main Serpentine Pavilion, four newly commissioned Summer Houses have been designed by Kunlé Adeyemi of NLÉ (Amsterdam/Lagos), Barkow Leibinger (Berlin/New York), Yona Friedman (Paris) and Asif Khan (London).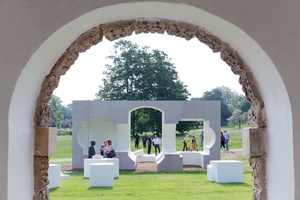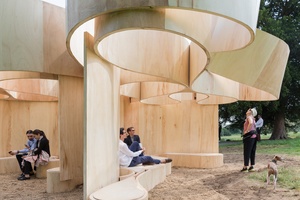 The Summer Houses are inspired by Queen Caroline's Temple, a classical-style summer house designed by William Kent and built in 1734. Each of the five architects, aged between 36 and 93, have not completed a permanent structure in the UK.
Nigerian architect Kunlé Adeyemi has created an inverse replica of Queen Caroline's Temple, stating, "The structure is a tribute to its robust form, space and material, recomposed into a new architectural language. By rotating the temple's interior space, we expose the structure's neo-classical plan, proportions and form."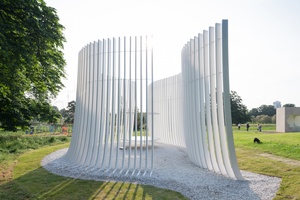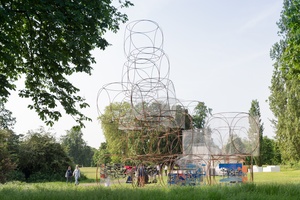 The Summer House by American-German practice Barkow Leibinger was inspired by a second now-demolished 18th century pavilion that was also designed by William Kent. Taking cues from the absent structure, the practice has designed a "Summer House in-the-round, that stands free with all sides visible".
London-based architect Asif Khan based his design on the fact that Queen Caroline's Temple was positioned in a way that it would allow it to catch the sunlight from The Serpentine lake. "The project is designed to offer new experiences of the park through dialogue with Queen Caroline's Temple and the surrounding scenery," Khan said.
Yona Friedman's Summer House builds upon the architect's project La Ville Spatiale (Spatial City) that he began in the late 1950s and was centered around the idea of mobile architecture. He comments, "The Serpentine Summer House is a modular structure that can be diassembled and assembled in different formations and compositions."
Last year's pavilion was a colourful chrysalis of translucent plastic created by Spanish duo SelgasCano.
The 2016 Serpentine Pavilion and summer houses will be exhibited from 10 June to 9 October.