2017 Sir Miles Warren Award for Commercial Architecture
Patterson Associates' Kinloch Club, within a modern castle overlooking Lake Taupo, is the 2017 winner of the Sir Miles Warren Award for Commercial Architecture at this year's New Zealand Architecture Awards.
Jury Commentary
Lance Herbst, Louise Wright and Jack McKinney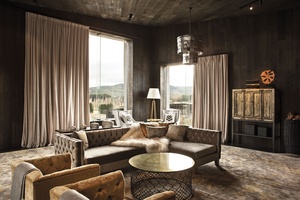 The architect has taken full advantage of a spectacular site near Lake Taupo to create a richly atmospheric building that offers a luxurious guest experience. The massing of the building, treatment of fenestration, positioning of views and detailing have a common excellence. – NZIA Citation.
"It deftly skirts the line between being referential and unmistakeably modern at the same time," says Lance Herbst. "From the outset, you constantly have this feeling that you're inside a castle but that you're in the future. It's extremely interesting and well handled; essentially you go inside and there are these four perfect spaces with an inverted, folded roof in each one, so there's this incredible control inside of what seems like a fairly random, almost haphazard plan form."
"It's quite a sensory experience," adds Louise Wright. "On first approach, you're met with this really rough and rugged, almost unfinished, exterior and then the interiors are really rich and yet spare at the same time – quite reductive – a strange contrast in that the interiors feel as if they have been carved out of a mass. Something of a luxury and quite rare in New Zealand, imparting a sense of the building having been there for some time rather than being a new building."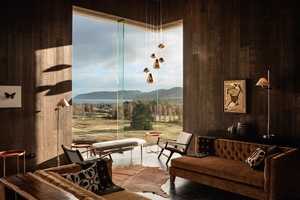 "It's rare to find narrative embodied in new architecture, and it's quite appropriate for what the architect was trying to achieve," suggests Jack McKinney. "The siting of the building and the way it relates, even to the view, tells a story about a fortified response to the outside and then the courtyard is the sanctuary; it's pretty clever. And beyond that, just the sequence of the rooms and the scale of the textural layers within the restrained material palette conjures this fantasy, which is embodied in the architectural response."
"The palette really is pared back," he adds. "Flagstone schist floors, rendered schist walls and then the only other surface, the ceiling, is this sort of rumbled timber that has, predominantly, been given a dark treatment. This then is tempered with a fine overlay of brass metal work on elements such as the fire shields and the bar. It is quite something."
For the full list of winners of the 2017 New Zealand Architecture Awards, see here.