2018 Brick Bay Folly finalists announced
Five finalists have been selected for the Brick Bay Folly 2018 competition to design and build a temporary architectural
folly at Brick Bay, Snells Beach, north of Auckland.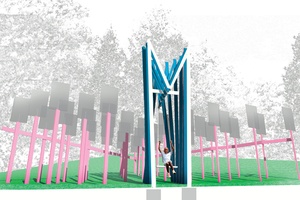 Five finalists have been selected for the Brick Bay Folly 2018, a competition to create a structure that explores the intersection between architecture and sculpture, to be installed at Brick Bay, Snells Beach.
'Current Affair' by Andrew Caldwell from Jerram Tocker Barron Architects and Tina Williams from Architecture HDT is inspired by the adaptable nature of the mangroves and features a series of wind-catching posts and a central branching frame with a whimsical swing at its centre.
'Jonah' by Norman Ning Wei from Moller Architects, Cynthia Yuan from MPM Projects, Kim Huynh from Paterson Architectural Collective and Kevin Kun Ding from Open Media Lab references the story of 'Jonah and the Whale', using PVC piping to form a skeletal structure covered in a fine stainless steel mesh skin, which gives shelter and creates a sense of enclosure.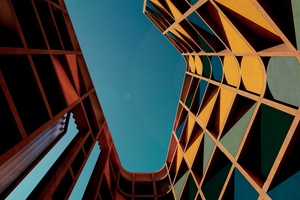 'Journey Morph #5' by Daniel James Fennell, Bachelor of Architectural Studies student at the University of Auckland, alludes to a sense of movement and rhythm with a structure of red polypropylene rope held taut between galvanised metal chains and tubes.
'Outside In' by Devo Staples of Tennent Brown Architects, Jonathan Molloy of Athfield Architects and Reed Wurster of GHD Woodhead draws inspiration from the sheds and homes of rural New Zealand, with a surprisingly colourful interior of woven timber.
'You are here' by Madeleine Appelros, architecture tutor at Victoria University of Wellington, plays on sensory perceptions by presenting visitors with different external, internal and through experiences as they explore the structure.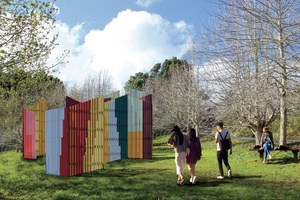 For each instalment of the folly, the Brick Bay Sculpture Trust invites proposals for large-scale projects and installations that explore contemporary interpretations of the architectural folly, with the winning design and build project to be exhibited for two years at Brick Bay.
The aim of the award is to encourage young and emerging designers or students to explore the intersections between architecture and sculpture and their increasing overlap.
"The crux of the Brick Bay Folly project is to push the boundaries of architecture, not just construction methodologies embracing the latest materials and fabrication processes, but conceptually, philosophically and sustainably," says Jonathan Organ, arts manager at Brick Bay Sculpture Trail.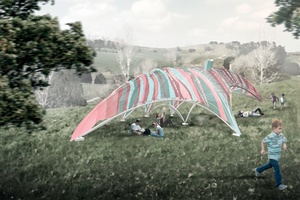 This year's judges were Jonathan Organ; Christine Didsbury, director at Brick Bay; Richard Harris, principal at Jasmax; Justine Harvey, editor at Architecture New Zealand; Jayne Kersten, Folly co-winner 2017; Ryan McKenzie, technical paint specialist at Resene; and Karen Warman, marketing manager at Resene.
The 2018 winner, to be announced shortly, will receive an overall $30,000 grant towards realising the project.
The sponsors are Resene, Fletcher Building, Architecture New Zealand, ArchitectureNow.co.nz, Sam Hartnett Photography and the NZIA.