A guide to the architecture of the Pacific: Kingdom of Tonga
Tonga is a very appropriate place to start this series of guides to the architecture of the Pacific, which will appear in future issues of Architecture New Zealand and on a website to be launched later this year. Here, Bill McKay and Jason Mann have explored Tongatapu to discover its architectural gems and created a series of routed maps to help visitors.
A few Pacific nations claim the title 'Cradle of the Pacific' or Polynesia, but, as you stand on the shore of the lagoon of Tonga's main island, Tongatapu, you get a sense of its ancient history. Here, there are archaeological sites of the ancient Lapita civilisation (early pottery-makers who migrated throughout the Pacific); here, also, is the epicentre of the Tu'i Tonga maritime empire, which peaked 1200–1500 AD and, not coincidentally, is the place where Captain James Cook first made landfall in Tonga.
And nearby, at the old Tu'i Tonga capital of Mu'a, are the langi: huge, low pyramids that are some of the best-preserved and most accessible stone structures in the Pacific. Tonga remains one of the very few Pacific nations that was never colonised.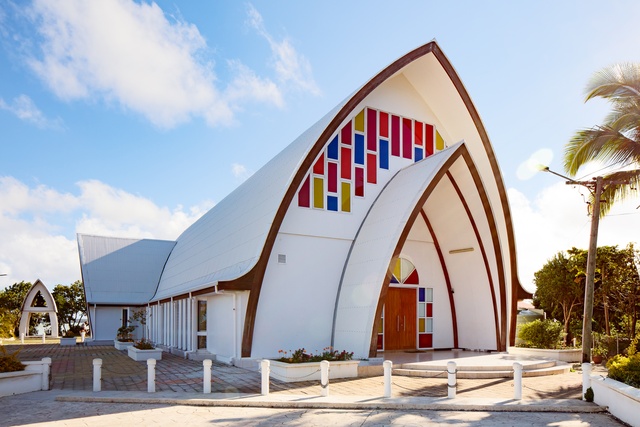 This guide focuses on architecture so, of course, includes these ancient structures, other indigenous and vernacular buildings and a range of colonial, modernist and contemporary buildings. We don't aim to be arbiters of architectural quality: we intend to make architectural phenomena in the Pacific more available to students and scholars, the public and politicians, so we can better appreciate the built environment from heritage to current manifestations.
In the few years taken to prepare this guide, important buildings have been lost and new ones created. Currently, the ancient Sia complex of mounds is being wrecked by suburban development east of Nuku'alofa.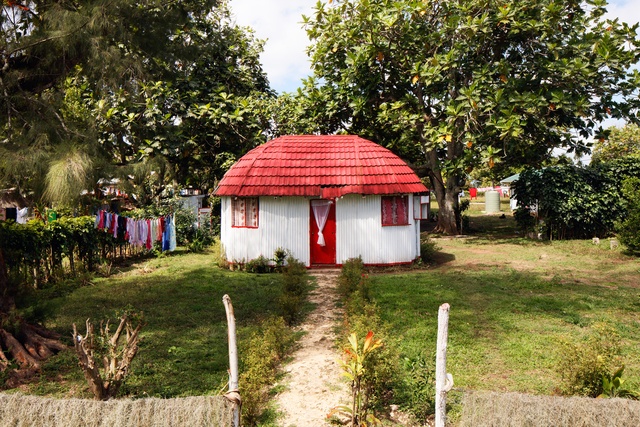 Tongatapu is flat compared to many other similar-sized Pacific islands and it's easy to tour around by hire car. You can easily go from one end of the island to the other in under two hours and the GPS on your phone works well everywhere. If you want a big hotel, the Tanoa International Dateline Hotel is your architectural pick for its 1960s' Tropical Modernism.
Everything closes on Sunday, so go to church in the morning for the full experience of massed harmonies in soaring structures, then take a short ferry ride to one of the three little offshore islands nearby. Fafa has a number of buildings where you can see resort-style attempts at using customary arts to create some fale-style buildings, with lalava (lashing) and weaving.
Resorts and your hotel are also the only places you will find a meal and a drink on the Sabbath in what is still one of the Pacific's more conservative nations; churches and monarchy remain highly influential, here.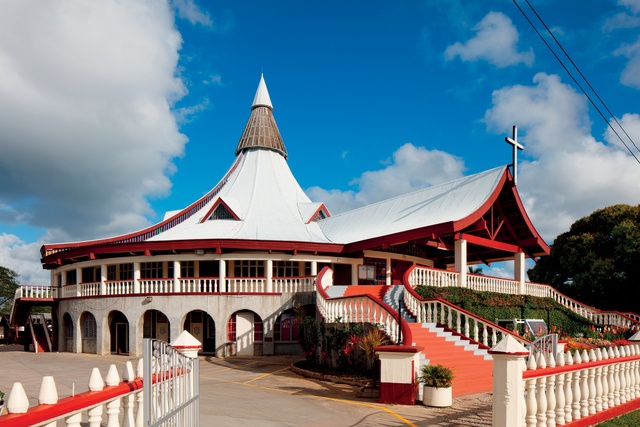 Churches are everywhere in the Pacific and no more so than in Tonga. Most are Free Wesleyan Church of Tonga, a descendant church of the early Methodist missionaries who first arrived here in 1822. These missionaries also founded Nuku'alofa, Tonga's largest (and only) city.
Tonga's first chapel was built there in the style of a fale and its 1865 descendent, the third on that site, Saione (Zion) can still be seen (albeit in rebuilt and relocated form) at Sia'atoutai Theological College, less than 30 minutes from town.
The history of Methodism is one of splits and recombinations but Catholicism is also strong, as is, more recently, the Church of Jesus Christ of Latter-day Saints: Tonga has more Mormons per capita than any other nation in the world.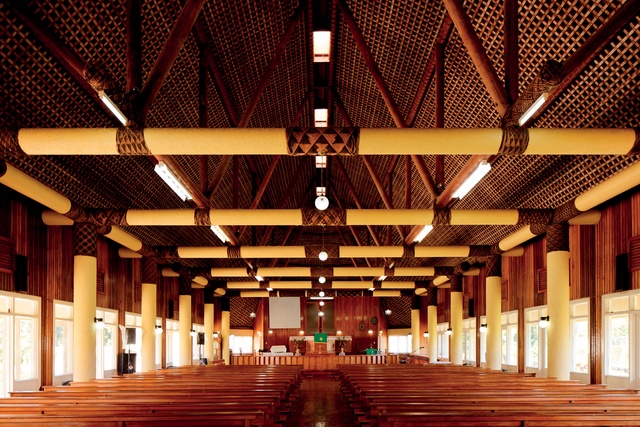 The fale is ubiquitous throughout the Pacific but you won't see this customary building form used much as housing anymore, perhaps because Tonga is always a few degrees cooler than other islands in the region. Rather, you will see the form of the fale adapted for use in churches and some other buildings.
The fale-form churches include some remarkable work by architects like Lloyd Evans and George Moala, with structural variations such as traditional lashed-pole arrangements and more modern glue-laminated beams.
Examples of these are included in our top 15 buildings that you can easily see within a day's driving. You will notice many churches in a wide variety of styles, as is the case throughout the Pacific, but it's in Tonga where the forms of Western church and Pacific fale have come together very successfully.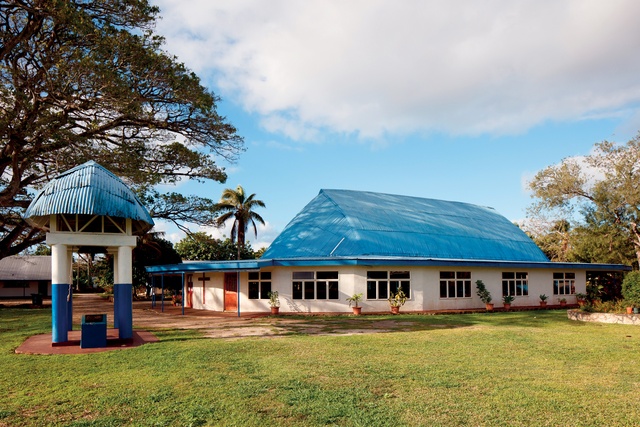 The inclusion of aspects of the fale in contemporary buildings seems to stem from 1977 when a large earthquake destroyed much of Nuku'alofa and, subsequently, the Tourist Bureau/Information Centre was rebuilt, at the King's bidding, in the style of a fale. The very large (but currently empty and closed) Tonga Museum and Cultural Centre was also built in the form of a fale.
Despite Tonga not being colonised and the monarchy remaining highly regarded today (although there have been democratic reforms since the riots of 2006), one sees in Tonga a number of architecturally significant buildings from the Pacific's colonial period in the late 19th century to today's super powers jostling for influence.
These range from the New Zealand prefabricated Royal Palace and Old Parliament of the late 19th century to the brand new Chinese gift of a building to house the Prime Minister and government departments, as well as various embassies.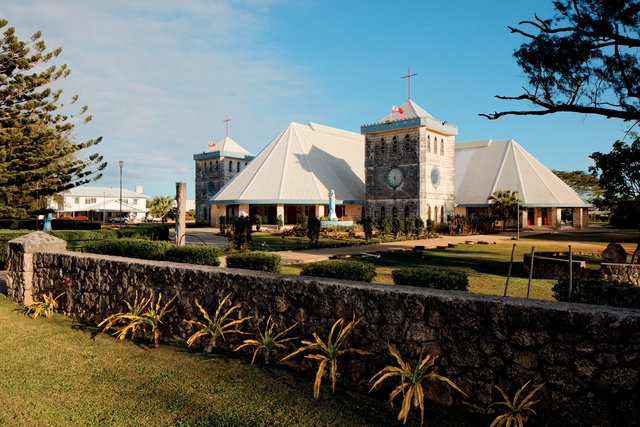 And, beyond Nuku'alofa, although we haven't portrayed many of them here, the markets and shops are of architectural interest, particularly the small, grilled, walk-up shops you will see throughout the villages.
Many of the buildings in this guide are not public – but ask nicely and the people of the Friendly Islands, as Tonga was once called by Europeans, will usually be happy to let you in. Spend some time on Tongatapu and you will probably find more architecture worth sharing; if you have any information to contribute or corrections to make, please do pass it on to us. There are many gaps in our knowledge of Pacific architecture and much to learn.
Find the series of routed maps, including images of each building, below:

An expanded version of this article, which will include multiple illustrations of all buildings and a bibliography of sources, will appear on a website to be launched later this year.
Read the introductory article here.