Winners of the 2014 New Zealand Architecture Awards were announced on 9 May at Auckland's Shed 10. Below is a gallery of the awarded residential projects.
Dune House
by Fearon Hay Architects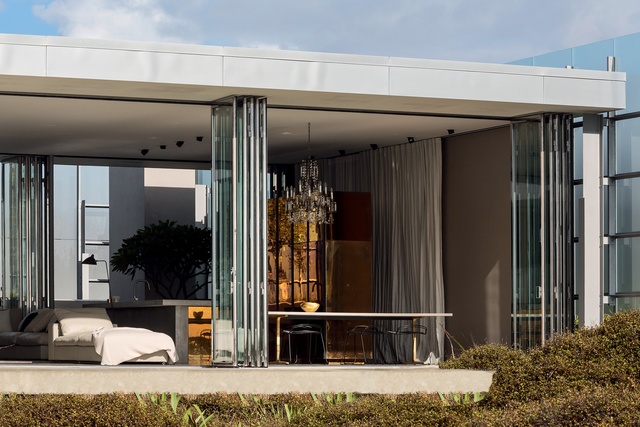 Citation by NZIA Jury
Domestic luxury cohabits harmoniously with natural beauty in this sophisticated and highly polished holiday house, a sanctuary in its suburban beach setting. An austere exterior protects and belies a sensual interior. Privacy is enhanced by an inventive and poetic screening device that blurs the borders and blends with the sky, a concealment strategy that heightens expectations upon arrival. The entry sequence, the proportions of the house, and its materials and surfaces have all received very accomplished treatment. The house has a wonderful theatricality, generated by a hierarchical scaling of the volumes of the casual and glamorous interior spaces.
Torea House
by Tennent + Brown Architects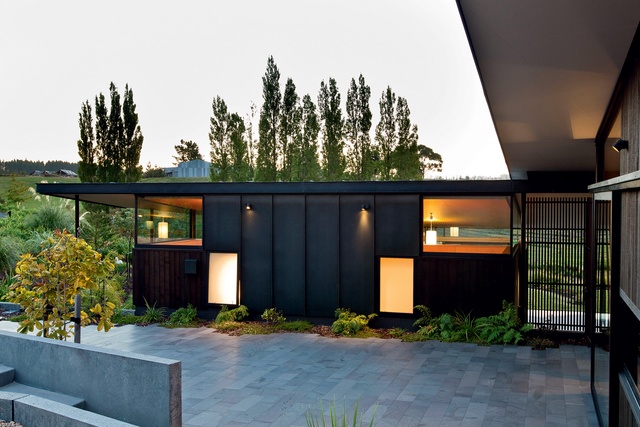 Citation by NZIA Jury
This contemporary country manor house has a mature and dignified formal composition. Low slung and discrete, it is superbly sited in a horizontal landscape, and exists in a relaxed, comfortable and nuanced relationship with the surrounding garden and the wider environment. Three wings, separated by slight level and orientation changes, open to the north and west, and are sheltered by elegant, sloping roofs with overhangs supported by painted posts that reference the slender beaks of the oyster-catchers (torea) that inhabit the adjacent estuary. The incorporation of state-of-the-art technology is well resolved, detailing is of a high standard, and the house boasts considerable amenity.
Headland House
by Stephens Lawson Architects
Citation by NZIA Jury
Belying its true size, the house modestly and calmly occupies a headland site, sitting lightly in a landscape that combines natural features with a lawn and other new planting. The architecture is both dramatic and hospitable. The entry sequence is delightfully choreographed, the planning is well directed, and materials and details have received careful attention and dextrous handling. A nice spatial duality is established by the sheltering, pod-like forms and the in-between spaces that allow for an easy flow through the house and a connection to distant views. The house offers some surprises – warm and unexpected spaces are revealed behind hidden doors – but these are always welcome; the combination of formal materials and informal spaces makes for a relaxed retreat.
Arruba Bach
by Bossley Architects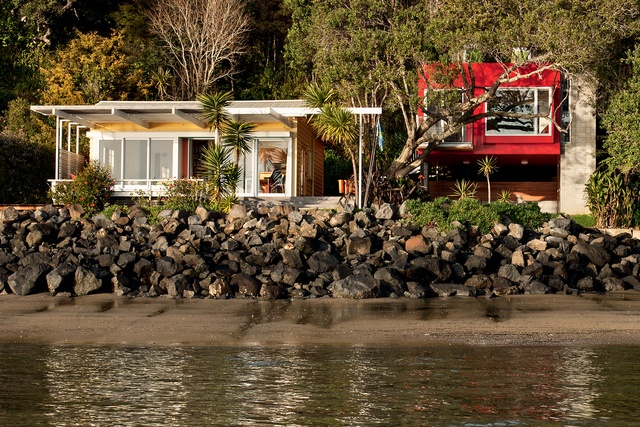 Citation by NZIA Jury
A compact, two-roomed box floats above a boat storage base, sporting the crimson colour of the flowers of the pohutukawa tree in which it nestles as a gesture of cheerful rebellion against the trend of holiday house beige. There is a serious point being made here as well: the latest addition to an already idiosyncratic little house salutes the multiplicity and architectural disjunction of the traditional bach community. The encampment-style occupation of the site, made explicit by the discrete positioning of the new building, is a further reference to the relaxed disposition of the vernacular bach. Delightful in itself, the red box is a sophisticated response to context and typological precedent; in the nicest possible and most appropriate way, it may be described as 'awkwardly perfect'.
Central Park Apartments
by Novak + Middleton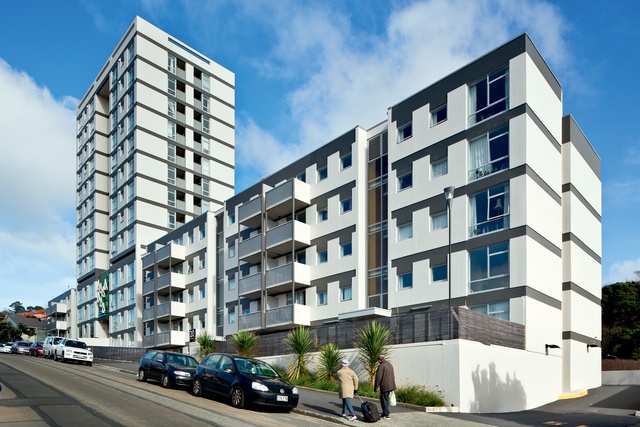 Citation by NZIA Jury
A tired and socially dysfunctional council apartment complex has been transformed by means of intelligent re-organisation and relatively minor structural alterations. The original 1960s architecture has been given due respect, but its scale has been broken down and articulated on a more sympathetic scale. A ground level car park has been transformed into an engaging communal park, existing garages and under-croft spaces have been converted to much-needed community rooms, and new balconies have been added. The strategy of fragmenting the apartment complex into smaller clusters has dramatically improved the apartments' safety, seismic performance and circulation, and has promoted a sense of community. This is a good story of architecture having a positive impact on hundreds of lives.
Cocker Town Houses - Enduring Architecture Award
by Claude Megson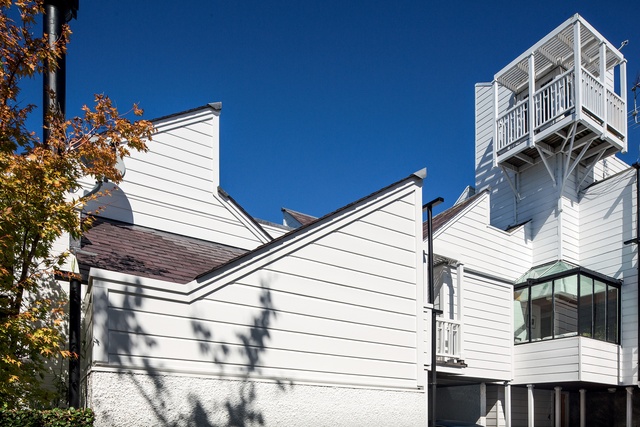 Citation by NZIA Jury
An intricate collection of forms – courtyards, balconies and even a tower – lend a group of four townhouses the status of a mini-village. The building's form and materials, notably the unassuming painted weatherboards, make intelligent and sympathetic reference to the historic inner-city suburban context. Interior spaces may not be of a size that meets modern expectations, but they are charming in their intimacy, and exhibit, to a marked degree, the compositional richness that typified Claude Megson's work. Each town house has evolved in an individual way, and one has received a sympathetic renovation, but they retain their strong familial resemblance, and their condition testifies to a legacy of proud occupation of a building of singular design. Forty years after construction, this is still invigorating architecture.
Te Horo Beach House - Enduring Architecture Award
by Moller Architects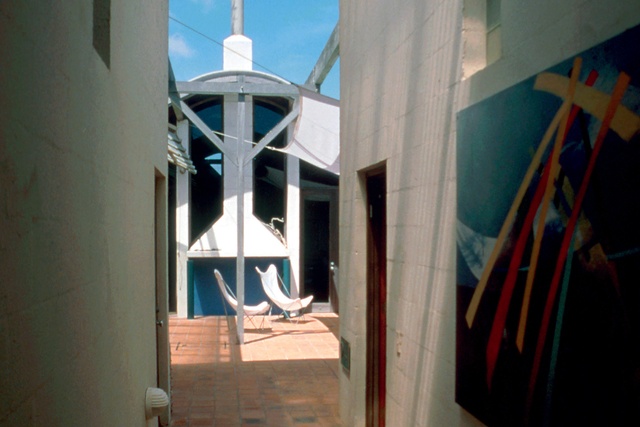 Citation by NZIA Jury
The house commands a landscape of undulating dunes, gaining height by its position, an elevated floor platform and architectural features such as a water tank. The house's occupation of its bracing coastal site is not domesticated by a garden, and as a consequence it evokes a strong sense of separation from daily life and its demands. The harshness of the salt- and sand-laden environment is evident in the patina that now enriches natural materials such as cedar, plastered block-work and brass hardware. The central courtyard separating the living end of the house from the bedroom end is the conceptual and functional heart of the design, and the means of ensuring that a strong relationship with the surrounding environment remains the focus of the house. After nearly 30 years of use, Gordon Moller's family beach house has proved its enduring quality and appeal. It is an excellent model of a holiday house on the New Zealand coast.