Christchurch – Five Years On: Part I
Five years after the Canterbury earthquakes, which devastated large swathes of Christchurch, Architecture New Zealand asked a selection of those involved in rebuilding the city to comment about progress made during what has been a period of tremendous change. This is the first of a series of three.
REDIFINING THE GARDEN CITY
Peter Marshall, Warren and Mahoney's managing director and member of the Blueprint team, offers an overview on how the rebuilding of Christchurch is developing and suggests that a new architectural typology is emerging for the city.
Warren and Mahoney, as part of a design consortium, was commissioned to work with the Christchurch Central Development Group to produce a Blueprint or recovery plan for Christchurch, following the destruction of the city caused by the earthquakes of September 2010 and February 2011. Five years on, the $40 billion rebuild is progressing apace.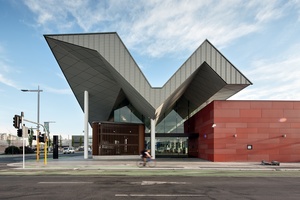 Thirteen blocks now make up the compressed CBD, bounded by the East Frame, South Frame, Avon River and Kilmore Street. Of those blocks, building activity is under way on nine, including many of the anchor projects identified in the Blueprint. Given the almost complete demolition of the CBD, this is an extraordinary achievement. The Bus Interchange and Margaret Mahy Family Playground are complete. The Justice Precinct, Retail Precinct, Performing Arts Precinct, Avon River rejuvenation, Acute Services Building at Christchurch Hospital, Innovation Precinct and the Earthquake Memorial are all under construction.
The East Frame residential development is about to start and the Metro Sports Facility is being designed by Warren and Mahoney, in collaboration with design partners Peddle Thorp Melbourne and MJMA Toronto. A decision is expected in the next few months on the Convention Centre and a contract is about to be let for the new Central Library, leaving only the Stadium and the South Frame as the anchor project 'unknowns'.
Significant commercial buildings have been completed west of the city centre and it is clear that the new centre of Christchurch could well be the Bridge of Remembrance. Development occurs in waves in a city, and Christchurch is no exception. The first wave saw lawyers, accountants and professional services firms seeking tenant space to the west of the Bridge of Remembrance. The second has seen banks, government offices and retail settle in the east. The next, and possibly the most interesting wave, will be the owner-occupiers who will reside in smaller spaces and provide exciting infill projects as they look to embrace the new city framework.
The new Christchurch will be an overlay of the new upon the old – one that preserves heritage while embracing modernity. The result will be a 21st-century 'garden city' that provides a new way of working and living in a city within a contemporary and vibrant environment. This will be achieved through intensification of developments without building tall; much like Paris, this will be a low-rise city.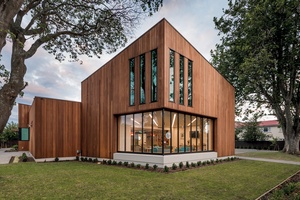 The new garden city will become a city of courtyards. With low-rise structures, enough light can penetrate courtyards at all times of the day, providing shelter and creating a sense of identity for buildings. Buildings will have street frontages, as well as communal outdoor spaces, as demonstrated by projects such as the Justice Precinct, Awly Building, the BNZ Centre and The Terraces.
The incorporation of laneways and access routes through large city blocks will provide a more connected, accessible and pedestrian-friendly city. The former model of large city blocks restricting connectedness between streets is a thing of the past.
The creation of precincts is another significant design feature for the city. While these can grow organically, when carefully planned they can provide a more coherent urban and commercial outcome. Such frameworks offer identifiable moments within a city fabric and attract associated activity, at the same time demonstrating that the spaces between buildings are as important as the buildings themselves.
Engineers are seeing the city as a 'living laboratory' as they explore latest techniques in structural design. The new architecture of Christchurch is one where base isolation has become common; conventional concrete frames are being replaced with braced steel frames; and timber is being used in innovative ways either as bracing panels or laminated elements that are being post-tensioned.
Open and transparent buildings lend a sense of connection between occupants and their environment. This has been reinforced by the structural approach to new commercial buildings, where steel and glass are lending a cohesive style to the architecture of the city. An expression of structure and extensive glazing is now becoming prevalent, whereas Christchurch buildings previously were primarily concrete or stone with heavily modelled façades. Innovation is being adopted through glazing alternatives, panels, angular façades and sun shading, creating new façades for the city. When set amongst the grid layout of existing, often tree-lined streets, a new typology is emerging for the city.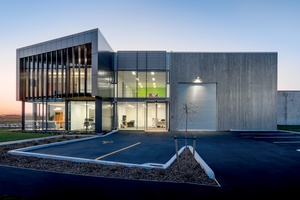 An influx of young, cosmopolitan talent from around the world has breathed new life into the city as it grows. They bring another level of vibrancy to a city redefining itself as an Arcadian city in the South Pacific, and reinforces the notion that something unique is happening as Christchurch rebuilds.
WHAT ARE WE BUILDING?
David Sheppard, director of Sheppard & Rout Architects, suggests that Christchurch still needs to address numerous pressing issues in relation to urban growth, energy use, improved housing design and delivery, and social interaction. Sheppard is the immediate past president of the NZIA; he was a member of the Blueprint team for the recovery of the central city, involved in the institute's submission post 'quakes and a convenor of the Christchurch City Council's Urban Design Panel.
Architects' offices are easily spotted in Christchurch. They are the ones where the lights are on at all hours of the day and night when everything else in the city is still a shade of black. You could say the profession is hard at work and yes, for most, the past five years has been a time of relative madness, overwork, deadlines, hopes, optimism and dreams: for a key task of the architect is to project the future and show what it could be, whether it be at the scale of a house or a city place.
For most of us, however, it has not been a time of discussion, broad conceptual thinking, environmental innovation and beautiful drawings (computer renderings these days). Most days, meetings revolve around insurance settlements, ground conditions, costs, endless investigations with building owners about how to win back the returns they enjoyed a few years ago, nursing older clients through their repairs or rebuilds, and a host of other things that have arisen out the extraordinary events of 2010 and 2011 which have turned this city on its head.
There is a long way to go yet. However, among the architects, for all the exhaustion of the things just mentioned above, determination to help the city recover and 'build back better' remains strong. Where does this doggedness come from? This seems especially pertinent, for, every day, the new Christchurch is filling up with a few good buildings and many quite ordinary ones.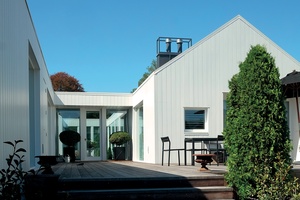 An overview would suggest that opportunities are being lost, day by day, to forge a refreshing new city. Yes, the city is being rebuilt, and at a quite astounding pace now. However, is it the place the community stated they were interested to achieve on their post-it notes at the Council's open planning weekend, including lots more trees, open spaces, cycleways, energy, self-sufficiency, places for people…?
In my view, out of the work we are doing, we will achieve a city that is up to date in terms of earthquake resistance, the latest building codes and maximum bang for the buck for the building owners. However, will we still be on The New York Times' list of 16 cities to be watched over the next few years? Somehow, I don't think so, unless we lift our game and address numerous pressing issues in regard to urban growth, the huge move of the population to other cities, energy use, improved housing design and delivery, and social interaction…
Over the past five years, I have found - continuing as a practising architect and enjoying the challenge of it all - that I am assessing everything I have done in my career, and how to best contribute as a thinking person to the best-possible recovery of the city. For instance, do we need a 'central city', how do we deliver the type of housing we architects think would be good to live in, should we become involved in local politics and have a seat at the Mayor's table, how do we help the building owner to deliver more than just square metres on his site, etc, etc. The Blueprint was a valuable contribution but it deserved detailed development and consultation.
Some of the best buildings emerging in the city are thoughtful and elegant and deserve recognition. There are many others that are quiet and good. There are a large number of buildings that are being thrown up – including commercial, retail and a large amount of lower-cost housing – which we may come to regret in a few years' time. Every city has its share of these and a mix of all three. In Christchurch, we have had – and, perhaps, still have – the opportunity to produce a higher standard of city-making and responsive design.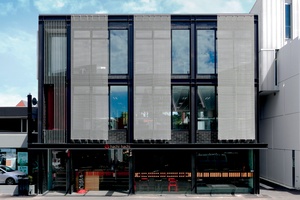 I am currently immersed in reading a book I would recommend to every thinking person; it is a small but, in my view, powerful book with a strong message called How to be Danish. There is a chapter on education in Denmark, one on Danish culinary arts and food, another on the welfare state and yet another on design in Denmark and how it has come about.
I am tempted to suggest that every country be made to write the equivalent, to help ground us and challenge the loss of some of our greatest qualities and characteristics. In short, a return to basics and values. With these, we might find the task of 'recovering' Christchurch a little easier, and support and underpin our efforts.
CHANGING POLICY
Ann Brower, a senior lecturer of environmental management and planning at Lincoln University, was interviewed for Architecture New Zealand in March 2012,* in which she called for lessons to be learnt after Christchurch's earthquakes. Brower, the sole survivor of a bus crushed by falling masonry in the 22 February 2011 earthquake, has worked tirelessly for changes to be made to policy surrounding the strengthening of buildings that have unsecured or unreinforced masonry. 
The most expectable building collapses are the least acceptable, especially if you study regulation and recognise its failures. And, most especially, if you are standing next to a building expected to fail and, yet, are blissfully unregulated.
So my heart led me to push the Government to make buildings safer and to avoid future expectable but unacceptable (to me at least) deaths and injuries like mine. My heart started it, out of grief for the 12 people who died beside me, driven by the guilt of being the only survivor and, rather selfishly, for the anger of my own pain.
Being a Lincoln University lecturer in environmental management, my head quickly took over. I asked the Government to:
1. Include older buildings in the Building Act and,
2. Require the most dangerous 'fally-offy' non-structural elements to be repaired first because they are cheapest to fix, the first to fall and the deadliest when they do.
Neither my head nor my heart was alone in the fight. The Royal Commission, engineers and geologists were all saying similar things. Christchurch mayor Lianne Dalziel spent a day asking the Select Committee for the same changes. We all agreed. Except the Government – until the 11th hour, when the Select Committee amended the bill to halve the time allotted to fix the buildings posing greatest risk to the public.
For several years, I and others asked for an apology. Christchurch City Council remains resolute in its refusal. I'm sure they have their reasons. Apologies come in many forms. If it's not too presumptuous, I'll take this as mine. And ours.
*Ann Brower's interview, 'Luck played no part in this', was published in Architecture New Zealand March 2012, and can be read online here.