Australian boutique hotels QT are making inroads into New Zealand. Aaron Paterson travelled to Melbourne to get a glimpse of how the brand's interiors reflect their ethos and to see signs of what's to come for the industry.
You are greeted at the entry of QT Hotel by the 'director of chaos', a Gothic pixie in a trench coat with a black beret, and guided into an art-encrusted lobby. This highly curated arrival experience allows for an easy immersion into the bohemian vitality on offer.
In line with a general movement towards personalised luxury travel, QT Hotels and Resorts have grown into a dynamic, if not intriguing, brand in the Australian boutique hotel market with six hotels across the Tasman.
By the end of 2017, QT is expected to have expanded into New Zealand with QT Museum Wellington, followed by QT Queenstown and there are rumours of location hunters roaming Auckland for a potential central development.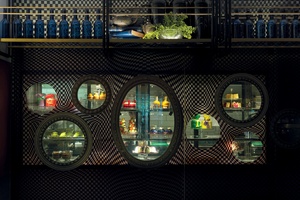 As such, the brand is promising their signature brand of designer interiors and intriguing experiences. This bold move comes at a time when the tourism industry is rapidly evolving due to the arrival of technology upstarts like Airbnb who have changed the way people travel and experience a new city. 
No doubt some proprietors have struggled with this change. QT are betting Airbnb and boutique hotels are two very separate markets, and guests who seek sophistication, design and art will keep returning to their hotels over budget-focused offerings on apps. As David Seargeant, managing director of Event Hospitality and Entertainment, says, "People want more than just an overnight stay when selecting a hotel. They want an elevated experience."
Memorable interiors are a key ingredient in achieving this 'elevated experience'. The starting point for the brief to the designers is to make spaces that celebrate the location by telling a unique design story focusing on the quirks of the neighbourhood.
This strategy is highlighted in QT Melbourne where Nic Graham (designer of public spaces) and Shelley Indyk (designer of guestrooms) took design inspiration from the traditional rag trade industry in nearby Flinders Lane and the French influence on the 'Paris end' of Collins Street.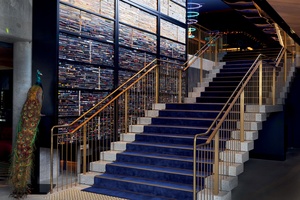 The exterior façade has rigorously gridded concrete spandrels and glass and an absurdly grand 6-metre-high copper doorway with sensor entry doors housed in the middle. The lobby is layered with visual intrigue, contemporary art, curious graphics, an array of colourful vintage modern artefacts and an Yves Klein blue staircase.
Of special note is the video art of Jennifer Steinkamp depicting falling cloth that strengthens the recurring theme of the rag trade. 'Coitus Interruptus', a two seater chaise lounge with interrupting armrest in a vivid blue, is just one of the many custom-made furniture pieces. 
The generous guest rooms continue the raw aesthetic of the hotel, with white walls, concrete ceilings and exposed lighting conduit. The insistence on raw elegance has the potential to feel cold or unfinished, but here, warmth is achieved by the rich textures and colours of artwork and furniture, including rugs designed in collaboration with graffiti artists, locally sourced metal art pieces, floor-to-ceiling wispy curtains and rich herringbone timber floor boards.
The detailing of cabinetry is exquisite, from the bedhead to slatted timber shelf supports in the wardrobe and minibar. The glasshouse-like bathroom opens up to the bedroom and glows at night. The food and drink experiences are expertly chosen and the interiors reflect the care taken to align with the needs of both locals and tourist alike.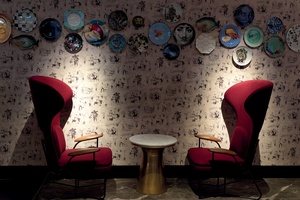 Traditionally you would have a better chance of finding a Yeti than a local in the hotel bar. QT has flipped that switch, offering Pascale Bar & Grill with Euro-bistro influences, Cake Shop, Hot Sauce Laneway Bar, Tanto Japanese knife shop and a rooftop bar offering handcrafted cocktails.
"QT offers an overall experience for guests, from the moment they walk through the door, including thoughtful public spaces and destination food and drink experiences which are unique to each hotel," says Seargeant.
The effect is one of bohemian luxury at home in the inner city of Melbourne where you don't have to leave your hotel to get an authentic experience. We are looking forward to seeing what quirkiness QT will unleash on New Zealand. They definitely understand the mystique of hotels.
QT Museum Wellington
QT Hotels and Resorts purchased the Museum Art Hotels in Wellington for approximately $28 million and have evolved the existing iconic Wellington hotel with a $12 million refurbishment and rebranding as QT Museum Wellington. QT have maintained the existing art collection of Chris Parkin, the previous owner of the hotel, in the public spaces.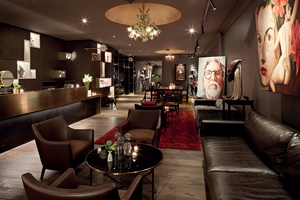 Architect Shelley Indyk has been tasked with breathing life into the guest rooms and public spaces. Her design explores the 'museum' notion of display and exhibition. "We have designed a new 'skin' for the main receptions walls and apartment lobby, using dark timber veneer cladding and creating display boxes angling out of the skin to reveal precious things, art and objects from New Zealand artists. The boxes vary in size and finish sometimes lined with brass, white veneer or white lacquer," says Indyk.
Other highlights include large mirror cabinets in the guest room lift lobbies (akin to QT's Sydney iteration), one with Gabrielle O'Connor's astonishing folded paper plastic geometric iceberg. Another cabinet is filled with the Whanganui potter Rick Rudd's fantasy sculptural teapots. The guest rooms are styled with an assorted mix of Gatsby-inspired furnishings with inflections of gold.
QT Queenstown
QT Queenstown is scheduled to open mid-2017. The new resort will be located on the shores of Lake Wakatipu in the former Rydges Queenstown. The refurbishment will introduce a new QT Resort and feature the QT's Bazaar interactive marketplace, which creates a traditional marketplace offering a variety of dishes.