Design people: Monmouth Glass Studio
Glass artists Stephen Bradbourne and Isaac Katzoff use traditional techniques to create contemporary handblown light pendants and glassware from their studio in Arch Hill, Auckland.
Justine: How long has glass-making been around?
Stephen: It's been around for thousands of years. A Roman glass-blower used the same tools we use today, with the addition of newspaper padding for shaping.
Justine: What do you love about glass-blowing?
Stephen: It's vessel-making on another level, working with a molten material. I enjoy the whole technical side of things.
Isaac: Glass-blowing is very addictive – it's my meditation, especially making cups. We work with each other and get into a rhythm, making one every five or six minutes.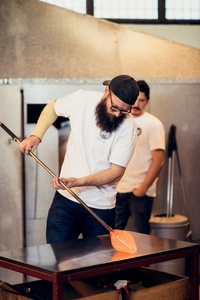 Justine: It seems like a strange material to work with.
Stephen: It's a crazy material. While clay is hands-on, glass is hands-off. You only touch it with archaic tools; the rest is heat and gravity to achieve the shape you want to. The challenge is in trying to master it. It is so difficult when you fire it because it just wants to fall on the floor, so first you tame it.
Justine: Is it unusual to have two glass artists working together?
Stephen: Yes, we work as equals and step in and out of the process, working piece by piece, sharing the load. We're able to simplify and perfect each step, like a dance. We signal to each other with a grunt or a nod. Working together makes it more enjoyable because we have conversations and work things out.
Justine: Have you always made lighting?
Stephen: The traditional avenue of selling glass art pieces is via sale or return, so we started making functional things. We focus on apparently simple objects of beauty, rather than over-embellished vessels. We saw a gap in the market for well-designed bespoke light fittings.
Justine: How do you achieve the interesting coloured effects?
Isaac: Gaffer Glass in Morningside (near their studio) makes the coloured glass and they're number one in the world, even beating Germany and America. They make their own colours. I came here from the States to work there. They make a wide range of colours that are compatible. Adding colours to clear glass can make it crack, but Gaffer gets it right.
Justine: Which colours and forms create the best light?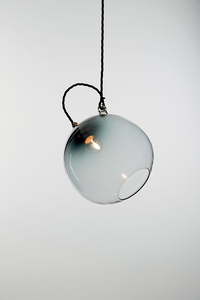 Isaac: Heavy colours change the atmosphere of a room. Amber pendants can make a room appear darker and yellow, so I'd err on the side of caution – but the choice of colour depends on a space; there are many factors around it.
Stephen: Warmer tones will create a warmer vibe in a domestic setting. Tea colour softens neutral colours. Warmer tones work well with wood and white walls. We use only a small amount of colour and the intensity depends on the thickness of the glass, which is why the colour is stronger at the top of the pendant. We layer the glass with the colour on the inside, then layer the clear glass like a veneer. Form will have an effect if the colour is dense enough but form doesn't have much effect on light distribution.
Justine: You work with designers and architects on bespoke pieces, such as with Cheshire Architects on the light installation in Ortolana restaurant in Britomart.
Stephen: Yes; it's been an organic thing for us to work with designers and architects. It's a chance to experiment with shapes and explore subtleties of colour. There are endless possibilities.