Houses NZ, September 2016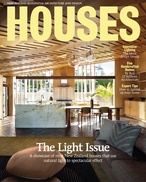 September 2016 (Issue 41)

Glass artists Stephen Bradbourne & Isaac Katzoff use traditional techniques to create handblown light pendants and glassware.

Some of New Zealand's most handcrafted homes are created by Andrew Bull, Michael O'Sullivan and Glenn Watt's studio.

New technologies are changing the way we light up our homes, through clever connectivity and innovative designs.

New Zealand architects use a wide range of architectural devices to control natural light in the home.