Designing for death: Capsula Mundi
Two Italian designers, Raoul Bretzel from Rome and Anna Citelli from Milan, are coming to New Zealand in March to present their ideas and designs promoting changes in burial practice.
Bretzel and Citelli are committed to making a change to the way we bury our dead: they believe green burials are the future. Capsula Mundi are natural fibre pods that contain the ashes or the body of the deceased. The pod is then buried with a tree growing above it. Family and friends can then care for it and as tree after tree is planted, the cemetery becomes a forest, visited and preserved by the community.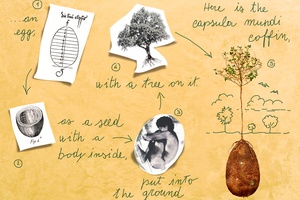 Capsula Mundi offers a way to help our environment but also create a beautiful place for our deceased to lie and for the living to visit. The Capsula Mundi are completely biodegradable and flax is currently being investigated as an alternative possible material.
The designers have been invited to New Zealand by the Italian Ambassador His Excellency Fabrizio Marcelli to present the Capsula Mundi concept as part of an Italian design event. The trip is organised in part by Studio Carolina Izzo.
The information gathered in New Zealand will be shared at a significant exhibition in Milan in 2018, where the designers will report on how their innovations were received and the connections they made. A video of the New Zealand meetings, discussions and workshops will be part of the Milan exhibition.
In 2003, Capsula Mundi was exhibited at Salone del Mobile in Milan. Since then the innovation has excited international interest and in 2015 the designers presented Capsula Mundi at a TEDx talk in Turin.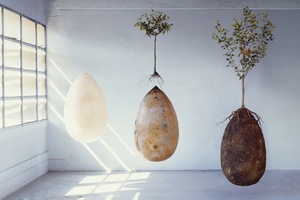 The international profile of Māori tradition and their connection with the land has made Bretzel and Citelli very keen to share ideas and discuss burial practice with members of the Māori community.
Bretzel and Citelli say, "We hope to engage more with the knowledge of the local resources and traditions in order to enrich our project with cultural and material crossovers. We're really excited to come to New Zealand because we consider the country an ideal place to understand the concepts behind Capsula Mundi."
"We believe that New Zealand's general environmental sensitivity as well as the Māori culture ensures that the project – which basically speaks about our belonging to nature – will be well received." 
Bretzel and Citelli will present their ideas around the Capsula Mundi design at 6pm on 2 March at the Ara Institute of Canterbury in Christchurch. If you are interested in attending, email Carolina Izzo here.
There will also be events in Auckland and Wellington – more information to come. CPD points available.